Thurs 8th April / Tues 13th April / Sat 17th April • Entry: £25
Have you ever wondered what happened behind the scenes at Lady Luck Rules OK? Join me for an indepth talk about how I set up the label in 2003 and grew the business from spare room to a busy studio and shop.
Read more here! »

February 13, 2010

Superette Sample Sale

Saturday 27th February 2010 • 11am to 4pm
Part jewellery sample sale, part super fun bric-a-brac jumble sale - Superette will open its doors again on Saturday 27th February for a fun filled day of discounts galore! Come along and load up on grab bags of jewellery parts, chain, findings, fabric and charms. Lady Luck Rules OK jewellery at *super* discounted prices - is there something on our website you've had your eye on but would like to see it in person first? Then come on down! We also have a stack of magazines for 50p each including old issues of Nylon, Vogue, the Face and ID. The freebie box has been filled up again and everyone who makes a purchase can have have a rummage in there too. Rumour has it there may even be some tea and cake...x
February 8, 2010

It was a dreamy day at the Love-A-Fayre

It was bright and early on Sunday morning when Team LLROK packed our bags full of dazzling jewellery and shimmied our way to Bethnal Green Working Men's Club for our return to the Love-A-Fayre!  Wearing our best frocks, we put on our high heels and lipstick and set up our Valentine's Shoppe, packing it full of Love Tokens, Tattoo Hearts, Jazzy brooches and Go Go Glitter Earrings, Necklaces and Brooches. As a dashing chap began to play Hot Chip covers on the organ we got busy providing the guys 'n' dolls of East London with dreamy gifts that are perfect for Valentine's Day!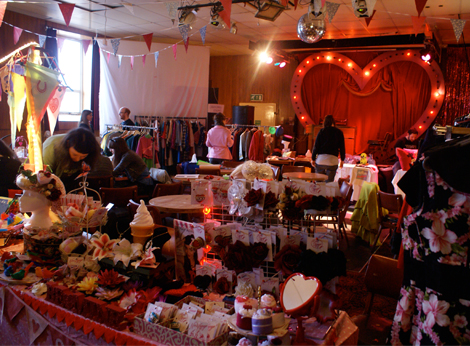 It wasn't all work and no play however as we grabbed some time to sample the yummy veggie sushi from Toshi at Donkey Monkey Cafe, and managed to make a few sparkling purchases before dashing back to our stand with heart shaped cookies just in time to meet Tinker the dog who was definitely the dreamboat of the day! We also got to meet several recipients  of our much missed Personalised collection, including baby Florence and her mum who both had tattoo hearts! Better snap up the last of our Personalised Stock for Valentines Day, cos once it's gone it's gone!
We were super excited to be asked to make some jewellery for the burlesque beauties from The Double R club who were providing the entertainment for the afternoon, so we decided to make some unique Glitter Double Heart Necklaces  for the girls with their stage names on - the very first time we'd made this product! Double R's hostess Elisabeth had the room wolf whistlin' away as she introduced the performers and explained the golden rule of burlesque - the louder you cheer, the more comes off!
We managed to snap Ginger Blush and Princess Angelique wearing their custom goodies - thanks girls! Ginger Blush performed a classic tease to a swinging Sinatra soundtrack, and Princess Angelique's exotic act featured an Indian inspired fan dance. Judging by the amount of customers pouring over the pasties that were for sale afterwards we're sure their fab performances gave lots of girls the burlesque bug!
The highlight of the day had to be Emerald Fontaine in a fantastic Marie Antoinette inspired dress and wig carrying a cakestand full of fondant fancies and some champagne for her act 'Let Emerald Eat Cake'. Emerald's costume was amazing and full of surprises including  drawstrings on her dress to playfully show a little leg and a crinoline so wide it hid a champagne fountain under it! Emerald's deliciously decadent act had her passing out glasses of champagne and cakes to the lucky few at the front, as well as sprinkling the crowd with fake money that appeared as if by magic from a secret purse attached to her bustle. She also pouted and posed for some great shots for us wearing her Double Heart Name Necklace- Thanks Emerald! We can't wait to see more of your performances very soon!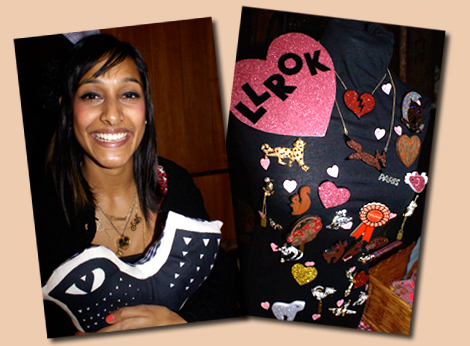 We had a blast with our next door neighbour Zeena Shah who was laden with teeny golden charms including our dreamy valentine's treat Heart to Heart. She soon fell head over heels for our Bicyclette necklace too and snapped one up and popped it straight on. We love your styling tip Zeena, more is definitely more when it comes to golden charm necklaces! 
However it was glitter that was really the star of the show on Sunday, with lots of girls going ga-ga for our Broken Heart necklaces and Go Go Glitter Earrings - a great way to get a little burlesque style without getting chilly in your lingerie! We also surreptitiously sold I'm Nuts About You squirrel necklaces and brooches to some dreamboats buying secret gifts for their sweethearts!  But don't get tears on your pillow if you missed us, as this weekend we'll be at Laura J London's Vintage Valentine's Fair in Islington. Pop into the chic boutique from 11am- 7pm to snap up something for your sweetie or a treat for yourself!
January 26, 2010

Superette's Spring Clean Yard Sale

Saturday 30th January 2010 • 10am to 1pm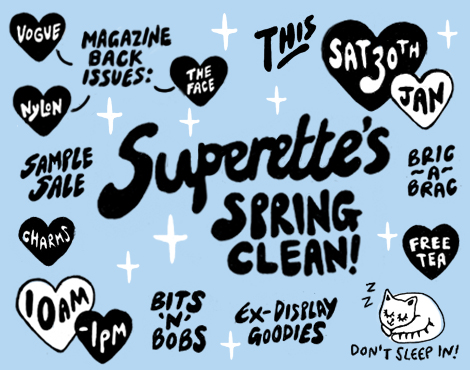 It's that time of year again when we Spring Clean the studio ready for our year ahead! We'll be hauling up all sorts of exciting bits'n'bobs from our basement inc. jewellery samples (inc. lots of slightly imperfect name necklaces & brooches), ex-display goodies, grab bags of charms/broken jewellery/fabric & random bric-a-brac. In addition we'll be selling a huge collection of magazines inc. Nylon, the Face, Vogue, ID, Street from Japan and lots of random arty/fashion zines/fanzines from around the world. Plus I'll be selling on lots of vintage goodies from my Pop-Up Tea Shoppe! We'll have piping hot free tea for everyone making a purchase! Arrive early to avoid disappointment! *CASH ONLY* Check out our yard sales in 2009 and 2008!
January 19, 2010

Laura J's Vintage Valentines Fair

Saturday 13th February 2010 • 11am to 7pm
Laura J London, 114 Islington High Street, London, N1 8EG
Join Laura J London and friends for a day of shopping, shoes, cake and burlesque! Discover French Kiss Vintage - a secret treasure trove of spellbinding one-of-a-kind vintage garments and va-va-voom vintage-inspired accessories designed to bring a bit of Ooh La La into your life. Nudge your boyf in the direction of BannBee hand-made undergarments and holler hints galore when delving into our Valentines inspired range of jewellery. Swing by between 1pm and 4pm and you can marvel at our living breathing mannequin the wonderful Bella de Jac performing her fan dance as part of the window display! My-oh-my...
Valentines Love-A-Fayre

Sunday 7th February 2010 • 12pm to 6pm
BETHNAL GREEN WORKING MENS CLUB, 42 POLLARD ROW, BETHNAL GREEN, LONDON E2 6NB
The workers present a 'one stop shoppe' of all their favourite designers, makers and crafters. Come along! Bring your date, or bring your mates, buy gifts for your friends, or indulge in a spot of self-love and treat yourselves! Check out gifts for ladies and gentlemen ranging from the frivolous to the eccentric to the serious, but all well made, unique and value for money. Something to tickle anyone's fancy!
Spend a lazy Sunday afternoon browsing through vintage and handmade burlesque inspired treats, hand drawn valentine's cards, chocolates and indulgent cupcakes, jewellery, graphic t-shirts and limited edition prints, Japanese toys, curios & collectibles, craft kits, do-it-yourself packs and undergarments GALORE!
Hangover cures including: "Toshi's Donkey-Monkey veggie sushi bar", teas, coffees, cakes, snacks, fully stocked bar, live music and dj's throughout the day. All here for your delight set in the wonderful and strange surroundings of the Working mens club!
We had such a fun day last year, check out the photos here and hope to see you there. More info on Facebook!