July 31, 2008

V&A Village Fete 2008

Last weekend felt like summer had officially arrived as the Lady Luck Rules OK gang descended upon the glorious Victoria and Albert museum for two days of good old fashioned Village Fete fun! We had spent a long gruelling week building a giant punch and judy style stand to house our bespoke jewellery making equipment as the event was due to take place outdoors in the John Madejski Garden. Weather reports all week had said it was going to rain and maybe even thunder storms. But did we need to worry? Oh no! Why it was the hottest weekend of the year so far, hurrah!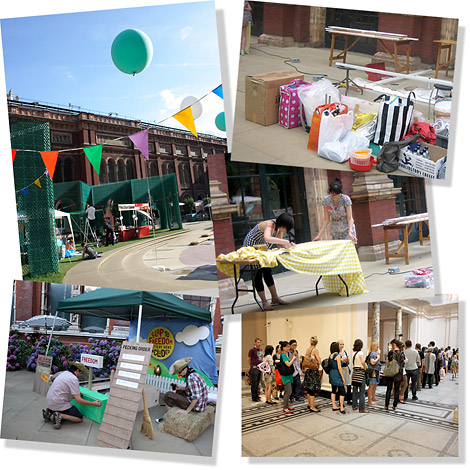 We arrived at the museum nice and early on the Friday morning and with the aid of porters and trolleys wheeled our stuff THROUGH the museum and into the garden which as it turned out was the first of a series of terrifying moments. Sam immediately started to assemble the stand, Hana and Amy whipped out the sewing machine to make up the gingham fabric into table cloths, Laura made the signs, Penni prepped the stock and I prepared the equipment and started testing. HOLD ON! The electricity hadn't been switched on yet...and we were informed the floor plan stated we weren't down as needing electricity! OK OK, I'd brought a picnic so we all sat down and cracked open the hamper whilst men in blue uniforms scurried around trying to wire us up. After lunch we were back on track, running a little behind mind but it was all systems go... Going through my mind in a big way was this was the first time we had ever taken our custom making equipment OUT of the studio, was it going to work?
The event was due to open at 6pm and news was working its way around the stands that an enormous queue had started to form outside the museum and I had *just* started testing the machine (there were a few hiccups) but we were soon rockin and rollin, phew-ee! Then the flood gates opened and boom we didn't stop all evening. We made hundreds of personalised necklaces (rosettes, anchors, swallows and hearts) and with each purchase the customer had a complimentary spin on our wheel of fortune, if they landed on "yes", "wow", "yay" or "win" they won a jewellery filled lucky dip but if they landed on "oops", "boo", "pah", "lose" then they were given a limited edition Lady Luck Loser badge! We had such a long list of necklaces to make at one stage our turn around time peaked at 1 hour but with so many other activities going on customers scooted off for fun and games and came back to collect at the end of the evening!
The Friday night flew past in a blur so we were looking forward to the Saturday so we could flit about the fete and play some games and take a look at the stalls! I'd had my eye on the "brooch the subject" stand where you get to smash a vintage piece of crockery and make the remains into a brooch; I wanted to help a chicken flap to freedom; getting a fake criminal record looked like serious fun; helium karaoke was next on the list and I definitely wanted to win a flat pack kitty by guessing who was in the hutch....forget it! We were even MORE busier on the Saturday and I didn't once get to leave our booth. Oh well, Laura scooted around to take these photos and we all scooped up a POP tote bag to commemorate the occasion.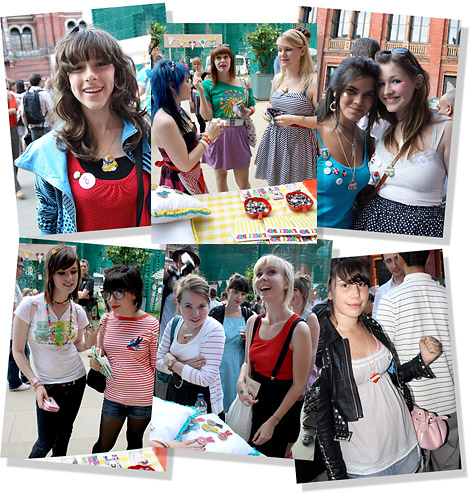 Thanks to everyone who visited our stand, it was so much fun, a little fraught at times making sure we got all the jewellery made but it was worth it every time we saw the delight on a customers' face when we gave them their necklace! If you didn't make it down this year we hope to see you next year we already have an ACE stall panned...
July 30, 2008

Tombola - Week One Winner

Congratulations to Lucy Hendricks who has won an exciting £50 Lady Luck Rules OK gift voucher in our Summer Fete tombola! The next time Lucy logs into her account the gift voucher will be in her shopping cart with a dancing icon in the side panel to remind her it's there! She can shop whenever she wants and spend as little or as much as she wants until the voucher runs out. We will draw the tombola twice more over the next fortnight all you have to do to enter is place an order!
July 18, 2008

V&A Village Fete

Come to our stand at the Friday Late Village Fete 2008!
Now in its 8th year, the Village Fete one of the highlights of London's Summer calendar, held in the beautiful Madejski gardens in the V&A. It's a contemporary take on the traditional English fete, providing an extraordinary array of creative, fun, engaging and imaginative events and games by leading as well as up-and-coming designers.
We were really excited when we were invited to take part - we'll be making our own fete-inspired Rosette brooches and necklaces in our stall. We've been busy designing our stand - a beautiful red and white striped kiosk, and we've been practising our rosette-making techniques so that we can offer a unique 'while-u-wait' service. You'll be able to order your rosette at a very special price, take a spin on our wheel of fortune and win yourself a bag of Lady Luck goodies.
While you're waiting to collect your Rosette, you can place your bets at Carl Clerkin's roulette wheel; play Helium Karaoke with Rob n Dave; pimp your plimsoll with Ruth Bartlett; dance to Michael Marriott's groovy tunes; pop balloons; play musical statues; enjoy foam topiary and wobble jelly building; get your very own Banksy (or not?) and take part in many other stands and games that we don't even know about yet!
Here's some photographs from previous years.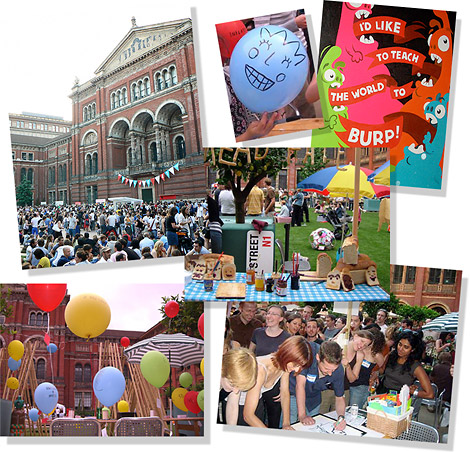 There'll be so much going on - we can't wait. It's always a popular event, and you can come on either Friday evening 6-10pm , when it attracts London's hipsters and artists, or Saturday afternoon 1-5pm.
It costs £3 to get in - advance tickets aren't available - it does get busy, so you're really best to arrive as early as you can, or you'll spend a lot of time queuing.
We hope you can come along, say 'hi' and join in the fun. Look forward to seeing you there!
V&A Village Fete
Friday 25th July 6-10pm • Saturday 26th July 1-5pm
John Madejski Garden, Victoria and Albert Museum
Admission: £3 adults, 50p children 12 years or under
Tickets on entrance via main door on Cromwell Road, London SW7 2RL
The nearest Tube station is South Kensington (on the Piccadilly Line)
For a full list of all the participants and events at the Fete, click here
Click here for a map • Click here for London Transport information and Journey Planner

Enter our Tombola!

Over the next three weeks, we're giving away £50 Gift Vouchers to the lucky winners of our Tombola. All you have to do to enter is place an order on our site, and we'll put your name into the hat.
We'll announce one winner each week on our blog - keep checking back to see if you've won!
July 6, 2008

Sale! Sale! Sale!

It's super sale time (yay) but no need to prepare yourself for a right old scrum in the bargain basement you can sit back relax and skip from page to page seeing what discounts take your fancy! Although a lil' heads up - the knitted knick knacks, sunglasses and t-shirt stocks are quite low and we won't be restocking these collections which means once they're gone, they're gone!
PLEASE NOTE WE DO NOT OFFER EXCHANGES OR REFUNDS ON SALE ITEMS.
July 5, 2008

Ting Ting Style

I was flicking through the new issue of my fave magazine Nylon when I spied the sassy singer Katie from the Ting Tings wearing one of our new T-shirts! The F**k Nu Rave tee is designed by LA scenester Keren Richter and we're currently the only place in the UK you can buy them. Plus for 1 week only they're reduced to just £15! Check 'em out, click here.

July 3, 2008

Colette Elson

Colette Elson is an amazing illustrator who enjoys drawing bright and interesting people and scenarios. She has worked for Bloody Awful Poetry, Orange and Juno magazine and is now our ace new intern! On Colette's first day she took a snap of me in my studio and produced this super cool drawing just one week later! When her work here is done she'll be hot footing it over to Paris (ooh la la) to study fashion illustration, can we come too Colette??? Check out her web page here!
July 1, 2008

Summer Fete Collection

Hello! I'm Julie an intern at Lady Luck Rules OK. My time here is sadly almost over but preparing for the launch of the Summer Fete collection and the photo shoot has been such fun! The collection itself is based on the traditional British village fete so had to capture all the nostalgia of warm summer days playing the tombola, skipping under the bunting and eating melting ice creams! Leading up to the shoot everyone at Lady Luck were busy bees organising the super important finer details of the shoot. From tonnes of research, hair and make up concepts, sourcing clothing and a fab trip to my beloved Beyond Retro (I couldn't believe Abi my fellow intern had never been!) Props were also key to our fete extravaganza shoot including a lovingly handmade hoopla ring and sourcing a plastic goldfish which would you believe was tricky to track down!
Bright and early on the day of the shoot I hotfooted it to the local party shop in search of helium balloons for the shoot. I could imagine skipping down to Superette with my bright balloons and my summery dress. The wind somehow ruined my vision as I was forced to board the bus with my balloons in a bin bag but I made it despite the wind with no popping! On arrival Superette's photo shoot was kitted out with bundles of hair and make up goodies from the lovely Tomoko our hair and make up artist and Alice our model for the day. Tomoko made felt flowers, which were the perfect final touch for Alice's maypole inspired locks.
With everyone raring to go Alice jumped in front of the camera for our first shot featuring the personalised neon pink balloon initial necklace. This girl was such a pro, it wasn't hard getting the all-important shot! This had to be my top pick of the day with all the hard work which came together and Alice looking so summery in her denim jumpsuit. With a quick outfit change the next shot featured the retro liquorice hoopla bangles designed by Kandy Diamond for Lady Luck Rules Ok. Our prize winning goldfish cutie at first refused to float and Sam stuffed our little goldie with nails with no luck but settled on suspending him from sellotape in his kitschy sandwich bag and he was ready to go!
After a lunch of bagels we got to chat to Alice and question her for the cool new blog feature where we found out some really great facts about her including her love for Hungry Hungry Hippos! With a quick make up change shot three was ready and the personalised rosette necklace looked super as Alice beamed with pride after winning the fete Hoopla. At this point the giggle of the day was Lady Lucks very own photographer Miss Laura Hernando telling us all she is a blue belt in Karate – watch out guys if you meet her on the street!
With the day running smoothly our next shot focused on my favourite piece in the collection – the Glass of Pop. We all smiled and "aawwwed" as Alice savoured every last drop of her Twister. Lastly, we shot the new Summer Tote featuring the bunting design that we have all been excited about as huge bunting fans! After our fete festivities and hard work we were all worn out! By the end of the day I couldn't help but smile and reminisce about fun times at my local fete. I hope you love the Village Fete collection as much as I do and check back soon to read our new feature with a behind the scenes interview with Alice Matilda!