April 24, 2008

Superlicious!

Hi my name's Hannah and I'm an intern at Lady Luck Rules OK - one of my favourite jobs during my time here, has been getting ready for the super fun Mini photoshoot. Inspired by some of our favourite magazines such as Lula and the amazing dirtydirtydancing website, we decided the best theme for the new Mini necklace shoot would be a party! This gave us the perfect excuse to whip out the sprinkles, biscuits and of course party hats! After an exciting week of planning clothing, hair, make-up and of course props (including trips to my favourite vintage store, Beyond Retro) the day of the shoot was finally here!
Our super talented hair and make-up artist Tomoko set about getting ready our lovely model Dawn. First of all we shot Princess Hotdog, in this shot Dawn wore the bright party hat I had made the week before. Then we moved onto Whizz Kid followed by Milk Maid. This was one of my favourite shots (and personal favourite necklace) the cute balloon dress was a great last minute find and worked really well. This shot meant there were also a few biscuits around, I'd forgotten how yummy party rings were! We then moved onto Hot Shot with an impressive tiger mask, even though I think Tomoko enjoyed wearing it between shots even more than Dawn!
After this we stopped for lunch, and after a quick Brick Lane bagel (of course), we were back to our shoot. Our first job after lunch was to make the amazing hair pom poms. Tomoko had spent her evening preparing the paper, so we were ready to roll, it turned into a bit of a talent contest, seeing who could create the roundest pom pom, Cordelia definitely won for the size! With our collection finished, Tomoko was able to start putting them in the hair. This turned out to be a genius idea, I loved how well they matched our candy stripe top, very 80's summer holiday, this became the shot for Eat Me Apple.
Our final shot of the day was for Pop Lolly, this was paired with some amazing sprinkle covered lips! After doing a few shots and looking back over them, something wasn't working, what was it? On closer inspection we decided that this was because there was simply too much white in our sprinkles! This could only mean one thing….the only way to get rid of the white would be to pick them out ourselves. We all gathered around the table and began the task. After 20 minutes of doing this, we all agreed we would never see sprinkles in the same way again but luckily it didn't take too long after we'd developed our own techniques. We returned to the shoot with a bright selection of pink, blue, green and yellow sprinkles. After Laura perfected the photos and Sam designed a super cool sprinkle background, the shots were ready for the website and the launch of the superlicious Mini collection!

April 21, 2008

It's been a busy weekend...

It was super exciting to launch our new collection of custom wooden jewellery late on Thursday night - we've been developing the idea for so long now so it was a relief to get them online and then kinda scary when all the orders came flooding in and reality hit that we had to now make them all! Sam and I decided to work the weekend to get the first batch done - laying the artwork out, sanding the wooden shapes, applying the artwork and a double coating of lacquer and then making into jewellery. I took a quick snap of the pendants while they were drying - can you see your name in there???
Talking of tattoos we met the lovely Susan a few weeks ago who popped into Superette to buy a pair of Lolita sunnies. She'd come all the way from Oxford and she excitedly told us about her Lady Luck Rules OK logo tattoos - wow! I'm a bit of a scaredy cat when it comes to needles so I think I'll make do with my Swallow name necklace for now!
April 17, 2008

Tattoo Parlour

Welcome to Tattoo Parlour the all new range of personalised wooden necklaces and brooches by Lady Luck Rules OK! We've been busy bees in the Superette studio creating and making this rockin' collection from an idea that popped into our head a few months ago. The wooden shapes are made from birch plywood which are cut and then sanded by hand. We design and apply the artwork to the wooden shapes in house and then make into jewellery adding two coats of lacquer so you can enjoy your custom made necklace or brooch forever and ever!
Our personalised tattoo name necklaces were originally inspired by my fascination with the 1950s rockabilly queen Wanda Jackson! We then choose three classic tattoo designs - the anchor, the swallow and the heart which Sam drew including a sassy scroll in which we can print the name or word of your choice - maximum 9 letters.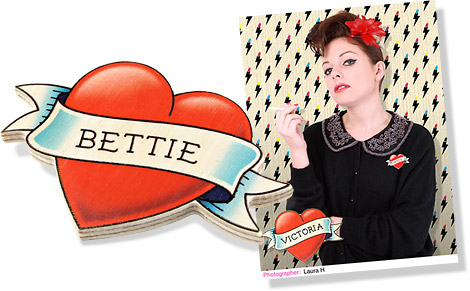 We were lucky enough to have Victoria aka Little Boots to model the collection for us. She's just released a record with Hot Chip and she can also be found spinning records at the Old Blue Last in Shoreditch every weekend. Tomoko our super hair and make up artist whipped Victoria's hair up into the most wild quiff and I added a vintage flower clip from Beyond Retro for a girly touch. We're wearing our rockin' name necklaces with wayfarers, tiki swimsuits tucked into pencil skirts and blue suede ankle boots. Yeah!
We've also made the designs into brooches which means these are the first Lady Luck Rules OK products which are available for BOYS too! Woo hoo. So girls now's your chance to get a gift for your beau to thank him for all the Lady Luck goodies he's bought you in the past! And boys we reckon these brooches will look ace pinned to the lapel of your skinny suit worn with cartoon tee and jet black wayfarers...quiff is optional!

April 3, 2008

Attack of the Duloks

I'm not really sure what happened the other day - we were about to close the shop when we were descended upon by a group of crazed girlies dressed like they'd just jumped out of the pages of a Jackie Annual followed shortly after by a Spanish TV company. They were in fact Laura's gal pals the Duloks a super fun band who you should definitely be on the look out for. They ran riot in Superette trying on Reko dresses, hooting and a hollering and throwing on jewellery and accessories. You can catch up with them at Leeds Ladyfest on April 13th and at the Old Blue Last in London on April 17th. They're touring loads so check out their website for more dates www.duloks.com.