March 14, 2009

Lady Luck's Pop-Up Tea Shoppe

at the London Affordable Vintage Fashion Fair
Saturday 4th April • 11am - 4pm • Entry: £2
Fymfyg Bar, Cambridge Heath Road, London •
Map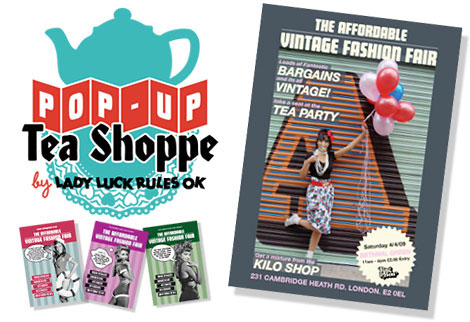 Lady Luck's Pop-Up Tea Shoppe is an exhibition style tea party which features tables dressed up from different eras. Customers can play tidley winks and cards at the 1930s table; make do and mend at the 1940s table; become the perfect homemaker at the 1950s table; go POP at the 1960s picnic table or get crafty at the 1970s table! Waitresses styled in the fashions from each decade will be serving up a delicious menu of traditional home baked fancies including macaroon tarts, lemon drizzle cake and carrot and cinnamon cupcakes.
You'll find the Pop-Up Tea Shoppe inside the Affordable Vintage Fashion Fair which will send budget conscious vintage clothing lovers wild with excitement! With more than 40 stalls of vintage and handmade designs, the fair takes the pick of the best shops, online retailers and wholesalers. Stallholders come from all over the UK to sell everything from 1940s lingerie to fifties prom dresses.
Hope you can join us all for a pot of expertly brewed fairtrade tea and more...

Posted by Lady Luck at March 14, 2009 1:12 PM
hey, is there a minimum age for this? i think it sounds kinda fun, and my cup of tea, but i'm only 15!
Posted by: Georgia on March 19, 2009 10:04 PM

aww come to newcastle or even better for me sunderland more i cant come down london :(
x
Posted by: caitlin on March 19, 2009 10:34 PM

this is going to be so frickin' awsome!
do we have to dress up lmao? but yeahh, should be wicked! xx
Posted by: Jay on March 20, 2009 12:22 AM

maybe we could go to this one as we missed the last one?
Posted by: ash on March 20, 2009 8:33 AM

Hey gals! This is the FIRST EVER Lady Luck's Pop-Up Tea Shoppe and it's being held inside a vintage fair so there are no age restrictions (young or old). Yay! Hope you can make it!
Posted by: Leona on March 20, 2009 1:10 PM

Awh i hope you come to Birmingham *crosses fingers*
XOX
Posted by: Sophie on March 22, 2009 11:57 AM

Posted by: Shelly on March 29, 2009 10:54 PM

i read about you in make jewellery magazine and i make jewellery you inspired my kitsch collection which i have started designing and making, i wish you could come closer to me (portsmouth) as i dont have transport i think ur stuff is amazing and i so wanna go to the affordable vintage fashion fair hayley x
Posted by: Hayley Rose on May 28, 2009 3:22 AM

you should come in closer to me in the Cotswolds. all my mates would love to come if it was in Cheltenham or Birmingham, but also are you going to the clothes show live this year. I went last year and spent so much money, but it was definitely worth it.
Posted by: Tammy on May 28, 2009 5:20 PM

the photos look great, luv the idea that each table was from a different era. The cakes look fantastic, wish I could have gone, but was moving stuff into my flat. Oh well hopeful next time.
natalie
xxxxxx
Posted by: natalie on August 31, 2009 11:56 AM