February 23, 2010

So Long, Farewell, Auf Wiedersehen, Good Bye!

The Farewell Swag Bag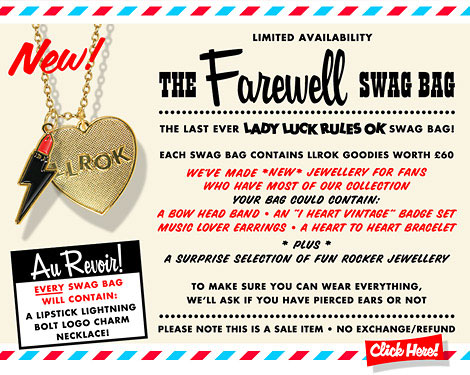 This is the last *ever* Lady Luck Rules OK swag bag and to bid you all a fond farewell every bag contains our signature piece the Lipstick Lighnting Bolt logo charm necklace. We've also made *new* jewellery & reworked best sellers for those of you who have lots of our pieces already. Each bag will contain at least one of the following: a minnie mouse style bow headband, an I heart vintage badge set, a rockin' pair of Music Lover earrings or a super cute Heart to Heart bracelet in gift box. Every bag will have a teapot necklace in a new colourway! The bag will also contain a surprise selection of fun rocker jewellery. To make sure you can wear everything, we'll ask you whether you have pierced ears or not.
Go shop The Farewell Swag Bag!
February 9, 2010

LLROK goes POP!

Now, those of you who've been following LLROK for a while know that we're rock 'n' roll right down to our bobby socks. But I'll let you in on a little secret - we've been known to dance around singing into our hairbrushes to many a poptastic hit, so when we were asked to make some jewellery for this year's BRIT Awards we just had to say yes!
We decided to make some ace sparkling Glitter Tattoo Hearts emblazoned with the names of some of the performers and presenters of this years BRITs, including Lady Gaga, Cheryl Cole, Pixie Lott and Alexa Chung. Alexa's been known to rock some fab vintage style outfits around London Town, so we made her a totally unique Bronze Glitter Heart (the only one in existance!) to go with her collection of blouses and blazers. We also popped in lots of our golden Love Token charm necklaces: Music Lover, Call Me, Baby I Love You and Fang Necklaces will be adding a little Lady Luck Rules OK magic to the BRITs!
February 1, 2010

It's competition time! Win a dreamy LOVE tote bag!

Calling all daydreamers! If like me, you're often found gazing out of windows with your head in the clouds (especially when there's work to be done) then oh boy, do we have the competition for you! We're head over heels for all things heart-shaped at the mo, and we want to get you in the spirit of love with these dreamy limited edition hot pink flock LOVE tote bags - we've only made 5 of them!
To be in with a chance to win one of these lovelies all you need to do is tell us about your ultimate Valentines dream date! Maybe you'd love to be strolling arm-in-arm through Paris with your sweetheart, doing the twist with John Travolta a la Pulp Fiction or maybe taking to the skies in a balloon with dreamboat Johnny Depp?
Our favourite five most imaginative entries will all receive one of these awesome bags. Comment below by midnight Sunday 7th February and the winners will be announced soon after. We can't wait to hear about your fabulous fantasy dates! Now, back to my daydream about a certain Mr Depp…

January 28, 2010

Personalised jewellery... Only a few days left!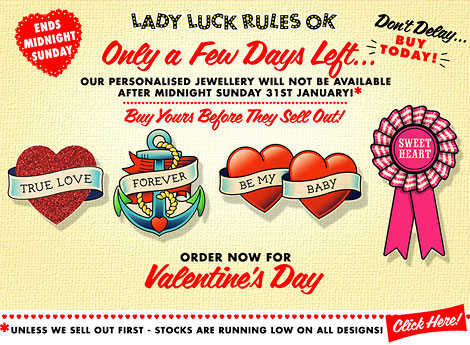 Our personalised jewellery range will come offline at midnight Sunday 31st January! You have only 4 days left to decide what to order, now really is your last chance. Can't decide what to print on your pendant? Check out the blog post below for some fun ideas! Let us know if you have any questions!