April 24, 2006

Make the most of your hair!

We have all the crackin' hair accessories you need to jazz up your look in our new section - Hair Goodies! If you caught the April 2006 issue of Cosmo Girl you will have already seen our budget-tatsic stripy hair bobbles which are only £1 each!!! Now they're ready to snap up... To create your sailor girl look team with an Ace Anchor necklace or for more of a dream date dolly look wear with an Ursula necklace...
If you're more of a rockin' 50s wildcat gal try one of our Valley Girl Hair Bobbles or try to choose between our crazy selection of Alice Bands. We have leopard spots, skinny polka dots and scattered hearts, diagonal stripes, shiny'n' spotty and double bow versions. Vampy night time outfits and by the beach daytime looks are all catered for! Have fun!
April 21, 2006

Schla La Roller Disco

The title is a little misleading as it refers to 2 nights out. Unfortunately you can't go to a Schla La La Roller disco - it would be fun though! On Wednesday night we popped in to see the girls play and enjoyed watching Beyond the Valley of the Dolls on a huge screen on the dancefloor. We also bumped into Chantal who was wearing a LLROK classic Rolling Stones singlet - pictured below. Yay!
Last night I found my spiritual home at Canvas in Kings Cross at the ROLLER DISCO! It was such a gas! I hadn't roller skated for over 10 years (or drank alco pops - that's all they had!). I wore the sparkliest gold jacket, pink fingerless gloves and one of my Roller Girl necklaces - next time I'll wear a visor and legwarmers too. I checked my camera in the cloakroom by accident so I have no photos but I shall be returning very soon with camera in hand and slowly morphing into Brandy Roller Girl from Boogie Nights. Oh yeah sister I got the moves!
April 19, 2006

The Magic Touch

My heat press arrived today. Hurrah! It's like the start of a whole new exciting world. I adore making my jewellery but I'm sooo ready for a change of scene. On my thrifty travels I found a guy selling off his whole collection of original 1970s and 1980s heat transfers and my crafty heart skipped a beat as I snapped up the lot! First on the agenda are my "Happy Shopper" collection of totes which are made from a quality canvas material and will be available in red with black panels or black with red panels. The images will be Rock'n'Roll legends such as David Bowie, Blondie and the Rolling Stones. I also have fun retro images such as Space Invaders and Minnie Mouse. Each bag will be topped off with a Lady Luck Rules OK heart logo enamel pin.
Next up I have mini anchors, hearts, butterflies and cherries to print onto candy coloured cotton boy briefs and my new T-shirt collection called "Teenage Fan Club" will consist of heart shaped transfers with slogans such as "I'm a Suzi Quatro fan" and "I love T-Rex" printed onto stripey and polka dot tees. Oh it's all happening! Tonight we're off to a Schla La La gig at 93 Feet East where a healthy stash of LLROK swag will be on sale...
April 18, 2006

The Actionettes

Wow I've had an ace Easter weekend! A trio of us from Superette closed the shop doors at 7pm on Saturday and promptly threw on our snazziest 50s gear - hats with nets, red lipstick, leopard spots and polka dots. After a brief supper at the Noodle King we sauntered up to Bethnal Green Working Mens' Club where the rather splendid Viva Cake was being held. We snapped up a seat, drank spirits and played dominos whilst watching the Lindyhop class on the dance floor. We ploughed through the free cake and then danced it off with lots of jazz hand movements. The most fun part of the eveing was the performance by the Actionettes - an all girl dance troupe who choregraph their own synchronised dance routines to songs by 60s girl groups. I wanna be an Actionette!
I caught up with Tara aka Miss Scarlette after the gig to get all the gossip...
Q. You were first inspired by a trip to Vegas. Do you plan to go back their to perform?
A. Going back to Vegas to perform would totally be the dream, but unfortunately shipping 12 dancing ladies all the way across the ocean is an expensive affair, so I dont think we'll realise that one for a while!
Q. What is your all time fave ditty to dance to?
A. Oooh, Im sure its different for each Actionette, but I think my favourite dance of ours is I want you to be my baby by Ellie Greenwich.
Q. Who designs your super cute outfits? I need one of those hats!
A. We make our own outfits from vintage patterns! We have a gloriously bizarre array of costumes, encompassing air hostesses, cave girls, nuns, mermaids, santas, Barbarellas, a netball team, and Easter bunnies. Oh, and hula girl outfits are in progress for the next club
Q. How much fun is it to run your own club night! What should party goers expect?
A. A mad haze of kicking & screaming, cake & cava. Each club is themed and we have a live band performing, plus us and the Action Men dancing. The next club is a 60s surf party, called Hula-go-go, and its Saturday 13th May at the Pleasure Unit in Bethnal Green.
Q. Tell us the craziest thing that's happened to an Actionette?
A. Hmmm. Thats a tricky one. We get recognised in the craziest places, probably most strangely by a passport control officer in Rome airport! Miss Rockette and Miss Balconette are particularly adept at getting themselves into exciting escapades
Q. Please give us an Actionette hair styling tip, make up tip and most importantly a dancing tip...
A. Hair tip: Put hairspray on your hair *before* backcombing it, and then give it a quick blast of the hairdryer after backcombing for maximum bouff.
Make up tip: The glue that comes with false eyelashes is rubbish. Buy some proper stuff from a make-up artist shop (Screenface in Covent Garden is good) and theyre much easier to put on.
Dancing tip: Practice in front of a mirror, and remember to SMILE!
Q. Finally I would love to make you guys some jewellery, maybe some Actionette swag. Can I?
A. Yes! Yes! Yes!
April 14, 2006

Girl Gang

We are inviting local scenesters to come and dress our window displays here at Superette and our debut guest is hot new London label Girl Gang. They have scattered our windows with crisp white vinyl bows and hung a huge faux chandelier from the ceiling - it's very fancy. We are also selling pieces from their capsule collection including neon bow print cocktail dresses, pencil skirts and cigarette slacks. New pieces are arriving next week including grey marl slouch tops and you can put your name down for the red stiletto print sundress available from August. Prices start from £80.
It's Good Friday today and we are open as usual until 7pm - why don't you drop by for a hot cross bun! We will also open tomorrow (Saturday 12pm til 7pm) but our doors will stay closed on Bank Holiday Sunday and Monday. If it carries on raining my boyfriend and I are going to do our own Twin-Peaks-athon inspired by Today Is Boring where you watch every episode of Twin Peaks in one sitting without sleep if possible whilst consuming homemade cherry pie and very strong coffee. We don't have a backwards speaking dwarf though. If we haven't gone completely bonkers after that we will also be adding four new styles of tights, glitter disco socks (all 1980s originals) and the all new Gumball Goodies - Crazy Crayon Special! necklace and LOVE ring...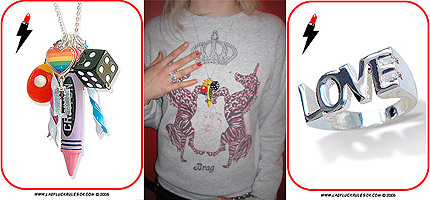 Have a great Easter! x
April 10, 2006

Super Survey

Exciting plans are in motion to totally revamp the Lady Luck Rules OK website but before we go ahead makin' all kinds of changes we want to know what you think! We've complied a super survey you can really get your teeth into and the top five surveys that give us the most useful information will each win one of our exciting new necklaces called Over The Rainbow - these cuties won't be available to buy until mid May. Wait that's not all...the single most super informative survey that enlightens us to what you really think about all aspects of our website will win the first ever Lady Luck Rules OK rock'n'roll tote bag. Good luck!
*Please note: the competition closed on April 30th. Thank you to everyone who entered and gave us so many helpful comments. The winners will be announced shortly. Check back soon!