August 11, 2009

Underage Festival 2009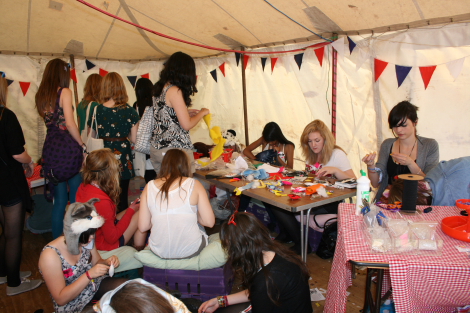 We were back in Victoria Park for our second festival in two days and not only did we rock the green with Rock'n'Roll Tiddlywinks but we hosted a crazy crafting section in the D.I.Y tent. With a mountain of zingin felt, some examples we'd made earlier and a fluffy pile of wadding we encouraged all the lads and lasses of Underage to craft some fuzzy felt festival mementos!
To be honest they didn't need much persuading and whilst we'd prepared a bunch of templates for people to work to most seemed happy to hack into the felt and get creative. On a controversial note, It didn't help that the signings tent had nipped into the D.I.Y tent before we'd arrived and stolen all of our chairs... but we snagged a few pillow/crate combos from the knitting circle and everyone else seemed happy to craft it up on the floor. I guess it was crafting festival stylee - although I will try to have chairs next time : )
When the sun began to shine (YES) in the afternoon we spread out onto the grass outside for a spot of alfresco crafting! Bliss! By this point everyone wanted to attach their fuzzy friends to headbands so the whole Lady Luck crew were sewing up elastic headbands in preparation - in between a few of us managed to slip away and watch Santigold! Hurrah.
I don't think this pair saw ANY bands they seemed to spend the whole day with us craftin' up a merry band of festival keepsakes! The birthday cake is a wee work of art.
The cup-of-tea-with-handlebar-moustache headband has to be our fave! What crazy mind dreams up this? Get in touch! The day buzzed by in a blur but I did manage to take a few more snappy snaps which are on our Flickr page.
A *big* thanks to all Lady Luck's festival crew - Sam, Leah, Tess, Chantel, Emma and Caity!
Posted by Lady Luck at August 11, 2009 10:52 AM