July 27, 2005

Bread and Butter

It's my first day back working at home and boy a lot has happened since the last entry. I have been in Berlin taking part in the European trade show Bread and Butter. We arrived a week before the show and were happy with our lovely apartment Mini Loft. On Sunday we ferreted around 3 flea markets to source furniture and knick-knacks for our stand. Thinking we were going to have walls around our booth we planned to paint the area and hire more furniture. On Wednesday we trekked over to Gartenfelderstrasse and to our horror the booth was closed in with calico screens. We hotfooted it to Ikea, picked up heaps of black and pink fabric, borrowed a sewing machine (thanks Britta) and after 7 hours we had a rock'n'roll hazards booth!
We then hired furniture from a hip little shop called Cache Coeur on Schonhauser Allee. Gemma worked her magic creating Happy Clouds, a rainbow and mini lightning bolts as wall decorations. Finally we peppered the stand with fun trinkets from the flea market - including a pair of dancing 1980s coke cans wearing sunglasses. Ha ha.
Lots of stressful things filled our days including rails not turning up, some one stole the FUN brooch from my table and Babyshambles not turning up to the Vice party (we were all stood in an abandoned cigarette factory in East Berlin til 3am waiting for them). Besides all that sunshine filled the whole booth when my first order was Colette in Paris. Yippee! I then took orders from stores in Barcelona, Switzerland, Dublin, Amsterdam, Italy and Germany.
On the last day of the show we sold a few of our samples to gals and guys from other booths. Don't they look just lovely!
We had 2 days left in Berlin after the show and decided to take our brochures around independants in Mitte. The two most exciting places were Shibuya who are ordering jewellery and tees and Gal Institue who want us to do an exhibition of our work in November.
In ten little days I have learnt sooo much, it's been super hard work - there have been tears. But Lady Luck Rules OK has reached lots of new people and maybe next season I'll do Bread and Butter in Barcelona. We'll have to see.
July 10, 2005

Nikki and the Corvettes

If you're a Donna's fan and you love the Riff Randell version of "Rock'n'Roll High School" then you're gonna die for the 1979 group: Nikki and the Corvettes. My boyfriend bought the self titled album from Ebay when he read in and interview that the Donna's were heavily influenced by them. One listening to "He's a Mover" and "I wanna be your girlfriend" you can see why. The candy voiced lead singer wears super-tight tangerine jeans, pointy toed patent leather spike heels, vamp eye liner and ruby red lips - like a brunette version of Blondie (but with a better voice!) These chicks are exuberant, fun & rock'n'roll - I think I've just discovered my new favourite soundtrack to craft to!
July 8, 2005

Working 9 to 5

It's 2am and we're still working away. We lost most the day watching the awful London attacks unfold on the BBC. I've received many lovely texts and e-mails to see if I'm alright - I was actually asleep when my Auntie called to see if I was OK. What can I say, these crazy fanatics are killing innocent people! Ken Livingstone's speech was really amazing. If you're feeling sad or frightened about what happened today you should try and listen to his words.
So, here we are (my boyfriend Sam, Mickey, Bambi and I) - and look what a mess we've made.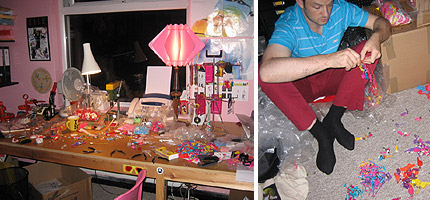 July 5, 2005

There's no place like home, Dorothy

I have spent the 4th of July weekend in Chicago and it has been a whirlwind of fun. Along with all the tourist stuff: martinis on the 96th floor of the John Hancock building; sunbathing by Lake Michigan and ooh-ahh-ing to the Independence Day fireworks - I have finally been to my first yard sale. We spent Saturday driving around the Logan Square area and pulling over when we saw cute little homemade sale signs (see picture below).
I also got a taste of a real American thrift store. Picture your local charity shop but the size of the biggest supermarket (see piccie below). These huge warehouses are choc-a-bloc full of second hand clothing and vintage jewellery. I picked up some quirky charms, vintage chain, novelty brooches and more! I will be working with my treasures, breaking them all apart and adding some exciting new findings I picked up stateside to create my new collection.
Now I'm home I have 10 days to prepare for my first European trade show - 'Bread and Butter' in Berlin. I will be showcasing my new collection to buyers from stores all around the world. I'm sharing a stand with my lovely friend Gemma who will be showing her new Lazy Oaf tees. We're going a few days before the show starts so we can (yes you guessed it) go to the flea markets! Yippee!