August 22, 2005

I wish it wasn't raining...

...because the necklaces I've made today are for sunshine filled days. Thank goodness they're off to May Day in Barcelona then! I met Marina and Daniel from May Day boutique at Bread and Butter in Berlin. When they fell in love with the Electric Daisy necklaces Marina asked if the central motif could be the bambi and cupcake badges. How could I refuse? If you fancy one of these for yourself just go through checkout on any of the Electric Daisy necklaces and in the comments box type in the colour you would like (white/pink/blue) and either bambi or cupcake. The little charms dangling from the ends are 1930s glasses charms I picked up at a flea market in Paris. I love the mini anchors.
If you're wondering who the cheeky little devil peering around the corner is? Well she's a cherished member of my fawn collection and stars on the Bric a Brac T-shirt and on all the fawn badges peppered throughout the collections. She now lives back home with her family in my bathroom. Don't ask. It's nearly a week to the day Mr Vincent Gallo was in town and I missed it. Stamp foot/shake fist. But my lovely friend Mette and her boyf JR were there and this is what she has to say about it...
Spaaaning time with Vincent Gallo and his band! Mmm I wish! Only from the bohemian balcony of what is KOKO in Camden, with Vince playing real nice. When we arrived the queues were already forming, packed with Billy Brown look-a-likes in black drainpipes, red shoes and varying stages of Gallo hair growth. It was a refreshingly down to earth performance, with Vincent sat on a small red chair cracking jokes and talking about the weather. Woodie was in charge of bass while Teresa played the drums, the piano, the guitar and managed to sing with little more than a glorious voice....all whilst being
heavily pregnant!!
They finished with King Crimson's "Moonchild" a real must for anyone crazy about Buffalo 66 and it worked, we were all cheering and when they announced they didn't know anymore songs we all left ready for a cup of hot chocolate, hoping for more when Brown Bunny hits the UK. Real nice.
August 19, 2005

Calling all Crafty Chicas!

The September issue of BLISS magazine has just hit the newstands and if you skip to page 157 there is a whole page dedicated to Lady Luck Rules OK! Yippee! The article gives a brief lowdown on how I started my business with a few tips on how all you crafty tykes out there can turn your creative pastimes into a fruitful and fun career. Bliss magazine have also launched a competition to win work experience here with me at Lady Luck Rules OK! All you have to do is send one of your designs (clothing, shoes or jewellery): with your name, age, phone, address and e-mail to "Lady Luck" , Bliss, Endeavour House, 189 Shaftesbury Avenue, London WC2H 8JG. The fashion team at Bliss will choose their top 20 and then I'll choose the winner. The closing date is 14th September 2005. I'm very excited and look forward to seeing all your super designs and meeting the sparkling talent who wins. Good Luck!
August 14, 2005

Margin

Lady Luck Rules OK opened up it's jumbo rainbow stand at Margin for the third season running last weekend. Attendance was 30% down as some buyers chose not to visit London due to the events in July but nevertheless good orders were written and fun was had with my trade show gang! I'm pleased to welcome two exciting new European stockists Flying A in Switzerland and Eightball in Italy and lots of my current UK shops stocked up on a sparkling selection of new designs. On the last day Laura from Heidi Seeker and I did a swag swap - one of Laura's LOVE WILL TEAR US APART biker cardigans for one of my Electric Daisy necklaces, a charm ring and a pair of Smurf sunglasses (see piccie below). This girlie is one to watch, her collection is super duper - punk meets new wave in an ice cream parlour! Oh yes!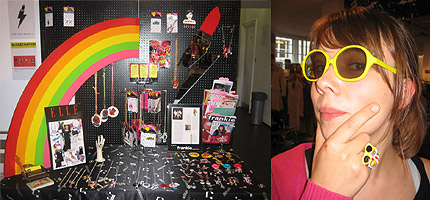 After the show I spent 3 sunshine filled days in Devon with my boyfriend's family. I feel relaxed and happy and ready to get down to work - I have lots of wholesale orders to complete now, more new items to add to the online shop and a secret project to get my teeth into. All will be revealed very soon...
August 5, 2005

Fuzzles

To celebrate the new FUN STUFF section we went to the Good Mixer in Camden last night and asked a few nice boys and girls to model the Fuzzle and Smurf sunglasses to give you guys an idea how super cute they look. It was a real giggle and as you can see although these sunnies were made for kids in 1983 they fit us adults too. Yippee!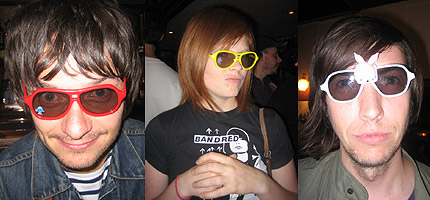 We also met up with Emma from Amsterdam and her sister who we met in Berlin last week. Emma is about to launch her own label called Rockabye-Baby for punk babies, awww. I checked my e-mails when I got home (as always) and the lovely Lisa from West Yorkshire told me one of my Rolling Stones chain brooches was being worn by a girl from Absolute Power on BB2. How exciting, thanks Lisa! Today I'm preparing for Margin, my usual UK trade show at the weekend, I'll let you know how it goes...
August 2, 2005

5678s

I loved Kill Bill for two reasons: the rennaisance of Daryl Hannah as an evil PVC clad nurse and it introduced me to the 5678s. I immediately bought their Bomb the Rocks album and when we found out they were playing the Dirty Water Club in Kentish Town, Sam scooted down to Sounds that Swing in Camden and purchased two tickets. They were wild! Matching sixties gold frocks, bee hives and a strong punky sound. Ronnie the lead singer rocked the crowd and everyone joined in with woo hoo's where appropriate - it was like a punk rock sing-a-long!
For the encore they played Mr Lee and the crowd of Brazilians, Camden punks, indie boys and old rockers went mental. A bit much for me, I sang my heart out from the side - pushing the pogo-ers back into the frenzied crowd if they strayed too far. Ronnie gave a young Brazilian girl who was in near hysterics a guitar pick, I was going to offer to turn it into an earring for her but on closer inspection she had both ear lobes stretched with plastic plugs. They're playing again tonight, but get there early if you don't have a ticket as the queue was stretching down to the Bus Stop on Junction road...woo hoo!