July 28, 2006

Badge-a-rama!

The Superette gang were livin' it up Summer Fete style at the Viva Cake happening last Saturday and oh what fun we had... We hosted a whopping 7 hour "Badge-a-rama" session and had all the gals and guys strutting around the place wearing their very own pieces of badge art jewellery. Badge-a-rama - You draw it! We'll make it!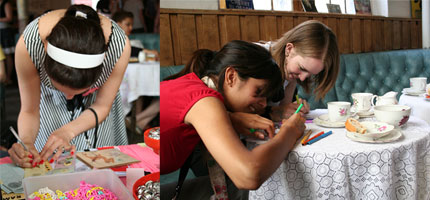 Eager floral frocked ladies and quiff toting boys were cajouled into gathering a heap of pens and templates, then drawing, dribbling and scribbling ensued. Finally the little sheets of magic were brought back to the stripy table and transformed into badges, necklaces and earrings! Hurrah! Picture above: snazzy customers designing away. Picture below: the Superette sisters *left to right* Lady Luck (no idea why I'm pointing at Gem?), Penni P, Super Sarah and Gem.
Happy punters also had their nails painted at the beauty bar, shopped at the Bric-a-Brac stalls, played poker and dominos, drank plenty of tea and scoffed all kinds of cake served up by the fabulous roller skating waitresses!
My boy Mr O showed up in the afternoon with our entry into the "bake off". Oh yes the Lady Luck lipstick lightning bolt logo shaped cake caused the girls to gasp! Our wonder cake had a pink top sponge and lemon bottom sponge with a jammy and buttercream centre. Mmmmmm. We fought off tough competition to claim 2nd prize and Sam wore his handmade rosette prize with lil anchors all evening.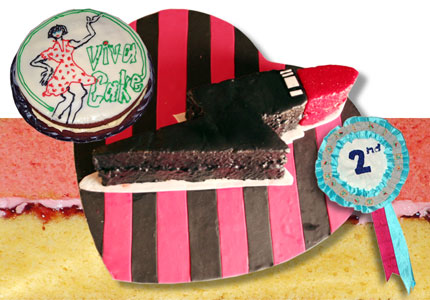 We packed up the stand at 9pm and spent the rest of our night gossiping in the courtyard and having a knees up on the crazy light up dance floor. Phew! Can't wait to do it all again very soon. Hope you can join us!
Photos by resident LLROK snappers: Sarah Stonehouse and Sam Oakley. Thanks guys!

July 15, 2006

Viva Cake Summer Fete

Hey kids! What are you up to this Saturday 22nd July? Fancy checking out at a traditional summer fete with a rock'n'roll twist? Well throw on your bestest polka dot frock and come hang out with the Superette girls at the Viva Cake Summer Fete! Superette will be holding 2 super duper jewellery lessons with a twist...in between you can also join the stitch and bitch knitting circle, be pampered at the 1950s beauty bar, shop at the bric-a-brac stalls, have your tarot cards read by the mysterious Byzy Bizarre and eat lots of FREE cake! Admission is £8.
The day starts at 12 noon at the George Tavern, 373 Commercial Road E1. The nearest tube is Whitechapel and the nearest overground DLR is Shadwell. Click here for a map. Don't forget to dress up for the occasion... anything kooky, flowery, summery and rockabilly - Dresses for the girls and neckerchiefs and coiffed hair for the boys. We'll also be entertained by The Trojans at 9pm who are a funkadelic ska band and The Rumble Strips at 10.30pm who are a young and seriously cute up and coming rockabilly band. Plus a Lindy Hop lesson at 8pm.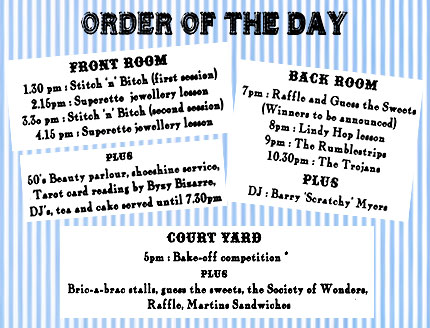 Lest we forget, the ultimate in fete-tastic frolicks - the 'Bake-Off'. Cake bakers must unite! The competition is based around the quest for the perfect cake, so anyone and everyone should bring a cake along. There's a trophy to be won and prizes for 1st, 2nd and 3rd places, having being judged on taste, originality and creative flair. Yippee! To reserve your place on the Superette jewellery happening add your name to the comments below! Let us know if you'll be joining us at 2.15pm or 4.15pm or just turn up on the day, you're all super welcome...
July 12, 2006

Fun in the Sun!

It's that time of year again when Lady Luck flits off to the Bread and Butter trade show to showcase lots of exciting new goodies to boutique owners from around the world. This season we are treated to 2 European destinations: the beautiful city of Barcelona (which happened last week) and the hip to the beat city Berlin (we leave tomorrow, arghh!). So far we have scored new stores in Paris, Florence, Germany, Greece and Switzerland!
Our new collection features the biggest ever plastique cherry earrings and long necklaces in bright red, bubble gum pink and punky purple. As modelled above by the very bonnie Anita who owns "Inside" one of our new stockists in the hip Barri Gotic area of Barcelona. We also have metallic anchors and bows, shiny seahorses, dinky enamel cluster earrings and necklaces featuring pink bunnies, rainbows, stars, clouds and apples. We also have bamboo hoops, jumbo heart necklaces, bow rings and a whole selection of plastic snowflakes in different shapes and sizes...roll on christmas just for those!

Now you can't say we don't listen to you all here at Lady Luck towers... During our "name the chain" competition oodles of you wanted to know where you could lay your paws on the 'zine of the moment Super Super. We hopped to it and set ourselves up as a SUPER SUPER stockist. So BUY! BUY! BUY! right here sister! We'll be adding lots more *hard to find* books and magazines to a new book store collection later this summer, so any requests you have let us know!
July 3, 2006

Happy Shopper

It's kinda exciting here at Lady Luck Rules OK today as we're staging a double launch! Our debut tote bag collection Happy Shopper and our newest enamel design the super cute Docey Doe. All designs are being introduced to you by the ultra hip new face of LLROK: Suki Sou. Suki Sou is our Myspace friend and she travelled down from Brighton 2 weeks ago for a day of striking poses in front of our fave photographer and former Lady Luck intern Super Sarah.

Our hot rockin' tote bags are the perfect accessory for oodles of occasions! Minnie Mouse would like to be taken on lots of Saturday spending sprees as the super sized quality cotton canvas can be stuffed full with vinyl delights and vintage dresses! The Thin White Duke (our Bowie bag) can accompany a gal on a jazzy night out and will duly look after all her "overnight" bobbins from a nifty pair of sneakers if those stilettos start to pinch to an oversize make up bag for all important top ups! Space Wars would like to be your everyday side kick carrying your crafty knick knacks to the knitting circle to your organic veg from the wholefood store! Eat to the Beat (our Blondie bag) will be your thriftin' helper: Step 1, roll up tote and place inside hand bag. Step 2, Get on down to your local jumble sale/carboot sale/school fete/church table top sale. Step 3, spy that fun stack of vintage Jackie Annuals. Step 4, no longer do you have to let out a huge sigh because you have no way of carrying them! Oh no sister reach inside your handbag, unroll your super hot tote, purchase annuals and skip home! You're a HAPPY SHOPPER!
But hey! Don't forget to check out Docey Doe... She's a cute as a button folk dancing fawn born and raised in the Swiss Alps. Wanna know more? Click here.