February 28, 2006

Girls on Film

Yesterday we shot the debut Lady Luck Rules OK photo campaign and I want to say thank you-thank you-thank you to everyone involved! Firstly the team - super talented photographer Asami Uetsuji; make up supremo Anne-Katrin Luck (love that surname); hairstylist wonderkid Keiko "bunny slayer" Somekawa and stylist assistant and indie intern Sarah Stonehouse.
We had 2 ace models - I scouted burlesque dancer Miss Cherry Contrary from Spitalfields market (photo above) and Laura from local agency Union Models recommended cute as a button New Face Venice (photo below).
Lastly a quick thank you to Beyond Retro who lent us the clothing for the shoot. Oh, and the super cool footless tights are hand printed with dice and hearts and they will be available to buy right here in the LLROK online shop next week.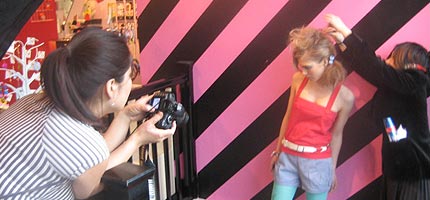 We closed Superette for the day - the basement became the hair and make up salon and the shop floor was our studio. The girls modelled a selection of new goodies including the Sparkle Rocker brooches, Teenybopper Rings, Super-Duper Charm Bracelet and Valley Girl Hair Bobbles. Asami is bringing the disc in today so we can edit the photos which will go on to be used in our up coming press campaign, on the website and a flyer and postcard campaign. It was such a fun day and I look forward to showing you all the final results and introducing you to the star of our shoot and new LLROK mascot!
February 25, 2006

We Heart Sapphire

Sapphire has just interviewed me for her boyfriend's zine Drat! and she sent me this cute photo - she definitely has a LLROK habit.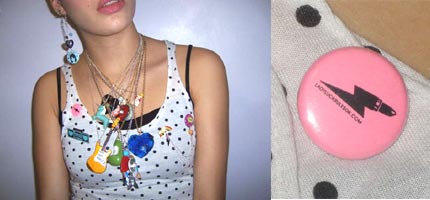 Odysseas from Margin e-mailed yesterday to tell me my new stockist in Barcelona RIFT has kindly written about us on their website - FeedMeCoolS**t. It goes down as one of the most peculiar shout outs. Thanks. I think. And we've made the Heidi Seeker blog too. Sweet.
February 20, 2006

Valley Girl Hair Bobbles

I've just added 2 new designs to the shop! Firstly we have the tres cute Valley Girl Hair Bobbles. Made especially for gals who love to rock the side ponytail look and for followers of the cult 1980s flick Valley Girl. You gotta love the young Nicholas Cage and why not try the Valley Girl translation game! Click here to have a good giggle.
Next up we have our signature designs the 1" button badges but this season they're nifty little mismatched studette earrings! I've also updated my stockist page so you're in the know which high street you can pop down to pick up the latest LLROK goodies. But remember if you buy online you'll receive your goodies beautifully wrapped with free pin badge and all usually within 3 days!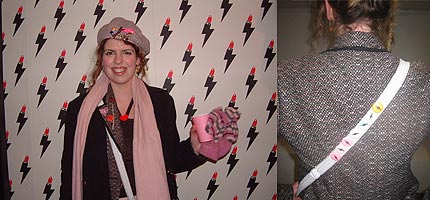 Claire from Bristol (who came to the Superette opening party) has popped all her LLROK badges to the strap of her bag. Go Claire!
February 14, 2006

Paris, Margin and the lucky winner!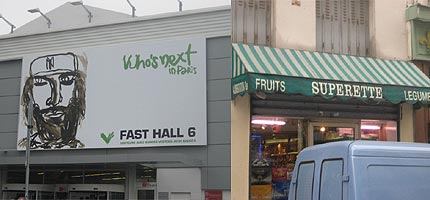 It's been super busy at Lady Luck towers since the launch of our new collection but we still made time to pop on the Eurostar 2 weekends ago to check out the trade shows Parisian style. Miss Oafette and I wandered through Who's Next, Pret-a-Porter and Pick'n'Mix. I fell head of heels in love with the French label April 77 - teddy boy inspired glittery jackets complete with tortoiseshell comb in the inside pocket. Sweet. We also showed our samples to the stores Fruit Punch and Lazy Dog and whilst on the way to Colette passed our sister store.
Yesterday and Sunday was our 4th time showing at Margin and we were all treated to a snazzy new location in Pimlico. Sam made me a booth using the logo wallpaper left over from Superette and I took my 1970s hanging chair which everyone enjoyed swinging in - especially Odysseas who runs Margin (see photo below). We're happy to be re-stocking Social in West Hampstead, Eightball in Italy, Flying A in Switzerland which is now called Famous Ape and Thunder Egg in West Didsbury. Our new stores are Rift in Barcelona, Vertige in Lille, France, Ripe in Shrewsbury, Ark in York and Goodfella's in Italy. Phew! We're gonna be busy! The best seller was my new design "Valley Girl Hair Bobbles" which I'll be adding to the site next week...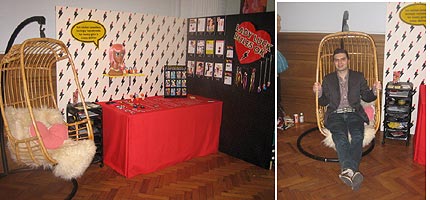 Oh, and I'm pleased to announce the winner of the last ever Flash! necklace is Fran - I don't have any other info. but we've sent you an e-mail so get in touch!
February 7, 2006

Go Go Girls have landed!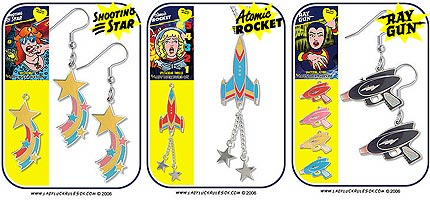 We're all super excited at Superette to finally launch our B-movie inspired collection of enamel earrings, necklaces and badge packs. Every design is available in a variety of colourways and as an 18" silver plated necklace or a pair of earrings on silver plated fishooks. Every design will also be sent with it's very own collectors card. The new designs are also on their way to the Red Door Gallery in Edinburgh this week and I have just this minute taken a super huge order from my Japanese distributor. Yippee!
We've designed a new set of supersonic e-cards for you to send to all your pals. I hope you have fun sending them! We'd really love to hear your feedback about the new collection - everyone who lets us know their fave piece and why by midnight on Sunday will be entered into a prize draw to win the last ever Lady Luck Rules OK Flash necklace! (Please leave the feedback as a comment on the blog not an e-mail to me) Good Luck!