July 27, 2009

V&A Village Fete Jubilee 2009

If it's summertime then it's V&A Village Fete time - a real highlight in the Lady Luck Rules OK calendar of events! We had so much fun making personalised rosette name necklaces last year but this year we fancied creating some kind of giant game for people to play... so inspired by my two favourite things *kittens* and *the Ramones* we devised a super fun game called Rock'n'Roll Tiddlywinks.
We designed and built a throwing gallery in the shape of a pair of 8 foot kittens holding records and customised some mini frisbees which became the 'winks. Players had to throw 2 out of their 12 'winks through any of the targets to the sounds of a 30 second snippet of the Ramones. Easy, right?
We arrived at the V&A fairly early on the Friday morning to set up our stand and were treated to several down pours and a monster thunderstorm. As luck would have it, the skies cleared and when the tickets went on sale at 6pm they were pretty much sold out by the time the doors were flung open half an hour later. We could see the crazy queue wrapping around the outside of the garden as we started to test run our game with 15 minutes to spare...eek.
This years theme was a Jubilee style celebration and the whole of the John Madjeski Garden was decorated in red, white and blue with union jack flags rustling wildly in the wind. The huge water feature in the centre of the garden was drained out and replaced with rows of tables like a 40s street party.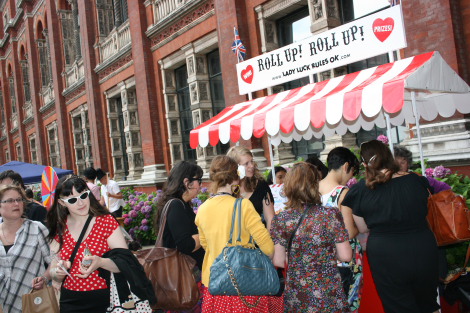 It took less than the length of a Ramones track for our Kiosk to be swamped with eager fete go-ers wanting to play, win, buy, rummage in the super sale box and cheer players on.
Customers started to play the game in pairs which made for a real frenzy! Hey ho! lets throw!
It wasn't too bad if a customer didn't win because we had cutie-pie consolation prizes and every player was entered into our Twitter raffle. We're going to announce the first raffle winner later today so keep your ticket safe and follow our sweet tweets.
It was totally amazing when players did win because the whole crowd got so excited jumping up and down and cheering. It was a blast - thanks to everyone for really getting into the spirit of things!
Winners were treated to a limited edition rock'n'roll kitten necklace which we designed specially for the fete as seen in the Fashion Statement section of the Guardian last week! Yay!
For all of our lovely customers who live far, far away we haven't forgotten about you! Oh no! You too can win one of our itty-bitty kitty necklaces on the super ace Disney Rollergirl blog.
Plus we've uploaded oodles of photos from the fete onto our flickr page!
Posted by Lady Luck at July 27, 2009 2:50 PM
Oh no! i missed it...i totally got my dates mixed up and thought it was this weekend!! damn...looks amazing though..loving the kitten theme indeedy!!
Anyhoo hope all good
pen xxx
Posted by: penni on July 28, 2009 8:42 PM

OMG, that looks like a total blast. Good on you for dodging the rain, I did think of you when I heard those pesky rumbles of thunder...
Posted by: Rollergirl on July 29, 2009 1:18 PM