March 31, 2009

Affordable Vintage Fashion Fair in Leeds

We arrived in Leeds on the Saturday night and had a lovely dinner in Art's Cafe on Call Lane. It was an early night for us though as we had to be up-and-at-'em the next day to set up our stand at the much acclaimed Affordable Vintage Fashion Fair.
The Loft made the perfect venue for a vintage fair, it was light and airy with ample room for the massive loads of vintage clothing which was being transported inside on never-ending rails. We found ourselves in the slightly smaller of the three rooms which was nice and had a cute little atmosphere goin' on. I found it difficult to concentrate on setting up our stand, I just wanted to run riot about all the vintage goodies before it opened to the public!
I gathered myself together (after a cuppa and a sausage sandwich) and got to work merchandising a good selection of all our website stock including handmade goodies, vintage accessories and sale goods.
It was the debut outing for my find of 1980s Japanese headbands. I found a huge bundle of crazy colours in crazy styles at a flea market and at £3 a pop they were a good seller! Our sale tubs of slightly imperfect personalised necklaces were also cleared out good and proper with the lovely lasses from Leeds taking up to five at a time.
I also remembered to attach the wee birds to our lollipop tree displays today! Tweet, tweet.
Throughout the day I kept sneaking away to the massive vintage trimmings and components stall in the room next to us. My mama magpie radar was on full alert and I could have spent the whole day sifting through the boxes of unusual finds.
Buttons! Ric-Rac! Chains! Yes, Yes, Yes!
I also picked up some ace 1950s and 1960s magazines for our Superette reference shelves. The day was a high five super fun success! We can't wait for the Affordable Vintage Fashion Fair to come to London where we'll debut our Pop-Up Tea Shoppe (just one week to go, eek). Hope to see y'all there!
March 30, 2009

Spring Fling in Sheffield

Our UK tour sprung into action last weekend with a super fun Yorkshire weekender! Our first stop on Saturday was the first ever Spring Fling in Sheffield which was organised by the indie grrl group Craft Candy. We arrived bright and early at 8am so we had enough time to assemble our sparkling new lollipop tree jewellery holders. Hannah and Julianna our super cute interns had made them especially to house our new collection of "playmates" jewellery. I had only just finished making the first batch in our hotel room the night before, eek.
It was great to meet all the girls behind Craft Candy - they'd put so much effort into organising the event and it really showed. The Workstation was a great venue, the stalls were organised over two floors selling everything from Easter egg hunt charm kits to expertly bound notebooks handmade from vintage tea towels. The day started with a flurry of excitement as we handed out free LLROK tote bags which had a few little surprises inside them to our first 20 customers. It quietened down a little later on so I managed to slip away and take a few snaps of my fave stalls...
I made a beeline of Betty Joy's stand! I have been a regular visitor of their website for a while now and feel sad it's going to close down this month. So I made the most of their knocked down sale prices and snapped up a "busy bee" notebook by Kate Seaward and ummed-and-ahhed over an owl utility apron. I really shoulda!
Sarah one of the Craft Candy ladies was a busy bee herself on the day, not only organising the event but also running her own stall Plain Jane Textiles. She really is a screen printing whizz kid! Her glasses case holders make me wish I wore glasses!
I was drawn to Joey's Dream Garden and her "super-cute, made-by-me, never-seen-before designs by Joey Ramone". How could I resist??
Well, until I spied actual fondant fancies on the stall round the corner only to find out they were for display only. Argh.
My fave jewellery find of the day goes to Cherry Pips and her round robin and bluebird brooches. The stitch and felt work was amazingly neat. Super cute!
Yes! It's Easter soon, woohoo. But for now we had a train to catch to Leeds ready for the Affordable Vintage Fashion Fair on Sunday. Au Revoir Sheffield!
March 2, 2009

The Never Ending Refurb

Our new year refurbishment is *nearly* finished. We closed the shop part of our space back in January and then proceeded to paint EVERYTHING white!!! Covering red, pink and black takes quite a few coats of paint though so it's all seemed a bit never ending. I took the snap above as Sam painted on the first white brushstrokes, there's no going back now!
Yesterday we came into Superette and painted our diagonal stripes back onto the wall. This time it's a seaside fun meets candy store style cherry red and white. I LOVE it! I'll post the final shots of how we've changed the place in a few weeks time...
March 1, 2009

Photoshoot at the Victoria

We had a fun trip outta the studio on Friday because it was time to shoot some new promotional photos. We shot on location at our local pub the Victoria. It's such an amazing venue with lots of original features and quirky objects including a wall of vintage cuckoo clocks which will form part of our advert for Nude magazine.
We had the pleasure of working with our fave hair and make up artist Tomoko Kinoshita again. With the aid of her assistant Yuki she created an amazing 1950s tropical headpiece for Caity to wear with our Go Go Glitter earrings.
We also booked dancer/performer Tor through the Whoppee Club - thanks Jane! I first met Tor dressed up as a cute little cupid at the Love-A-Fayre a few weeks ago. We decided to keep Tor in Cupid character to complement our Double Heart Tattoo Name Necklace.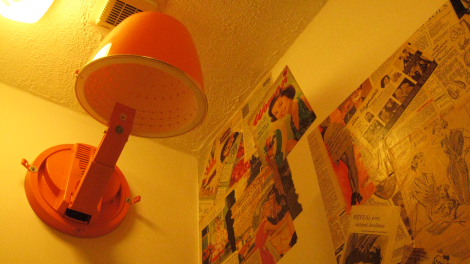 One of my favourite details in the Victoria are the toilets but we didn't manage to include the area in our photoshoot so Lindsey took a snap for the blog.
If you find yourself in East London then you should definitely check out the Victoria! They have a cinema on Sundays with free popcorn, jumble sales once a month, live music every weekend and a super fry up and cakes on the menu. A big thanks to Alfie for letting us run loose around the place for the day!