October 30, 2007

Spooky Buddies

October 25, 2007

Happy Halloween!


To celebrate Halloween this year we've put together a dead tempting treat bag stuffed full of TEN pieces of skull jewellery. The spooky skulls are in an amazing array of candy colours and styles include rings, necklaces, earrings and keyrings. There is more than one of each design in every bag but they'll be in different colours and some are sparkly too...oooh! So we expect you'll all be doing the decent thing and sharing the goodie bag with your pals and not keeping them all to yourself, mwahahaha.


Are you hosting or going to a Halloween party? The spooky contents of our treat bags will make great prizes for apple bobbing contests or best / worst dressed prizes. My friend once dressed as Tipi Hedren from the Birds with torn stockings and fake birds attached to her legs. Laura from our studio and her friends are thinking of dressing as the victims of Jack the Ripper. What are you doing for Halloween, let us know, send us photos, we LOVE Halloween.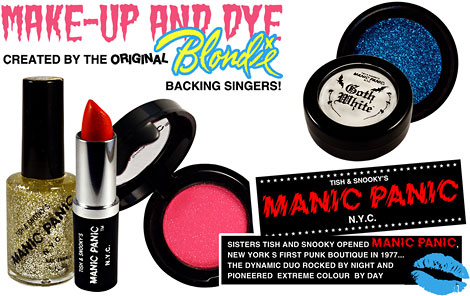 We're excited to introduce you to the super cool make-up brand called Manic Panic from New York! Back in 1977 two sisters called Tish and Snooky, who at the time were singers in the original Blondie line up, added some extra ambition to their rock 'n' roll lifestyle. They gathered up some of their clothing designs and with a $500 loan from their mom, opened America's very first punk-style boutique on NYC's infamous St. Mark's Place. Mom coined the name "MANIC PANIC", as her two daughters rocked by night and became business proprietors by day. New York had never seen anything as cool as MANIC PANIC. The make up brand is still going strong with stores all over Tokyo and we love it! Our fave pieces are Spider Liner, glitter Eye Paints; Claw Colours; and Glam Dusts...perfect to create a slick goth'n'rock look this Halloween and beyond!

October 23, 2007

LLROK Pom Pom Scarves - coming soon!


Our super knitting pal Kandy Diamond is working her wee socks off this week creating a whole new collection of knitted knick knacks for us! We received the samples today and couldn't wait to show y'all the Lady Luck logo pom pom scarf...it totally rules! We also have jumbo candy cane hair clips; bow necklaces and rings; musical note scarves and musical note pom pom hats. The limited edition collection will go online next week, so why don't you join our mailing list so you'll be the first to know. Click the link on the left hand bar...
October 19, 2007

Berets, Bows and Party Frocks!


We're excited to introduce our new range of fancy frocks designed by Scandinavian star Reko...and just in time for the party season! There are three styles inspired by 1950's diner dudettes to choose from -
• the Annie dresses with vintage buttons running down the front, a flattering elasticated cinched in waist and an adorable sweetheart neckline. Pretty prints include rainbow hearts, jumbo polka dots, an amazing twirling telephone print and an ultra chic Paris print with birds and Eiffel towers.
• the Bea dresses which have a super saucy fitted top half with 3/4 length arms and sweetheart neckline and a flirtatiously girly bottom half in either leopard print or black and white modette stripes.
• the Lotta dresses which are strapless and smocked with giant bows adorning the front. Pretty prints include rainbow hearts and red and white stripes.
You can wear your Reko dress daytime style with woolly tights, pumps, a cute cardi and pop on one of our Berets avec Bows. C'est chic, non? Then snazz up your Reko dress party style with cropped tuxedo jacket accessorized with the sequin bow you've detached from the beret and super high stilettos.

We've gone crazy for wild Eighties girly bows! Wear our silky T-shirt Bow Ties attached to your fave tee, available in 6 different colorways; our zany Harlequin Hairdo bows will tame your tresses; and our Berets Avec Bows have detachable jumbo sequin bows which you can wear as a brooch too! Woohoo! All our bows are 1980s deadstock from Italy which means they're unworn and in mint condition but they were made over 20 years ago so they have that well made vintage feel. They'll also ensure you look that little bit different from the flock of high street followers...nice.

We've also added 2 new styles to our super popular Love Is product. We now have 'caring' and 'forgiving'. PLUS a new Knitted Knick Knack - a happy and sad fried egg. Alicia Kachmar created them as mood indicators so you can pop him on your desk and flip him onto which side you're feeling that day, your colleagues will sure appreciate it!
October 12, 2007

Beat the Post Strike & plan a fun day out!


As most of you know, mail in the UK is being affected by the current strike action by postal workers and this has meant that for the past week we've not been able to deliver your goodies with our usual speed. We've been busy here trying to find out what we can do to keep delivering our goodies during this period.
Today, we took sacks of jewellery to our local sorting office to jump the queue and ensure the impact of the strike is kept to a minimum for all our customers. Our local sorting office is a huge hangar in an industrial park. Usually there are 250 people working there sorting mail. Today nobody was at their workstations, as aside from the official strikes, East London (and several other areas in the country) has been badly affected by 'wildcat' strikes.
There were a few postmen on duty and they were extremely helpful when we showed up. They told us that all overseas deliveries would be processed as normal, and all Special Delivery packages are processed separately, being treated as a priority, and continuing to arrive next day.
All our deliveries are sent 'signed for', which means all deliveries are tracked and require a signature when they arrive. Unfortunately, during the strike, items sent in this way are being placed in an ever-growing queue at the sorting office.
We do have an option to send Special Delivery. This may be your best option if you can't wait. Royal Mail say -
Special Delivery will continue to be a priority throughout the period of disruption. We have well developed contingency plans, and will do all we can to deliver Special Delivery items on the due day. However, money-back guarantees have been suspended for items posted on 4th October onwards. These will be reinstated as soon as we are sure we can fulfill the service promise.
To find out more about why postal workers are striking, click here: What's the postal strike about?

To get the latest updates on industrial action, click here. The Royal mail have an update link on their main page.
During strike action, we can't guarantee our usual terms, so please bear with us. We'll do our sneaky best to keep ahead of the backlog by taking our goodies direct to the sorting office. We can't tell you how much your delivery will be delayed by, but we can guarantee that because it's sent 'signed for' it won't get lost and it WILL arrive.

In the meantime, why not select 'collect from the studio' as a delivery option and visit us in person at Superette, we're open 7 days a week and sell lots more exciting goodies including party dresses and vintage jewellery. If you plan to make a special visit, we can point you in the way of some fantastic shops and places to visit. Plan a day out in the most vibrant area of London and beat the postal strike!
Superette, 66a Sclater Street, London, E1 6HR
Click here for a map.
Find more independent shops and a huge range of art galleries, cafes, restaurants, pubs and clubs at The Shoreditch Map.
October 3, 2007

"Hej Hej" from Stockholm!


Lady Luck Rules OK has been flying the flag for ole London town in Stockholm for the past 7 days and what fun we've had! Visit Britain invited us to take part in a "Made In London" concession within the department store PUB. PUB is one of the oldest department stores in the city with a fantastic central location but a bit of a granny customer. So for the past 4 years they've been planning a revamp and last week saw the launch of the new 3rd Floor with vintage concessions, an exhibition space, up and coming Swedish designers and our Made In London area all overseen by creative director Nina Persson from the Cardigans.

We flew over early on the Monday morning with 5 other East London brands including JoJo and Malou, Junky Styling, 1000 BPM, Dragana Perisnic and Carolyn Massey. We were picked up from the airport in a fleet of Mini Coopers and taken straight into the store to view our very white, bare space which we had to fill in two days! We had couriered over our huge pair of red glossy wooden lips to hang on the wall and felt relieved when it arrived in one piece.

Next we had to divide the space up between us and we landed a spot between the lovely ladies from JoJo and Malou with their crazy crow head mannequins and new T-shirt label 10,000 BPM. With the help of Tony from the logistics department we tracked down the tools to hang our lips and perspex sign on the wall and with the help of Peter from the pricing department we set about pricing our hundreds of pieces with PUBs bar code stickers - all washed down with many bottles of Spendrups!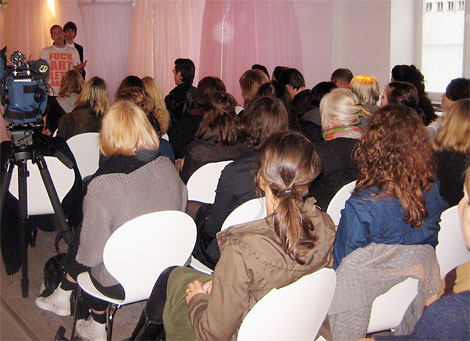 On the Wednesday morning PUB had a swish breakfast press conference to launch the new floor and the Swedish fashion press in their strict uniform of black, navy and grey swarmed around our brightly coloured area and cooed over Nina Persson's art installations. After the press call we put the final touches to our space and the massive bar and DJ booth arrived ready for the launch party…

The launch party was a fancy affair with hundreds of Swedish scenesters guzzling crates of free booze and a fleet of chefs cookin' up yummy nibbles. There was a DJ set by the snazzy lookin' lead singer from the Hives (he played Louie Louie - yay) in the midst of which a cabaret performer from Amsterdam took the floor and did a set of Velvet Underground covers which was hilariously amazing! On the other side of the store two members of Hot Chip played an electro pop set - when I took the photo above I was just being a little cheeky wanting a snap of funny man with a funny moustache and then 20 minutes later they got behind the decks - oops!

We also got our first chance to explore the whole floor. I instantly made friends with Andy Candy from 59 Vintage Store who introduced me to the owner of Tjallamalla who then placed a wholesale order with us (whoop); I drooled over the vintage gold roller boots in the Nina and Lina Vintage section and the Velvet Underground / Andy Warhol exhibition from New York was amazing with a great selection of original fanzines from the late 60s and 70s and a selection of the original album covers of the Velvet Underground with the peel away banana skin.

For the rest of our stay we popped in and out of PUB to check sales and fill up our stands. We then handed over to the sales team who will look after our concession which will run til Christmas. Andy Candy took us shopping for the afternoon in the trendy trendy area in Sodermalm called Sofo (South of Folkungagatan) where the atmosphere is young, hip and laidback with an abundance of indie shops, cafes and bars! Sofo is also home to our newest stockist Tjallamalla so we swung by to check them out. Read all about them in our stockist page - click here.

We also seemed to spend a lot of time in Sweden's candy stores. Yum yum. We found the colours and shapes such great inspiration so y'know we had to buy a lot of the stuff - in the name of research!

Stockholm is the birth place of one of my fave brands - Cheap Monday! We spent nearly a whole day in the massive Weekday concept store (the design collective that own Cheap Monday) trying on oodles of pairs of Cheap Monday and April 77 jeans. They have a glass fronted studio in the centre of the store where you can watch them screen printing and heat pressing tees which was really interesting. Stockholm is also the birth place of my fave vintage store - Beyond Retro! So we paid them a quick visit and managed to snag a lil cute vintage bag...

...but most my shopping was done in the many charity shops and the flea market outside our hotel. On the Sunday morning Sam drew back the curtains and the square outside our hotel was bustling full of flea market traders, I was dressed in 5 minutes flat and sifting through the piles of vintage threads soon after. Stockholm was such a slick city, we had not really planned to visit Sweden before this opportunity but I'm so glad we did - it rocked!