January 26, 2010

Superette's Spring Clean Yard Sale

Saturday 30th January 2010 • 10am to 1pm • Entry: FREE
Superette, 66a Sclater Street, London E1 6HR •
Map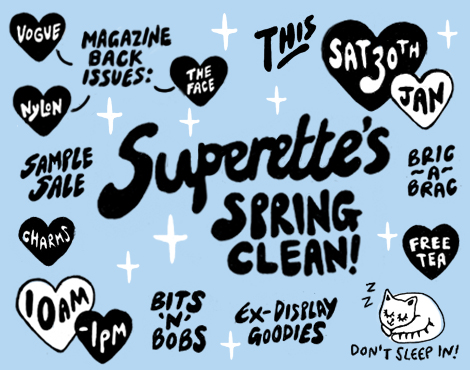 It's that time of year again when we Spring Clean the studio ready for our year ahead! We'll be hauling up all sorts of exciting bits'n'bobs from our basement inc. jewellery samples (inc. lots of slightly imperfect name necklaces & brooches), ex-display goodies, grab bags of charms/broken jewellery/fabric & random bric-a-brac. In addition we'll be selling a huge collection of magazines inc. Nylon, the Face, Vogue, ID, Street from Japan and lots of random arty/fashion zines/fanzines from around the world. Plus I'll be selling on lots of vintage goodies from my Pop-Up Tea Shoppe! We'll have piping hot free tea for everyone making a purchase! Arrive early to avoid disappointment! *CASH ONLY* Check out our yard sales in 2009 and 2008!
Posted by Lady Luck at January 26, 2010 11:26 AM
Aw man! I want to come to your Yard Sale :( Sounds amazing! We're on the hunt for new display items for The Maisonette! Bet y'all have some gems hidden in your basement! Enjoy your day and have a cuppa for me! x
Posted by: Carrie Maclennan on January 26, 2010 12:31 PM

Hey! Just wondering whether this yard sale is going to be inside or outside this time? I remember how squished the shop was at the last one! I guess it all depends on the weather though.... I'm going to be there either way - so excited! xxxx
Posted by: Zoe on January 26, 2010 5:39 PM

Hey Zoe!
It's going to be all indoors this time as we have knocked a wall through and the space is much larger. I have tonnes of awesome things including a badge machine & parts, framed pictures, cool stationery, mirrors... I'll probs bake some cupcakes too!
See you Saturday...x
Posted by: Leona on January 26, 2010 5:48 PM

AAAAAA I loved this last year - I took a day off work to go! But unfortunately I cant do the same again this year :( I really WISH I COULD BE THERE T_T any chance of you changing it to sunday on my account? ;) hehe
Have fun! :) xoxo
Posted by: Niharika on January 26, 2010 7:13 PM

Leona the owner and sam the man! i am actually in landan on saturday as mama bear is taking me shopping and to the theatre for my birthday! yippee! i shall pop on over for a cuppa and a mooch!
how much/ heavy is the awesomeness that is mr badge maker?!
mwa.x
Posted by: woodland wanderer on January 26, 2010 7:42 PM

Hi Leona,
Too bad I'm not in London this weekend as I would really like to browse through your stuff. Especially the badge machine is something I've been wanting for a long time. I don't suppose you want to sell it to me on the sly?
Have a great day!
Kim
Posted by: Kim White on January 26, 2010 8:02 PM

I have just told my dad that we need to move by the 30th or he is goig to have to drive me from the centre of Scotland to England is it? :( I can never go to cute boutique sales or shops because there are none here in Scotland.
If there is any stuff left over or if you would save some stuff for us out of reach and put it up fore sale on ebay?
Have fun and have a very sugary cuppa for me x
Sophie :o)
Posted by: Sophie x on January 26, 2010 8:44 PM

Hey Ladies,
Shame some of you can't make it, but for those of you who can it will definitely be worth the trip!
Amy - can't wait to see you again my love! I actually have 2 badge machines! One makes 1" button badges & pendant backed badges, I have the original instructions & quite a few parts. It's not that heavy, but it does have a weight to it because it's the real-deal, I imported it from America 7 years ago. The other is a lighter UK model which makes 3" button badges & pocket mirrors, I need to download the instructions and I only have a very few parts. I'm not sure about the price yet, need to count up the parts...
I also have some larger pieces of furniture a dansette (which doesn't work) but we've made it into a side table, mannequin heads (not my vintage ones, sorry), a fax machine (if you wanna go retro!) and 2 leopard print high stools.
I'm still going through the basement so there will be much more!
xxx

Posted by: Leona on January 27, 2010 10:45 AM

Sophie, It sounds like you need a wee tour of the indie hidey holes in Scotland - of which there are tonnes!! Where are you based? Here are some things to google: Made In The Shade (obviously), The Maisonette (goes without saying!), Che Camille, Glasgow Vintage Company, Granny Would Be Proud, Brazen, Goood - oooo - there are LOADS of things you need to get acquainted with. Don't be too hasty to write the Scottish guys and gals off - you could drown in the buckets of indie spirit we got up here ;) Mail us for more tips: mail@wearemadeintheshade.com
Posted by: Carrie Maclennan on January 27, 2010 12:19 PM

Posted by: Leona on January 27, 2010 12:23 PM

This is a huge help :) Thanks!!!
I live in West Lothian which is between Glasgow and Edinburgh so i can go pretty much everywhere if my mum and dad are willing to take me :) I am going to check out all of these places and i didn't realise there was so many :)
Thank you very much!
Posted by: Sophie x on January 27, 2010 6:42 PM

Any superette online salesssss?
Posted by: April on February 2, 2010 3:46 AM