March 19, 2007

Sunday Times Style

Crafty goddess Danielle Proud at the Sunday Times Style magazine gives a mini shout out to Lady Luck Rules OK in her article about buying hip and handmade items on the internet "there are plenty of smaller websites selling home grown, handmade wares...for jewellery, Leona Baker's www.ladyluckrulesok.com is a must" - Thanks Danielle!
March 17, 2007

Super Super shoot

Last Sunday we turned Superette into a photo studio so we could snap all our new goodies on lovely models and then shoot a page for ravetastic magazine of the moment Super Super! For the past month Phillipa our indie intern has been a busy bee organising every minute detail of shoot from calling in crazy coloured clothing and making a dress from shell suit fabric to selecting Myspace models from our list of 17,000 friends and customising props. Don't mention neon spray paint, fruit and helium balloons. I opened my little black book and selected the creative team of stylists and snappers to fulfil our day glo dreams and designed an extra special T-shirt just for the shoot. We also had fun buying smiley face bubbles from Ebay, convincing Akio our hairdresser you could combine a bee hive and a side pony and catching the neon fake nails which kept pinging off during the shoot.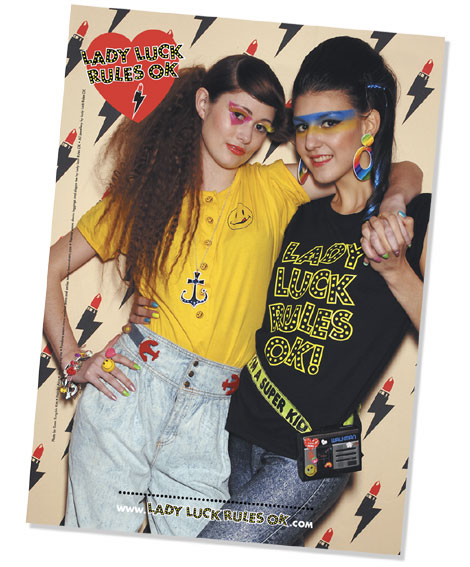 Thanks to everyone on the day - Akio the crimping king; Ina our Make up artist with those amazing neon fake eyelashes; the models Pandora and Nevine who can be found trawling Camden most nights of the week; Lindsey our website photographer (and her amazing assistant aka Lindsey's Mum); and Ssam our magazine photographer (I love you, you crazy kid). So look out for April's issue of Super Super which will have a rather super LLROK page in it. Last but not least a big ole mushy thankies and a fond farewell to Mizz Phillipa "where's my shellsuit" Tatt who has now completed her work experience with us and will be greatly missed - who am I gonna eat biscuits on the sly with now?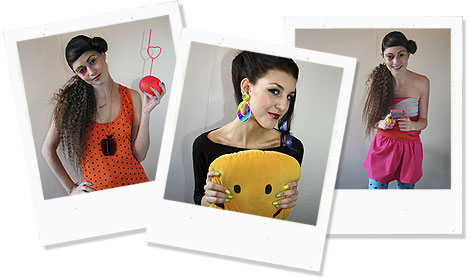 From left to right above - Pandora wears Apple Pickin' necklace and dotty dress from beyondretro.com. Nevine wears Happy Hoops with Smiley Cushion from Oxfam. Pandora wears Smiley Ring, Sweetheart Ring and custom dress made by Phillipa. Next Sunday we're off to the Penny Arcade in Brighton to shoot an ad for Amelia's magazine...
March 15, 2007

Rave Reviewers


We've had hundreds of super reviews since our relaunch a month ago! We've loved reading all your wonderful feedback about our cute packaging, super fast delivery and fun freebies. We also ran a competition in our last newsletter for the best review - and it was so difficult to choose our favourite from all your poems, stories and critiques, but our winner HAD to be (da da da) Polly Foster - with her heartfelt story about finding love through a LLROK lipstick lightning bolt necklace. Awww! We picked 4 more reviews at random (and then 1 more for luck). All you lovely ladies will be receiving a goodie bag stuffed full of snazzy accessories. And here are the lucky winners' rave reviews...
Polly Foster says:
I was unwrapping my Xmas presents from my friends last year and I had left the smallest one til last. Upon opening it I found that it was a pink lipstick lightning bolt from one of my male friends! I had said I wanted one ages ago and he had remembered! This was not just any gift, this one had speciaI thought and meaning! I was thrilled and now we're kinda together if you know what I mean! *nudge nudge wink wink* So Lady Luck, you have single handedly created my super-romance! To any guys who may be reading this: The way to a girls heart is through lady luck. *^^*
lipstick lightning bolt necklace reviewed on 04/03/2007
Emma Durney says:
Do you have offensive body odour? Have you alienated all your friends? Are you a massive whorebag? Then this is the ring for you! The ultimate accessory for the loneliest of the lonely. Little Yorrick here sits atop your finger and keeps even the most isolated of social retards happy. Remember: you can't spell friends without DIE!
Skull Candy Ring reviewed on 22/02/2007
Francesca Amoroso says:
I love this necklace till the furthest planet from earth. It's a minature robot dangling from your neck! Always up for beeping and booping, this little robot is the fashion friend everyone needs. What more could you want? It's the smallest (and coolest) piece of technology around, it's super fun, has a heart (thank god) and the googly eyes, well who dosen't love them? Whether your searching for stars in the endless blackness that is space or just out with some friends you can guarantee to turn some heads with this little guy. Don't leave your spaceship without it.
Robot Lover reviewed on 23/02/2007
Pippa Toole says:
I think one of the best compliments I recieved whilst wearing this ring was that it looked like a fun fair on my finger (minus the scary carnies). It also adjusts nicely to fit my skeletal fingers, hooray!
Teeny Bopper Ring reviewed on 13/03/2007
Lisa Coward says:
This looks super cool when you're flippin' the bird at boys who shout "Emo" when you walk by. I'm a goth, innit.
Skull candy Ring reviewed on 22/02/2007
Abi Baylis says:
I can honestly say that these are the most amazing things I have ever purchased. :'] They'll go nicely with my music notes t-shirt... Oh, dear. I sense another one of my outfit-planning frenzys. :/ Thank you! :D xxx
Keyboard Krazy reviewed on 17/02/2007