May 25, 2007

Phew!

*** PLEASE NOTE: THIS OFFER HAS NOW ENDED ***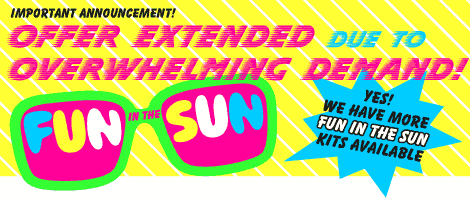 I hope you've all enjoyed this amazingly sunny Friday! We've been inside all day packing your orders - whilst wearing visors and sunglasses of course! I've had a few e-mails from anxious customers who were confused when they didn't see any kind of confirmation during the checkout process that they would receive their three fun in the sun freebies. The checkout process isn't set up for our one of a kind special offers but rest assured if your order is over £25 (excluding shipping) then you WILL receive your freebies! I hope that makes everything a little clearer. We've also just extended the offer due to overwhelming demand - yippee! Hope y'all have a super fun weekend!
Fun in the Sun


Get set for our craziest bank holiday special offer ever! From NOW until midnight Bank Holiday Monday if you spend over £25 in our online shop you'll also receive THREE fun in the sun freebies!* First up is an awesome 1980s style sun visor with acid bright transparent peak and elasticated back; next up is a pair of black Wayfarer-esque sunnies with fun fluoro arms; finally there is a third surprise nu rave neon goodie!
*whilst stocks last - we only have 100 sets available!

Important Info - please read before placing your order.
1. To qualify for all three fun in the sun freebies your order must total £25 or more - excluding delivery charges.
2. Offer ends at midnight Bank Holiday Monday OR when all 100 sets have sold out. The second we've sold out a notice will be posted on the front page of the website and the blog.
3. We have lots of different colours for each item - they're all awesome neon shades and will be picked at random for each order. Please don't request certain colourways in the comments box during checkout as we won't be able to meet these requests.
4. Returns notice: If you decide to return any part of your order placed during this offer you will also have to return the fun freebies. Sorry!

Psst...if you place your order before 2pm today your fun in the sun freebies will be posted out to you today and could be adorning your good self this sunny bank holiday! Think Miami Beach in 1981 and you'll be wearing your fun in the sun freebies with playsuits, pool shoes and plenty of smiles! Yay!
May 22, 2007

We have a Winner!

Wow! 346 Entries! That's amazing! I had hours of fun reading through your crazy accessorising tips and supercute make-up ideas. You're all going wild for anything in neon right now, which makes me very happy. But there could only be one winner...
And that is Alexa Wendling from Columbia in the United States with her wonderful tale of how she would wear our logo a go-go tee EVERY day of the week with the most amazing styling ideas from a Buzz Lightyear action figure and a gameboy to layered crinolines and a bowler hat. In her own words: "Alexa remembered to accessorize like a champ!" She sure did and our one-of-a-kind slogan tee will be making it's trip across the Atlantic to a very deserving home! Here is Alexa's entry in full for you all to read and enjoy. Friday's my fave outfit - what's yours?

Once upon a time, a little girl named Alexa won a fantabulous tee shirt from the ultimate name in funky fashion, the supreme ruler of the lovliest of lovelies, LADY LUCK RULES OK! Now, this little girl knew that a tee this striking could not be limited to a twice a week wearing. So she wore it every day. Yes, every single day.

On Monday, Alexa concocted a little number sure to get her noticed. She slapped on some neon turquoise suspenders (braces), a white bow tie, rhinestone cat-eyed glasses, and a pair of perfectly purple button earings to complement her LLROK shirt. She added a pair of yellow bicycle shorts and black legwarmers atop a pair of white vintage pumps, and added four rhinestone barretes for good measure.

For Tuesday, Alexa found her favorite pink pegged skinny jeans and frayed 1980's blue denim vest to complement her tee. After strapping on her batman utility belt, an array of neon buttons, and sparkly tulle hair bow, she finished her look with a pair of lace fingerless gloves, a barbie backpack, and white vintage go-go boots.

By Wednesday, Alexa had a fashion revelation. She dug out her vinyl mod lime green mini dress, and pulled her favorite shirt over it. Next, she wrapped her neck in 22 strands of pearls, pinned rocketships to her ears, and shielded her eyes from those harmful uv rays in a pair of larger-than-life blue sunnies. After adding a pair of silver metallic tights and hot pink roller skates, she was ready for any roller disco that life threw at her!

When Thursday rolled around, Alexa cinched her tee with a wide royal blue elastic belt. Under this was her hot pink tulle ballerina skirt, as volumnious as could be, and black and white polka dotted leggings. After sticking star sequins to her face, a scarf bow in her hair, and colorful boxing shoes on her feet, Alexa grabbed her Buzz Lightyear action figure and was ready to face the world!

To catch a glance or two on Friday, Alexa wore her LLROK tee over a red and white gingham long sleeved collared blouse. Before she tucked these shirts into a pair of high waisted blue sailor shorts and leopard printed footless tights, she topped her noggin with a vintage bowler. Throwing on a pair of white heart shaped sunglasses, she paused to slip on a pair of Carmen Miranda inspired fruity colored wedge sandals and five cocktail rings as she grabbed her game boy on the way out the door.

For Saturday, Alexa topped her tee with a white rhinestoned collared jacket so glitzy it could be mistaken for the one Elvis wore in his Viva Las Vegas days. As she added a yellow crinoline petticoat over a white crinoline petticoat over a hot fuscia crinoline petticoat, Alexa remembered to accesorize like a champ. She found a pair of forgotten black knee socks adorned with pink hearts, and outfitted herself with an owl necklace, exactly seventeen neon bangles, and a pair of yellow peep toe platform pumps.

Finally, when Sunday arrived, Alexa pulled out all the stops. Tucking her LLROK tee into a high waisted bright turquoise pencil skirt, she added a hot pink braided belt with long tassels and elbow length white satin gloves. She pulled on a pair of zebra printed stirrup pants that corrdinated nicely with her purple glittered jelly shoes. She clipped a vintage silver beaded collar around her neck, pinned plastic animal shapes to her skirt, slid an authentic mini cassette tape earring on one ear, placed three yellow hearts in her hair, and walked down the street knowing it was her Lady Luck Rules OK tee that made such an ensemble possible.
As the months went on, Alexa experimented with the addition of fanny packs, cowboy boots, swimwear, ski goggles, star shaped glasses, puffy coats, denim cutoffs, gumball necklaces, umbrellas, and pogo sticks, forever greatful for the playful shirt circulating through each of her outfits. And Alexa and her Lady Luck Rules OK tee lived happily ever after.
May 16, 2007

Word Up!


We are all slushy for slogan tees right now, wearing them with neon racer shorts, knee socks and 5 quid plimsolls is making us very happy. So we made our own freakin' fluoro version for this month's Super Super - it then made it's way onto the pages of art school zine Marmalade and was announced as a Top 10 T of the moment by weekly fashion bible Grazia. Whoopla! However, there is only ONE in existence and now YOU have the chance to win it and wear it forever and ever and ever. How do you enter? It's simple! Post a comment under this entry telling us what kinda shizzle you'd wear the Lady Luck Rules OK tee with - and you can't say neon racer shorts and knee socks. You're the fun fashion stylist and you have until Midnight Monday 21st May to create the craziest outfit...the wackier the better...
May 1, 2007

Made In Shoreditch Somewhere

Have you checked out our awesome alice bands with jumbo bows??? They're hot!!! Claire Bewers (a LLROK indie intern) scooted off to Old Street last week to interview their cool creator...

The latest contributor to the Lady Luck Rules OK! website is Jennie Kwan, otherwise known as Made in Shoreditch Somewhere. She has created a super cute range of Alice bands in exclusive fabrics especially for Lady Luck! Originally from Brooklyn, Jennie was sucked in by the bright lights of London at the age of twenty where she continued her passion for designing and creating at the London College of Fashion. Influenced by the punk rock scene we think you will love her hand made designs as much as we do. Over lunch I was lucky enough to ask Jennie a few questions and get to know our latest designer a little better…
You have been interested in fashion since you were fourteen, was there one designer that really ignited your love?
Alexander McQueen and Vivienne Westwood, I'm into designers whose clothes aren't generic and just a bit different.
You moved to London from New York at the age of twenty, what is it about London life that inspires you to create?
I was really bored I think by the time I was twenty I had exhausted the city, I felt like I had seen everything…I just wanted a change and moving here was one of the best things I have ever done. The way people dress around here [Hoxton and Shoreditch] is different. In the evening when everyone comes out in their little new rave clothes. I'm also into music; books and magazines, there are so many more way to be inspired than by television.
We at Lady Luck are just lovin' hearts this season and you kindly sourced some amazing material to make our Alice bands from. Have you got any handy tips you can reveal on where to source fabrics and trimmings?
Did you see it [the heart fabric] It's so cute isn't it, Oh my God I searched everywhere for it. EBay is really good, but keep rewording your searches, don't always type in the obvious, be more descriptive. It took me many goes to find the heart fabric, but when I found it, it was amazing, exactly what I had in mind.
What's the most rockin' music you to work to?
Wow that's my favourite question, I'm a really big fan of music. But right now I'm listening to The Horrors and Enter Shikari they're quite rockin'. I recommend you go to their myspace [Enter Shikari] and check them out.
If you were going to take Lady Luck out and show her a good time in London where would you take her and why?
I would take her to The Old Blue Last, which is owned by Vice Magazine. You either love it or hate it; it's soooo crazy in there. But I think if you're going to wear my headbands that would be the place to go. The drinks are cheap, the boys are gorgeous, and the girls are trendy.
And New York? Just in case any of our customers are jetting off there anytime soon?
Have you been to Williamsburg that's where all the emo kids are? It's very similar to Shoreditch; if you know what Shoreditch is all about or live in Shoreditch then you would feel comfortable there.
Is there a particular type of person that you would love to see wearing your Alice bands?
Amy Winehouse with her big bouffant would look so cute in one, and Kelly Osbourne, maybe Gwen Stefani or her back up dancers. But definitely girls who have their own quirky style.
After a few more minutes of chitchat about life in lovely East London it is time for Jennie to hurry back to her day job, I slip in one final question as we are leaving…
"What is your hottest style tip for the lovely Lady Luck Rules OK! Website customers?"
"Metallic leggings" she reply's. Perhaps the less brave amongst us will just stick to wearing your amazing Alice bands Jennie.