December 19, 2007

The Design Grotto

We first met Vicky Simmons when she skipped into Superette one day to show us her "world's best stall" tote bags...we kept in touch and a few months ago she invited us to host a crafting room at the Design Grotto at Somerset House which she was organising for the first time with her partner in crime Jess Bentall. The Somerset House trust are also responsible for curating the amazingly popular Village Fete held at the V&A each year, so we were honoured and super excited to be involved.
The event was due to take place over a weekend in December and the venue was the Portico Rooms in Somerset House with balconies looking out over the Thames and ice rink. Our space was the Navy Boardroom which looked terrifyingly huge - at first we didn't know how we were going to fill it, along with the added difficulty that we couldn't attach anything to the walls or ceiling due to the historic nature of the building. Argh! But we rose to the challenge Lady Luck style and Sam set to work building an 8 foot candy cane as a centre piece for the room! After creating several mood boards for our space, we purchased a mountain of zingin felt and set to work making bunting, snow toppers for the tables and plush hanging decorations in the shapes of candy canes, buttons, bells, mushrooms, pencils and paintbrushes.
We then created four themed crafting tables - Badge-A-Rama; Build Your Own Kaleido-Crazy Charm Bracelet; Crackers Over You Wheel of Fortune and D.I.Y Winter Warmers all manned by the Lady Luck gang wearing festive red jumpers and huge snowball name badges. PLUS Lady Luck's Sparkle Pop Shop which sold the best selection of goodies from our Brick Lane store Superette. Over the other side of the room we set out 4 round tables with gingham table clothes for customers to sit at whilst they cracked open their craft kits and got down to some D.I.Y fun.
The whole event was stuffed full of festive fun with Santa at the decks playing a funny selection of christmas choons and the national elf service had sent down two of their best recruits to flyer around Somerset House to promote the day. Stall holders in the many other rooms included Beyond the Valley's "Ten Second Fondle", Mark Pawson's ace badge stall; a cheeky tombola where if you lost you received a beer (wah-hey); Donna Wilson's monster making workshop; Lie-ins and Tigers Parisian Portrait Gallery; Father Christmas' Grotto by If You Could; Gingerbread decorating; face painting rudolph the reindeer style and so much more...
We were delighted to see so many grotto go-ers getting into the spirit of a crafting Christmas! We saw oodles of customers wearing our customised ear muffs, gloves and vintage legwarmers skating around the ice rink. The wheel of fortune was spun many a time and crackers were going bang about the room and everyone was treating themselves to a handrawn badge. I don't think I've ever felt so darn Christmassy! Although I'm still not sure how we pulled it off, maybe because Sam stayed up til 5am the morning before putting down a third coat of paint on the candy cane the crazy guy and definitely due to all the hard work of the sparkle pop crew at Superette! A big ole thank you to Becky, Laura, Lydia, Leah, Penni and Diane. I think we're all ready for a long snooze in front of the telly after a turkey dinner and many a mince pie! Merry Christmas!
December 18, 2007

Clothes Show & Myspace Bus Fun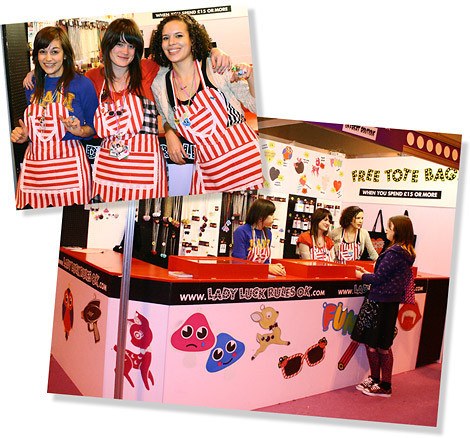 It was that time of year again when Lady Luck Rules OK heads north to the NEC to take part in the world's largest shopping event - The Clothes Show Live! This time we were so much more prepared we even wore made to measure stripy aprons handmade by our newest team member Sapphire and the organisers of the show had built an entire area around us and our friends from last year called the Offbeat Boutique. It was all looking super swish and Penni, Sapphire and I were ready for the hoards of crazy shoppers...
We'd also agreed to host a day on the Myspace Bus which was very exciting. The old fashioned route master bus was parked inside the purple zone of the NEC and we decided to bring Badge-A-Rama to the good people of Birmingham for one day only! Clothes Show shoppers could help themselves to our badge templates, hop aboard the Myspace bus, find a bunch of pens, a seat and get doodling. After creating a mini masterpiece they joined the (very) long queue outside the bus to have their fave drawing made into a badge for free and it was definitely worth the wait as each lucky badge designer also received a FREE LLROK tote bag!
It was a lot of fun and the craziest thing I've EVER experienced. Can you see me in the photo above left, can you see the little head in amongst the huge crowd of baying badge makers...and it was like that all day. Luckily, Superette was closed for the day and Laura and Becky were in Brum to help out. They both did an amazing job coping with the crazy crowds and making hundreds of badges.
It was great to meet so many LLROK customers old and new. The frenzied week flew by in a flash and when we arrived back in London at 1am on Thursday morning we had 2 days left to prepare for the Design Grotto at Somerset House!!!