August 28, 2009

Pop-Up Tea Shoppe at the Craftacular - Blog Part 2

After our first Pop-Up Tea Shoppe I wasn't sure I'd do another because the first was so so stressful - selling out of cakes by 1 o'clock, only having 2 hours to style 5 waitresses and the logistics of the venue. After a few days off and lots of looking through the photos I wasn't sure how I could NOT do it again? One thing was for sure, I wanted to wait for the right event which meant in the months between turning down a few offers until we heard news that the BUST Craftacular was coming back to London town! Early morning coffee meetings, venue measure ups and a little negotiating later and everything was in place for the second coming of the Pop-Up Tea Shoppe. Eek!
It had been 3 months since the first tea shoppe and I had pretty much been baking on a weekly basis perfecting recipes and seeking out new ones! Each Friday I bring baked delights into the studio to gain essential feedback for all the gals. My red velvet cake with creamy vanilla frosting was such a bit hit I definitely wanted to add that to the menu - and as sure as eggs is eggs it was the first thing to sell out on the day! I also set out a two day baking schedule which meant I nearly tripled my output, it did require 5am starts and midnight finishes but hey, ho, in for a penny...
Our new menu of traditional home-baked fancies included: carrot and cinnamon cupcakes with cream cheese frosting (and I remembered to refrigerate the frosting for 2 hours before piping this time!), banana and chocolate cupcakes, HUNDREDS of vanilla cupcakes with vanilla frosting (dyed in different candy colours), victoria sandwiches, lemon and poppyseed drizzle cakes, giant chocolate cookies, the mega popular red velvet cake and a super summer special...
Another worry on my mind was the event being held in the middle of summer - would people really want to drink tea and eat cake? (well, we all know the answer to that now!) So I wanted to present a summer special to woo in the customers and after hours of trawling baking blogs I came across Ice-Cream Cupcakes! Oh yes! The batter is baked INSIDE the cone and then frosted on top with sprinkles and a flake topper so it actually looks like an ice-cream. I remember the first time I brought them into the studio our intern Ashleigh nearly fell off her chair with excitement.
The next thing I wanted to change was to make our wonderful waitresses look well more waitress like. The aprons made for the first tea shoppe were amazing but the clothing underneath was a bit off kilter. So I decided to match them all in simple black shift dresses and design a bunch of name brooches. I also had a good excuse to watch many a film noir movie in the name of research - hairstyle and make up ideas for Tomoko and waitress outfit ideas!
I was happy with all the crockery and it was a real joy to see it all again when we laid out the tables on the day. On a sad note my 1930s teapot had cracked leaving an incomplete set (sniff) but my fave table is most certainly the 1950s table - it has a full Midwinter "Quite Contrary" tea set in the fashion shape. When Roy Midwinter designed it in the fifties inspired by America and bored of post war Britain he created a sensation. I love it! During a last minute trip to Columbia Road flower market the Sunday before we picked up little pots of red roses to use as centre pieces for the tables (and then as gifts for the waitresses at the end of the day).
On the day itself I was up at 5am to finish the frosting and I was a little ahead of schedule so decided to bake another cake (I think I'd lost the plot a little by that point!). Leah was looking after getting all the waitresses ready at Superette and we went to the venue to get the tea shoppe ready. All in all the day went without a single hiccup and this time the cakes lasted til 5pm - not bad eh? I want to say a MASSIVE thank you to everyone who helped out! Our super ace waitresses: 1930s Ailsa, 1940s Emma, 1950s Caity, 1960s Hannah and 1970s Emma. A big shout out to Tea Shoppe host Leah (who has been mentioned in several blog posts and comments about the Craftacular!). Our trusty kitchen helpers Mary, Dave and Tanya. Our cake counter lovely Esther. Sam THE Man. And of course all our SUPER ACE customers - we love you!
Will I do another Pop-Up Tea Shoppe....? Plans are already taking shape...xxx
There are more photos on our Flickr page check 'em out here!
August 27, 2009

Say hola to the Craftin' Season!

The end of summer is just around the corner which in Lady Luck Rules OK land spells the start of the craftin' season! With the evenings drawing in we're planning all sorts of Autumnal crafty nights - knitting club down our local, a Saturday sewing circle and regular WI meetings to name a few! With it also being new term time we've popped on our thinking caps and decided to design our first ever personalised tote bag! Our rather large Doodle Alphabet Tote bag will carry around all your arty-crafty essentials and is big enough for books, A4 folders and balls of yarn aplenty! The cherry-on-top detail is we'll print it with the initial of your choice using our fave pencil font which we've tweaked to perfection.
*Freebie alert* We'll pop a FREE personalised heart brooch kit inside every Doodle Alphabet Tote bag to get your crafty nights started... only whilst stocks last! Our Personalised Sweetheart Brooch kit had it's first outing in the D.I.Y Fashion Fun tent at the Underage festival and proved such a hit we really wanted to share it with our website gals too. The kit includes all the materials, templates, instructions and top tips so you can make your very own heart shaped name brooch. Plus we've included two sizes of heart shaped template so if you have a short name you can make a small heart but if you have a long name you can fit it onto a larger heart. Yay!
We're absolutely thrilled to have collaborated with super craftin' queen Kandy Diamond again! Kandy has created a series of super fun knitted brooches to brighten up your boyfriend blazer this Autumn/Winter. Choose from a lil' knitted crayon brooch, a big ole knitted pencil brooch or an artbox knitted paintbrush brooch. I just don't know which one I'm gonna wear first...possibly the red and black pencil brooch to match my black thrift store blazer and cherry red lips! What will you wear yours with?
Pop-Up Tea Shoppe at the Craftacular - Blog Part 1

Our latest Pop-Up Tea Shoppe at BUST magazine's Summer Craftacular was so super fun and so super busy we've decided to write a couple of blog entries so we can include all the juicy behind the scenes stories and ace photos! This first part is written by Lady Luck intern Ailsa who was also our super stylish 1930s waitress for the day.
When Leona asked if I'd be a waitress in the second ever Pop-Up Tea Shoppe I was really excited especially after seeing how amazing the girls looked last time. Being an intern, I was already helping with the planning but getting to play such a big part in the actual day sounded like loads of fun! The days before the Tea Shoppe became a mad rush to get everything perfect in time. Luckily, we all knew what we had to do and all the plans started coming together very nicely, including a Tea Shoppe Tombola with loads of lovely prizes that I very nearly stole for myself while sticking all the tickets on…
Lots and lots of bubble wrap was involved as I got all our crockery ready to make the journey down Bethnal Green Road to the venue. At the last moment we decided it would be a good idea to get some more 1940's crockery so after some hunting by Leona, on Thursday I picked up the perfect teapot and cutest itty bitty cups from a stall in Spitalfields market. A trip to Party, Party in Dalston to pick up 15kg of icing sugar and drag it back to Superette in a broken suitcase on possibly the hottest day of the year (don't ask!) and a mad hunt for blue food colouring round the Sainsburys' of East London on Friday morning were also part of our final Tea Shoppe preparations but leaving work on Friday we were sure everything was in place for the day to go perfectly!
I arrived at Superette bright, early and makeup-less the next morning and pretty soon we had all five waitresses- even 1960's Hannah who went home to change her white tights into black ones (part of our matching outfits) but decided to keep her yellow shoes on (really not part of the matching outfits). There were a few minor hiccups along the way including 1970's Emma's makeup having to be re-done because Tomoko wasn't happy! By 11am however, we had three waitresses looking really good!
I was starting to get a little worried though, I still didn't have any makeup on, my hair wasn't finished and the car was coming for us in 20 minutes! As Leah and the three finished waitresses locked up the studio, Hannah's eyelashes were still mid-application and my make-up was no way near done. Tomoko kept her cool though and we all bundled out of the studio… Leah had a moment of extreme panic when our car turned up and could only sit 6 people, when we had asked (AND confirmed) for a 7 seater. Luckily we had a nice taxi driver, who after a little persuasion (ok, a lot of begging) squished us all in and let us take part in a shoe drive-by on Bethnal Green Road. Hannah's flatmate waited by the side of the road with black shoes for her and we pulled over so the shoes could be passed through the window! A very good time saving idea!


We arrived at York Hall to an already massive queue of anxious looking craft shoppers waiting outside, we were rushed inside to meet Leona and have the final touches made to our styles. After a two-minute briefing and a few photos for the blog, The Pop-Up Tea Shoppe was open just moments before hundreds of excited customers rushed into the hall.
The Tea Shoppe got busy very, very quickly (possibly because all the cakes looked so delicious) but Leah kept everyone queuing in an orderly fashion making our job a whole lot easier! We rushed around taking orders, collecting and returning crockery to the kitchen. All the customers were lots of fun and were getting into the Tea Shoppe spirit.
The day went so quickly and we were extremely busy. By 5pm we were sold out of cakes but still served tea and played tombola with lots of happy customers, until we also ran out of teabags and had to close (a very successful) Tea Shoppe! Amazingly nothing was broken - I was so worried I was going to break something very pretty and irreplaceable.
Well done to everyone who took part in the day, I think we all worked really hard and I hope everyone had as much fun during their Tea Shoppe experience as we did, I'm looking forward to the next one already...
August 13, 2009

BUST Craftacular *update*

August 11, 2009

Lady Luck's little seaside treat...

I'm pretty obsessed with British seaside nostalgia and I particularly love the over saturated colours in vintage seaside postcards. I also adore a weekend away to Whitstable or Brighton every now and then and in an ideal world I'd quite like to reside in one of those candy striped huts and live on a diet of candy floss and sticks of rock. Well, that's obviously not gonna happen as East London is my city playground so a few weeks ago we pulled up a deck chair in our imagination and dreamt up the cute-as-candy Stick O'Rock Name Necklace!
In true Superette studio style each necklace is lovingly handmade to order and printed with the wording of your choice - up to 16 characters (including spaces). Seeing as we're in the height of summer (yeah, really) we thought you might like to receive yours quite quickly so we're going to speed up our production run which means an order placed before 10am will be made that very afternoon and posted out the next working day. HOWEVER, our lovely post lady (along with the whole of Royal Mail) has decided to strike about one day a week for the foreseeable future. The day changes each week and they only give us a few days notice, helpful aren't they. So we'll tweet it (dull as it may seem) so you know if this will affect your order.
Today we sent out our first batch and we had fun wrapping them all up like real sticks of rock and fastening with a pretty red ribbon. I think they'd make a real swell gift - for a friend or your good self! Lets call it a little summer treat! They are limited edition and we have sold about half the stock so don't let the grass grow...
LLROK
xxx
PS. A *big* thanks to Ella from Fresh Legs for rocking Betsy's polka dot swimming costume 'n' stick o'rock necklace with such film star panache!
Underage Festival 2009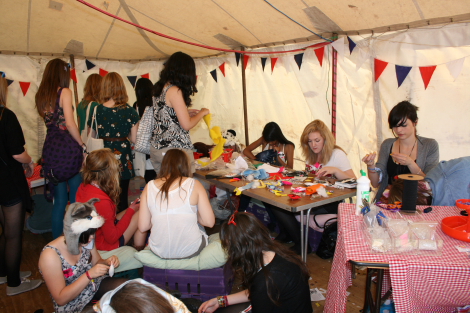 We were back in Victoria Park for our second festival in two days and not only did we rock the green with Rock'n'Roll Tiddlywinks but we hosted a crazy crafting section in the D.I.Y tent. With a mountain of zingin felt, some examples we'd made earlier and a fluffy pile of wadding we encouraged all the lads and lasses of Underage to craft some fuzzy felt festival mementos!
To be honest they didn't need much persuading and whilst we'd prepared a bunch of templates for people to work to most seemed happy to hack into the felt and get creative. On a controversial note, It didn't help that the signings tent had nipped into the D.I.Y tent before we'd arrived and stolen all of our chairs... but we snagged a few pillow/crate combos from the knitting circle and everyone else seemed happy to craft it up on the floor. I guess it was crafting festival stylee - although I will try to have chairs next time : )
When the sun began to shine (YES) in the afternoon we spread out onto the grass outside for a spot of alfresco crafting! Bliss! By this point everyone wanted to attach their fuzzy friends to headbands so the whole Lady Luck crew were sewing up elastic headbands in preparation - in between a few of us managed to slip away and watch Santigold! Hurrah.
I don't think this pair saw ANY bands they seemed to spend the whole day with us craftin' up a merry band of festival keepsakes! The birthday cake is a wee work of art.
The cup-of-tea-with-handlebar-moustache headband has to be our fave! What crazy mind dreams up this? Get in touch! The day buzzed by in a blur but I did manage to take a few more snappy snaps which are on our Flickr page.
A *big* thanks to all Lady Luck's festival crew - Sam, Leah, Tess, Chantel, Emma and Caity!
August 7, 2009

Field Day 2009

Last weekend we dipped our toe into the world of festival fun for the very first time with not one but two festivals over two days. Lucky for us they were both held in the beautiful Victoria Park in East London which is just a hop and skip from our studio Superette. First up on the Saturday was Field Day organised by Tom and Natalie from Eat Your Own Ears and now in its third year we were expecting a mere 20,000 locals to pop in and hang out for the day!
Our stand was located in Village Mentality between milk the cow and the swap shop tent and opposite the village green. It was great to have another opportunity to play our super frenzied summer game - Rock'n'Roll Tiddlywinks! So along came our GIANT kittens and rock'n'roll radio and we made some extra special LOSER badges for those poor peeps who couldn't manage to throw 2 out of their 12 'winks through the targets.
It didn't take long for the friendly folk of Field Day to come on over and play.
We had lots of excitable winners on the day who were then faced with a near impossible decision to make - which prize to choose? A Sprinkle Pop, Shell Belle, Song Bird, Shutterbug or Sundae Girl. Oooh.
With just an hour left before the Village Green closed down for the day the grey cloud which had been threatening for most of the day began to spit 'n' drizzle. Our handy new gazebo meant we were ready for the kill joy cloud to turn on us and with the extra aid of two union jack umbrellas play continued! Woohoo!
Our gem of a production assistant Ova had worked her little socks off all week making a mountain of printed anchor, swallow, hearts and doll necklaces for our rummage box of wonder. And rummage they did.
Village Mentality was bursting full of fun things to play, make and do between bands. We enjoyed cheering on all the old fashioned games hosted by the untamed trio that is Bearded Kitten.
I had a quick go on the human fruit machine hostd by Josie Curran to promote her ace new book Organised Fun. One lemon and two oranges - no good to anyone.
I'd quite like to know who was responsible for dreaming up the blindfolded watermelon relay race? Genius. It was bloody hilarious and even though by this time the rain really had settled in who cared? About 6-ish we packed away our little stand and with the rain pelting down we headed home to dry off, eat a good dinner and grab an early night ready for 10,000 teenagers at Underage festival the very next day.
I've popped a whole bunch of photos onto Flickr (including a few more from the watermelon race, he he).