April 9, 2009

Join us at Jukebox Jumble!

Friday 10th April • 6pm - 2am • Entry: £3/£5 before 9pm
Last days of Decadence, 145 Shoreditch High Street, London •
Map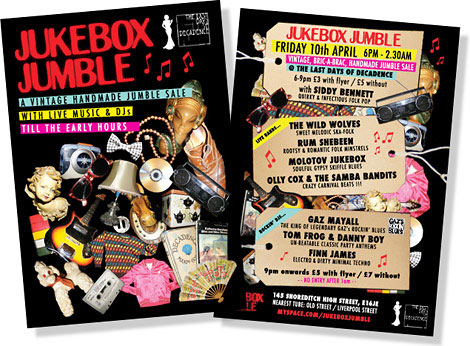 Jukebox Jumble is an early evening bazaar filled with Vintage, Bric-a-Brac and Handmade delights all for your shopping pleasure... Then as the night grows darker the fun continues with live music, acts, samba bands and ace dj's spinning everything from Rocksteady.. Reggae.. Ska.. Electro!
The stalls will be open between 6pm and 9pm so why don't you pop along nice and early to unearth yourself a bargain or two!
Posted by Lady Luck at April 9, 2009 11:41 AM
awww, this looks awesome....i'm going to be down south tomorrow....but further afield than london (kent)- cant afford a trip to the smoke anyway! have an awesome time! x
Posted by: kati palin on April 9, 2009 7:17 PM