January 13, 2010

Goodbye Personalised Jewellery! Here's the story...

Growing up called Leona I could never find anything with my name on it & personalised products were pretty non-existent. Apart from one seaside trip when I was about six a man in a little booth was printing names onto t-shirts. My Mum chose a white cotton tee & cherry red flocked letters. I loved that T-shirt. Fast forward 10 years and my most cherished piece of jewellery was a delicate gold necklace spelling out my name by Elizabeth Duke. An early toe-dip into creating personalised jewellery for Lady Luck Rules OK came in 2003 when I found a pile of giant plastic letters which I made into earrings and sold on my stall in Portobello. We also collaborated with indie knitter Kandy Diamond and produced a short run of knitted name necklaces!
Sam and I came up with the idea of creating tattoo style name jewellery in early 2008. We loved the idea of getting a tattoo but without the pain and permanency! We developed the idea and experimented with different materials and production processes. Printing onto wood & making sure you're creating a long lasting piece of jewellery can be a tricky business! After figuring everything out, buying new equipment and sourcing all the materials we were ready to launch the Tattoo Parlour in April 2008 with three classic tattoo designs all drawn by Sam: an anchor, a swallow and a heart. Each design included a scroll where we could print wording of the customer's choice. I don't think we knew then what we were letting ourselves in for…
Just before launch day we shot the collection on a sassy singer called Victoria who I'd met on Myspace. She was a lovely northern lass who didn't freak when I got the tiki swimsuit out! We didn't know at the time she'd just been signed by EMI to unleash her onto the pop world as Little Boots… ha!
The collection has received some amazing press coverage and seeing as we don't have a PR company this makes it all feel especially fuzzy. The Sunday Times Style & Telegraph months were incredible, our fave international magazines Nylon and Frankie picked them up. Cute celebs like Holly Willoughby and Alexa Chung wrote about the pieces and we made custom name jewellery for two of our favourite bands Slow Club and Kitty, Daisy & Lewis.
We've also taken our production out of the studio and made personalised jewellery live at some ace events! The idea first came about when we were invited to submit an idea for the V&A Village Fete. Sam designed a rosette pendant and on a sweltering weekend in July 2008 we printed hundreds of name necklaces to order and were surrounded by a circle of shoppers watching the process. After that, we designed a Russian Doll name necklace for a Viktor & Rolf party at the Barbican, created a set of artists' implements for Loud Tate at Tate Britain & held a Pop-Up Tattoo Parlour at Urban Outfitters in Covent Garden.
The production process was so time consuming that in February 2009 we employed Ova who is our dedicated personalised production assistant. She sands the wooden shapes, prints them, drills & varnishes. Then over to our interns who help us make the wooden shapes into jewellery. I do the final quality control check as the orders are prepared ready to pack & send out! Other designs have included a Goth Doll and our first double sided piece Miss Jekyll & Sister Hyde designed for Halloween. We designed a rose pendant for the Shoreditch Sisters WI and took them along to a jewellery workshop heaving with over 100 sisters. We made a Rockin' Horse for Christmas and a Double Heart & Lovebirds for Valentines day. We designed a stick o' rock name necklace and a Rock'n'Roll Kitty where we experimented printing onto acrylic instead of wood. Finally we sourced a fantastic solid glitter finish to add to the hearts which I must admit is my personal fave…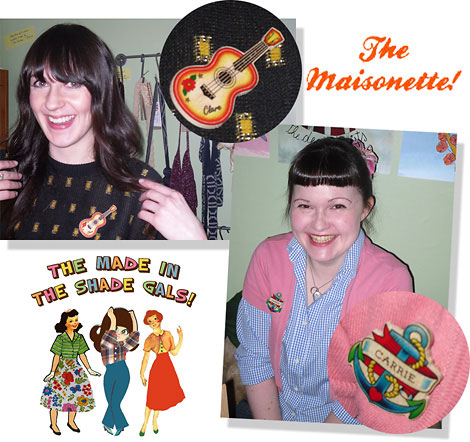 Our lovely customers have found some fun ways of using our personalised services! We've made jewellery for weddings, birthdays, roller derby girls, a horror film festival, a French art festival, many a staff name badge including name pins for the Maisonette in Glasgow (pictured above). We don't always print names…some of our fave words have included peanut butter, hey ho, lets go, Kentish Town, grandma, april showers, waffle, hoppy + foxy & noodles. My all time fave name is Frankie Buttons - I've concoted a whole life for this crafty '40s gangster. We've been serving the goth community well too printing face ache, die, poison, bitch and morticia. If you've ordered one with a fun story please, please post a comment below, we'd be delighted to hear from you!
We've loved (nearly) every minute of producing this collection. I'm blanking out my bleeding fingers from early bad sanding technique & our pre-Ova days working til midnight every night in the lead up to Christmas 2008. Tears were shed. But that's it, we're going to stop making this collection because we've got so many new ideas & new things happening! So if you've been long pondering buying one or were planning getting one for a friends birthday or something later in the year…act now! You have until Sunday January 31st when the collection will officially be taken offline. Although, we don't have a never-ending supply of materials so some styles might sell out before the end of the month.
Shop the Personalise It collection for one last time! Don't delay, snap one up today! Coz once they're gone...they're gone...
Posted by Lady Luck at January 13, 2010 12:05 PM
Oh it will be so sad to see them go, loved them all; but I can't wait to see what new things you will have to offer us instead! No doubt it will be something equally as gorgeous :)
Posted by: Lucy on January 14, 2010 3:33 PM

Oh well all gorgeous things must come to an end at somepoint.
I adore my love birds, of which my partner of 8 years bought me for Valentines, but unknowlingly placed his initials on the pink one instead of the greeny blue hehehe.
Thank you so much and I look forward to the new collections of 2010!
Posted by: Katherine on January 14, 2010 3:56 PM

With my name being spelt the French way (the BEST way to spell Lucie, in my opinion!), I too jump at the opportunity to grab personalised jewellery when I can. I adored LLROK long before one of my friends went to The Clothes Show and bought me the pink lipstick lightening bolt earrings; prior to then I had been pawing the vampire lips for quite some time. I must have discovered them in 2004, because I was in my first year of A levels and spent computer time admiring the (then, considerably smaller) website!
I couldn't possibly tell you how many LLROK sparklies I now own (suffice to say they get their own box amidst my mountain of jewellery, and the first things I bought myself were the red and pink vampire lips - sadly missed out on the black to complete the collection). Most of it is the older enamel on metal stuff, which I preferred, and for a while there wasn't much I really fancied once that kind of thing was gone.
But then the personalised wooden necklaces came along, and I bought the anchor one, later also bagging the guitar one - as a drummer, I feel a bit naughty about that, but it still rocks! I also got a paint pallette done when the team was at the Tate, not emblazoned with my name, but the name of my favourite band, Stone Gods. The heavy rock element doesn't QUITE work on upon a piece of art equipment, but I can certainly say it's unique!
Apologies for the essay-sized response (especially since this doesn't allow for paragraphs), I just wanted to say that this is the only jewellery company I've ever been devoted to, and that you rule. I'm sad to see the personalised sparklies going, especially since I want them ALL and can't afford it, but if you're taking them away, the new range has got to be AWESOME, and that's something to be excited about!
Love,
Lucie
Posted by: Lucie on January 14, 2010 4:25 PM

Aw, thanks Lucy. Yes we're working new stuff... can't wait to reveal all soon! x
Posted by: Leona on January 14, 2010 4:30 PM

Oh Katherine, what an ace boyf you have! Alas I must say when we first launched the Lovebirds it wasn't clear which initial to put where. This is something we have since changed, but hey, it's a funny story! I hope you enjoy wearing it...x
Posted by: Leona on January 14, 2010 4:33 PM

LUCIE!!! What a lovely message and I remember printing Stone Gods at the Tate, ha ha! Thanks for your ongoing support and we hope to surprise and delight you with our new goodies very, very soon!
Posted by: Leona on January 14, 2010 4:36 PM

i love my personalised necklace and wear it all the time thanks :) i think i might have to invest in some before they go x
Posted by: charlotte on January 14, 2010 7:19 PM

Aw, I love LLROK's personalised jewellery, I think it really helped make your name in the indie jewellery brand world!
My first and utmost favourite was a red heart for my favourite book character from The Outsiders, Two-Bit! Another I bought was a black heart for my friend Die, a pink glitter heart for my friend with a new baby girl, Milla.
I've also ordered a glitter one fr my sister Emma, a blue rosette for myself and a red heart with the name of my grandfather, Jack, who is poorly in the hospital at the moment and may not live long. He always regretted getting his 'mother' tattoo when he was in the army so this is a nice non permanent way for me to pay tribute to him when he passes on and I will wear it proudly.
Thank you for all your lovely work, we love the items and I'm curious to see what new goodies you'll be coming up with!
Posted by: Katie on January 14, 2010 7:49 PM

Yup, you guessed it-being called Llara I can NEVER get personalised items either. I had a few bits and bobs personalised for friends but will always treasure the double heart necklace I got done for my wedding. Made me feel a bit more 'me' as a bridal type. I guess this makes it a little bit more special now! Can't wait to see the new stuff!
Posted by: Llara on January 15, 2010 2:50 PM

i too had the same dilemma when growing up - no matter where we went on our family holidays or trips around the UK, you could never get a biro, ruler or keyring with the name 'Teleri'.
When i saw this range come out, i jumped to the chance to get a personalised jerewellery - i have the russian doll and the tatto keyring and looking to order somethign else before they go - but can't decide on what!
I missed out of the sweet rock necklace - i left it too long to order it sob sob
Can't wait to see the new stuff coming x
Posted by: Teleri on January 22, 2010 1:31 PM