January 28, 2010

Personalised jewellery... Only a few days left!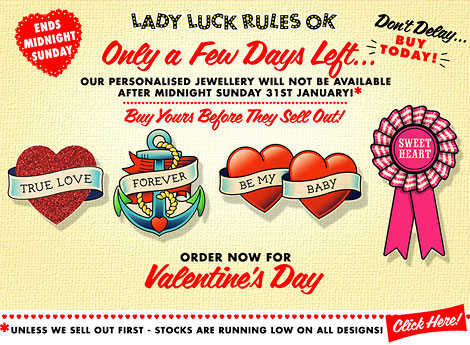 Our personalised jewellery range will come offline at midnight Sunday 31st January! You have only 4 days left to decide what to order, now really is your last chance. Can't decide what to print on your pendant? Check out the blog post below for some fun ideas! Let us know if you have any questions!
Posted by Lady Luck at January 28, 2010 2:37 PM
Ummm... i was looking around the site and the heart name neckaces are still avaliable.. would i recieve one if i bought it even though its after jan 31st?????
Posted by: rachel on February 6, 2010 11:49 PM

Oh no! I'd bookmarked this site to order a necklace/brooch in the new year. Can't believe I missed them. Any chance of bring them back? x x
Posted by: Rachel on February 19, 2010 2:00 PM