April 17, 2008

Tattoo Parlour

Welcome to Tattoo Parlour the all new range of personalised wooden necklaces and brooches by Lady Luck Rules OK! We've been busy bees in the Superette studio creating and making this rockin' collection from an idea that popped into our head a few months ago. The wooden shapes are made from birch plywood which are cut and then sanded by hand. We design and apply the artwork to the wooden shapes in house and then make into jewellery adding two coats of lacquer so you can enjoy your custom made necklace or brooch forever and ever!
Our personalised tattoo name necklaces were originally inspired by my fascination with the 1950s rockabilly queen Wanda Jackson! We then choose three classic tattoo designs - the anchor, the swallow and the heart which Sam drew including a sassy scroll in which we can print the name or word of your choice - maximum 9 letters.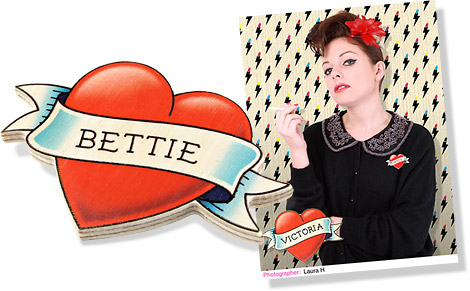 We were lucky enough to have Victoria aka Little Boots to model the collection for us. She's just released a record with Hot Chip and she can also be found spinning records at the Old Blue Last in Shoreditch every weekend. Tomoko our super hair and make up artist whipped Victoria's hair up into the most wild quiff and I added a vintage flower clip from Beyond Retro for a girly touch. We're wearing our rockin' name necklaces with wayfarers, tiki swimsuits tucked into pencil skirts and blue suede ankle boots. Yeah!
We've also made the designs into brooches which means these are the first Lady Luck Rules OK products which are available for BOYS too! Woo hoo. So girls now's your chance to get a gift for your beau to thank him for all the Lady Luck goodies he's bought you in the past! And boys we reckon these brooches will look ace pinned to the lapel of your skinny suit worn with cartoon tee and jet black wayfarers...quiff is optional!

Posted by Lady Luck at April 17, 2008 4:27 PM
so cute!!!
Just one question - where did the model get the blue cardie she's wearing on the anchor page???
xxx
Posted by: Floz on April 17, 2008 8:02 PM

Wow, you just solved my problem of what to get my best friend for her birthday. She is super obsessed with tattoos, although we're not old enough for her to get one yet. Now, my only dillema is choosing one! Another amazing product LLROK, don't ever discontinue these.
Posted by: Jade on April 17, 2008 8:30 PM

Oh Em Gee! I Love Themmmmm!
:]
Posted by: JESSICA on April 20, 2008 3:25 PM

Oh Leona, I love these!!
I'm actually planning a tattoo very similar to the heart one. And once I get paid I'll defo be snapping up one of these beauties!
xxx
Posted by: sapphire on April 21, 2008 1:08 PM