February 23, 2010

The Farewell Swag Bag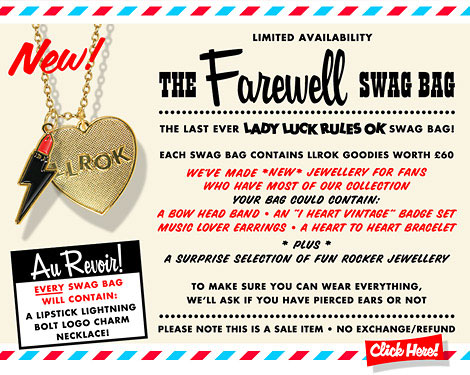 This is the last *ever* Lady Luck Rules OK swag bag and to bid you all a fond farewell every bag contains our signature piece the Lipstick Lighnting Bolt logo charm necklace. We've also made *new* jewellery & reworked best sellers for those of you who have lots of our pieces already. Each bag will contain at least one of the following: a minnie mouse style bow headband, an I heart vintage badge set, a rockin' pair of Music Lover earrings or a super cute Heart to Heart bracelet in gift box. Every bag will have a teapot necklace in a new colourway! The bag will also contain a surprise selection of fun rocker jewellery. To make sure you can wear everything, we'll ask you whether you have pierced ears or not.
Go shop The Farewell Swag Bag!
Posted by Lady Luck at February 23, 2010 11:11 AM
cant believe these have sold out already! i am so gutted. any chance you'll have any more in the next couple of days?
Posted by: becks on February 24, 2010 4:14 PM