July 31, 2008

V&A Village Fete 2008

Last weekend felt like summer had officially arrived as the Lady Luck Rules OK gang descended upon the glorious Victoria and Albert museum for two days of good old fashioned Village Fete fun! We had spent a long gruelling week building a giant punch and judy style stand to house our bespoke jewellery making equipment as the event was due to take place outdoors in the John Madejski Garden. Weather reports all week had said it was going to rain and maybe even thunder storms. But did we need to worry? Oh no! Why it was the hottest weekend of the year so far, hurrah!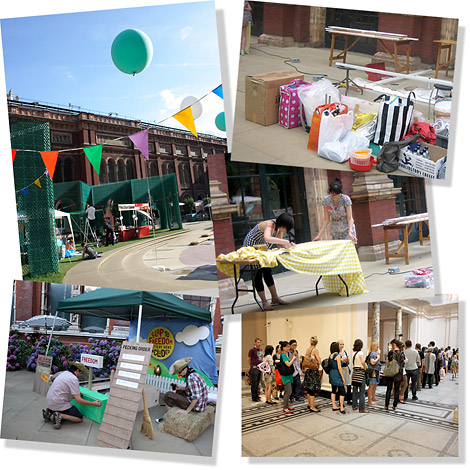 We arrived at the museum nice and early on the Friday morning and with the aid of porters and trolleys wheeled our stuff THROUGH the museum and into the garden which as it turned out was the first of a series of terrifying moments. Sam immediately started to assemble the stand, Hana and Amy whipped out the sewing machine to make up the gingham fabric into table cloths, Laura made the signs, Penni prepped the stock and I prepared the equipment and started testing. HOLD ON! The electricity hadn't been switched on yet...and we were informed the floor plan stated we weren't down as needing electricity! OK OK, I'd brought a picnic so we all sat down and cracked open the hamper whilst men in blue uniforms scurried around trying to wire us up. After lunch we were back on track, running a little behind mind but it was all systems go... Going through my mind in a big way was this was the first time we had ever taken our custom making equipment OUT of the studio, was it going to work?
The event was due to open at 6pm and news was working its way around the stands that an enormous queue had started to form outside the museum and I had *just* started testing the machine (there were a few hiccups) but we were soon rockin and rollin, phew-ee! Then the flood gates opened and boom we didn't stop all evening. We made hundreds of personalised necklaces (rosettes, anchors, swallows and hearts) and with each purchase the customer had a complimentary spin on our wheel of fortune, if they landed on "yes", "wow", "yay" or "win" they won a jewellery filled lucky dip but if they landed on "oops", "boo", "pah", "lose" then they were given a limited edition Lady Luck Loser badge! We had such a long list of necklaces to make at one stage our turn around time peaked at 1 hour but with so many other activities going on customers scooted off for fun and games and came back to collect at the end of the evening!
The Friday night flew past in a blur so we were looking forward to the Saturday so we could flit about the fete and play some games and take a look at the stalls! I'd had my eye on the "brooch the subject" stand where you get to smash a vintage piece of crockery and make the remains into a brooch; I wanted to help a chicken flap to freedom; getting a fake criminal record looked like serious fun; helium karaoke was next on the list and I definitely wanted to win a flat pack kitty by guessing who was in the hutch....forget it! We were even MORE busier on the Saturday and I didn't once get to leave our booth. Oh well, Laura scooted around to take these photos and we all scooped up a POP tote bag to commemorate the occasion.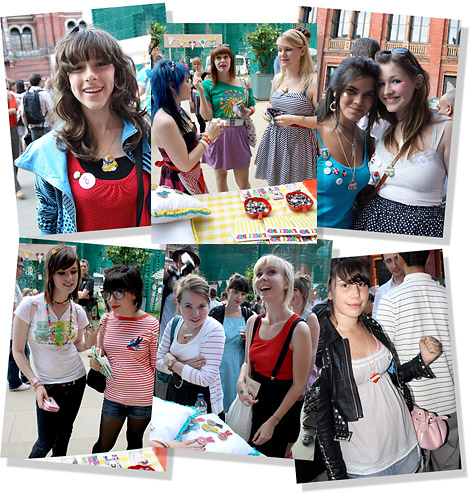 Thanks to everyone who visited our stand, it was so much fun, a little fraught at times making sure we got all the jewellery made but it was worth it every time we saw the delight on a customers' face when we gave them their necklace! If you didn't make it down this year we hope to see you next year we already have an ACE stall panned...
Posted by Lady Luck at July 31, 2008 9:22 AM
i went to the fete!
and loved it
i brought one of the necklaces there and haven't been able to take it off
i'm definitely going to the fete next year!
it's made my summer :)
Thanks for telling me about it
LLROK!
tashaaa:)
Posted by: Tashaa on August 1, 2008 4:50 PM

I will definitely come next year, it looks like so much fun! Well done with your stand it looks really good x
Posted by: cassie on August 8, 2008 9:45 AM