November 28, 2008

Pop-Up Tattoo Parlour at Urban Outfitters

Lady Luck Rules OK made its West End debut last night at the Covent Garden Urban Outfitters Christmas Shopping event. We designed a boudoir style Pop-Up Tattoo Parlour for the night with black and white chequered flooring, leopard print stools, leopard print aprons and a screen decorated with designs from our Personalise It! collection.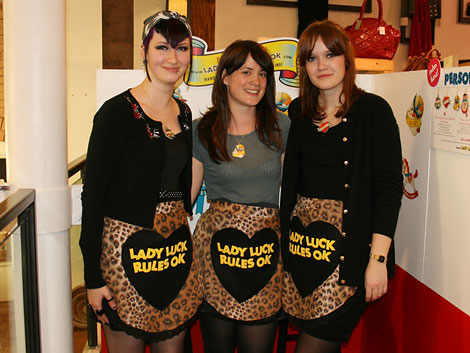 The boudoir gals and concept creators were our interns Chloe Pye (left), Kirsty Fletcher (right) both students from Camberwell College of the Arts London and me!
Chloe is studying illustration and is a huge fan of tattoo artwork so she became our "tattoo-ist" for the evening. The store opened at 5pm with a crackin' 20% off everything, a free bar and music by the Young and Lost Club Record label DJs. We were up on the third floor and from the second the store opened our little parlour had a big queue, it was very exciting!
Our super cute intern Aline from Berlin came to visit us and hopped into the chair for her very own personalised tattoo. It doesn't hurt Aline, promise!
Most of the staff from Urban hopped into the chair at some stage in the evening and this lovey gal had her pups name on one arm and her beau's name on the other. Aww.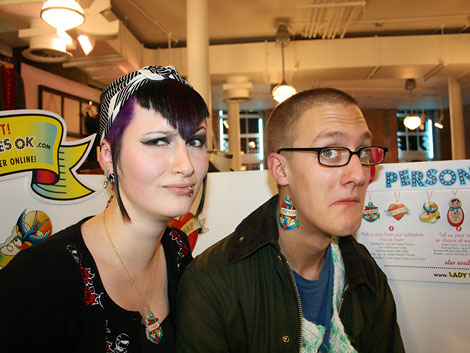 This guy gets the prize for the best placement of the evening although there were a few other suggestions Chloe politely turned down! As usual we took too many photos to fit on the blog so why dontcha check out our flickr page...click here!
Posted by Lady Luck at November 28, 2008 4:35 PM
tres cool.. GAWD haven't seen that before

Posted by: Lauraaa on January 16, 2009 11:05 AM