February 7, 2006

Go Go Girls have landed!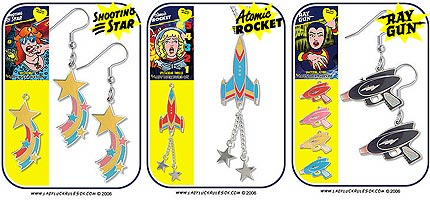 We're all super excited at Superette to finally launch our B-movie inspired collection of enamel earrings, necklaces and badge packs. Every design is available in a variety of colourways and as an 18" silver plated necklace or a pair of earrings on silver plated fishooks. Every design will also be sent with it's very own collectors card. The new designs are also on their way to the Red Door Gallery in Edinburgh this week and I have just this minute taken a super huge order from my Japanese distributor. Yippee!
We've designed a new set of supersonic e-cards for you to send to all your pals. I hope you have fun sending them! We'd really love to hear your feedback about the new collection - everyone who lets us know their fave piece and why by midnight on Sunday will be entered into a prize draw to win the last ever Lady Luck Rules OK Flash necklace! (Please leave the feedback as a comment on the blog not an e-mail to me) Good Luck!
Posted by Lady Luck at February 7, 2006 12:52 PM
Ok, well this is incredibly exciting to be the first person to leave a comment. My favourite piece of the new rinky dinky super douper collection has to be the robot lover earings. Mainly because I was watching Will and Grace last night and they had this discussion about they thought all robots were gay, which made me laugh so much and seeing the cute robots immortilized as LLROK earings has brightened up my v. drab day considerably.
Posted by: Claire on February 7, 2006 1:59 PM

Wow-oh-Wow
I knew they were going to be amazing, but this is like triple amazing!!!!!
I'm in lovelovelove
THANKYOU SO MUCH
xxx
Posted by: Flo on February 7, 2006 2:21 PM

Am torn. My sweet innocent side wants to say my fav is the Robot Lover... he reminds me of a cutesy googly-eyed toy I used to have when I was wee. However, my darker side says goes for the vampy Night of the Vampire necklace - as it reminds me of one Halloween when I was a vampiristic Mia Wallace! Think I'll have to call it a draw and buy them both!!
Posted by: Zed on February 7, 2006 2:38 PM

wow! this is so incredible! i love the new collection and i'm so excited to visit superette when i'm in london this summer. my favourite piece are the atomic rocket earrings! they are so lovely, i also like the dangling stars.
never stop making jewellry, leona!
Posted by: laura on February 7, 2006 2:52 PM

hey wow loving all this new collection i love all of it the robots the ray guns im thinking my fav would be the shooting stares.. or the robots..or the... ;)
Posted by: liz on February 7, 2006 2:58 PM

The Catwomen of the Moon swooped down from the mysterious reaches of infinity armed with deadly cosmic rayguns in an unbelievable plot to take revenge on Mankind. Shrouded by a strange secret - you are powerless against them!
tee hee. i love it!! i shall promptly take over mankid with raygun earrings. in jet black. of course. villainous old me. the little lightening bolt reminds me of the old bolt necklace..(you're not selling them anymore? :( eep.) And of course i am the best shot in the land.. boys all fall before my feet. just call me mrs. cupid.
btw. lupes loved the earrings :D
Posted by: alex on February 7, 2006 3:25 PM

I have been checking the website today like a mad woman! In eager anticipation of the launch.
And I think it's all wicked, my favourite has to be the Raygun necklace. It's cute and would liven up even the most conservative outfit making it that little bit special. It will make my boyfriend a bit jealous, as I'm sure he wouldn't mind his own Raygun. Now all I have to do is subtly persuade him to get it for me for Valentines. Then I will zap all my job related competition and become the best furniture design in the world...
Making sure, of course that the Raygun is set to stun!
Posted by: Rebecca on February 7, 2006 3:26 PM

Ohohohoh. Black Raygun earings, black vampire necklace, oh they're all so beautiful! I think i'm gonna be saving up for the shooting star necklace with the red highlight, so cute! Although it is my birthday next week, unsubtle hints for all my family here we come!!!
Harriet xo
Posted by: Harriet on February 7, 2006 3:50 PM

wow, the new designs are great! i love the shooting star necklace and the others would really suit some of my friends, i'm sure they'll be getting lady luck presents from me soon!
Posted by: kat on February 7, 2006 4:08 PM

Woah Leona, the new collection is awesome and so unique. The Atomic bagde set will brighten up my college bag! And Robot Lover couldn't be any cuter.
Please don't stop, this stuff is too bloody good.
xx.
Posted by: Fi on February 7, 2006 4:55 PM

i love love it and it makes me very excited!
I would like the robot earings in red and I will wear them to the party and do robotic dancing (get ready, I am considering bringing twister!) wowweeeee..
Da Seeeka
Posted by: the lady seeker on February 7, 2006 5:12 PM

ooooooooooooooo im loving the new stuff, tiz fabulous. my favourite is the red vampire necklace tiz sparkly n fantastic!!! we need more new stuff!!! don't stop now!!! love ya lots n shizle xoxoxooxoxoxoxooxoxo
Posted by: Jadeness on February 7, 2006 5:22 PM

I have waited for your new collection with baited breath and can now let out, not a huge sigh of relief, but a rather high pitched yelp. I love the ray gun and robot lover, but my favourite I think has to be the Atomic Rocket . Perhaps I can jump on it and zoom away into space. Then I won't have to do my dissertation. Unless Royal cover outer space? If anyone wants to join me there welcome to hang onto the stars!
Congratulations Leona xxxxx
Posted by: Francesca on February 7, 2006 5:35 PM

my favs are the raygun necklace as it reminds me of the cult sci fi film invaders from mars i love that film it still scares me even though it was made in the 50s or my other fav is the vampire necklace that reminds me of the othjer cult film plan 9 from outer space
,the whole collections great i love it
Posted by: claire on February 7, 2006 6:25 PM

hmmm tricky, it's all so cool!
I particularly love the robots with their googly eyes and the fangs, they are so different and original. I also think the badge packs are a really cool idea, it certainly makes deciding on a favourite theme a whole lot easier.... ;)
Posted by: Rosieposie on February 7, 2006 7:00 PM

Now, when I jumped on the computer like a crazy person tonight, after dreaming of the new collection allll day, I had no idea that I'd be so cruelly forced to pick a favourite so soon! But, seeing as you DID mention the Flash necklace... I'm going to try and make my mind up! (drum roll please..)
It will have to be the vampire pendant! It's so...well, vampy! The fangs are scarily sexy, and all the colours its available in could satisfy and suit any kind of girl! THE BEST BIT is that you can get the dangerous allure of the vampires, WITH added glitter, but without any blood-shed (totally ruins a decent outfit..) and none of those awkward, uncomfortable fake fangs you wear on Hallowe'en! Let's face it...they just get in the way if you're about to "go in for the kill" (pardon the pun) and are as bad a fashion no-no as wearing a gum shield to a nightclub. So, these fangs also will make kisses easier, and add an element of horror... A bit of a miracle, if you consider some might see it as just a pretty necklace!! By far, a major success there!
I love the whole collection, I can't wait to make that kiss with a bit of a bite mine (along with many other pieces)!
Fiona xx
(I really should work on shorter posts....)
Posted by: psycho.drama.beauty.queen on February 7, 2006 7:02 PM

My favourite is Robot Lover.
Remember when you were little and you dreamed that when you were older, you'd have a robot to do everything for you!?
Well this is like the perfect girly robot to do all my chores for me,
and just generally hang out with!
I love her! xxxx
Posted by: Flo on February 7, 2006 7:14 PM

o my gosh!!! im totally lovin the robot lover!! he is uber cute. spesh with his googly eyes "EEK!" im tres excited and now i ned money to buy all ur amazingly fab jewelerrry. darn u and ur creativity!!! lol xxxx
hayley <3
Posted by: hayley on February 7, 2006 7:17 PM

wowza! this new collection is even more fabulous then i imagined! lady luck certianly has not lost her chic touch ;)love love love it xxx
Posted by: Jaz on February 7, 2006 7:40 PM

Oh...my....god!! I love all the bits from the new collection, but my absolute fave is the red, sparkly Vampire necklace...'I vant to drink your blooood'!! It's fabulous! xxx
Posted by: Rachael on February 7, 2006 8:08 PM

It's all about the Raygun necklace - super ace!
xxx
Posted by: Sapphire on February 7, 2006 8:10 PM

Oh..my goodness....I am in love with EVERY single piece in the new collection. It's very close between the super cute robot necklace and the Vampire necklace, but I think the fangs win!
Posted by: Amy Kins on February 7, 2006 9:26 PM

ohh i love the black vampire necklace! are these going to be sent out to the Motel stores eventually?
x x x
Posted by: Hannah on February 7, 2006 9:36 PM

OMG!!! I lurrrvvvvvvvv the Robot lover earrings! The new collection looks wicked - just gotta save up to buy my fav things now... The funky B-movie artwork looks amazing - keep it up with the cool jewellery gal xxx
Posted by: Samantha on February 7, 2006 9:44 PM

Hey! I just love every piece of jewellery up here for viewing. I'm all the way away in NZ but maybe I should order some of this sweet stuff! My favourite piece from your new collection is the Robot Love pendant and earrings. Very cute! Something I'd be proud to show round my neck and in my ears!
Rock on!
Posted by: Zoe on February 8, 2006 7:14 AM

i set my alarm for 9am yesterday and was gutted that the collection wasn't up... so i sat at my computer for a few hours refreshing the page. and one by the one the new jewellery arrived! it's all so fab. my fave is the shooting star necklace cos ... i just love stars!? can't wait to wear it!
Posted by: sidi on February 8, 2006 12:47 PM

wow, it's all so amazing i don't know what to choose! loving the shooting star and ray gun necklaces, the decisions to hard, i think i'll have to buy them both (oh well!) ohh and the badges, i love the retro theme-soo cool!
you rock!! xxx
Posted by: shirin on February 8, 2006 4:42 PM

This has been a hard decision to make but it has to be the shooting star earrings in pink! (the raygun earrings were a v.close second) They're so cute and for some reason remind me of the care bears (although they probably shouldn't!)
Loving the new collection! xxxxxx
Posted by: Charlotte on February 8, 2006 5:19 PM

How cruel is it to make us pick our favourite...sniffles...what if the vampire fangs get jealous of the robot lover and bite him...
and then the raygun gets trigger happy...
x
P.s *whispers* robot lover earrings all the way...

Posted by: Fran on February 8, 2006 5:34 PM

my fave is the robot lovers and shootig stars and atomic rocket oh what the heck i love them all. i want one for me bday well done leona on creating such a kewl range of jewellery xx lors x
Posted by: lors on February 8, 2006 6:59 PM

My fave thing in your super-cool new collection is definately the vampire earrings in pink(of course!) coz they are cool and pink and sparkly!! xxx
Posted by: xlorenx on February 8, 2006 7:40 PM

My oh my I am loving the Robot Lover necklace! Its fab! Good job on all...
Love me x
Posted by: x L is for Lorna x on February 8, 2006 7:42 PM

hey leona! my favorite is definately the red robot lover necklace!!! i cant wait until it (along with the pink ursula) comes in the mail!! :)
Posted by: vivian on February 9, 2006 12:18 AM

ONE favourite?! But I love everything!! Although, if I was being held at raygun-point I suppose I would have to choose the robot lover necklace. He is super cute! I already ordered my own little guy and a red vampire fang necklace. Cannot wait for them to arrive!
Posted by: Melissa on February 9, 2006 12:46 AM

i love the robots! time to get on down to the funky funky robot groove!
toodles
Posted by: erinberinbee on February 9, 2006 2:43 PM

My fav would have to be the shooting star earrings, because (I know they're probably not meant to) but remind me of the care bears lol!
Loving the new collection!
Char x x x x x
Posted by: Charlotte on February 9, 2006 4:26 PM

My personal favourite has to be the vampire necklace. I thought it looked dark and sexy when i saw the preview of it in black. When i saw the new collection and there was one in gorgous red i almost died! It is beyond hot! I love it! I'm definatly getting one!
Posted by: Emily on February 9, 2006 4:27 PM

my fave has got to be thr ray guns... it would be so cool to have a mini raygun fight with someoene you should totally make some with little laser beams in them that would be sooo cool...fab collection by the way xxx georgie
Posted by: georgie on February 9, 2006 6:20 PM

Robot Lover rocks my socks! Hes just so funky and fun especially in red. My guess is that he'll brighten up anyones day! He certainly puts a smile on my face. Ill have him coming my way oh so soon...
Love me x
Posted by: x L is for Lorna x on February 9, 2006 9:45 PM

definitely Red Robot Lover!His eyes are a bit crazy but he's still really cute
Posted by: Mil on February 10, 2006 3:11 PM

I love it all, but to pick my fave, it has to be the black raygun earings, or maybe the cute robot necklace?
I love wearing my LLROK pieces, can't wait to add to the collection!
Posted by: dolly on February 11, 2006 10:23 AM

Wow this new range rocks my socks totally! My fave has gota b the vampire earrings and necklace the red ones!!!! I LOVE THEM! thanku so much for introducing me to pop art jewellery! love retro pixi m xxx
Posted by: Retro Pixi on February 11, 2006 3:30 PM

the robot lover is the best! but the whole range it really cool!
...better get saving..
Posted by: ruthie on February 12, 2006 3:00 PM

Goody-goody gumdrops!
Can't wait to sink my fangs into these snazzy treats!
Posted by: Ellie on February 12, 2006 3:36 PM

I think my fave is going to have to be the Raygun necklace. Kitsch as hell! Hopefully wearing it around my neck could help me 'zap' any bad vibes hanging around me.
Alex
xxx
Posted by: Alex on February 12, 2006 10:42 PM

leona will you ever have any more pop rockers earrings on sale again or ones that look like it?
Posted by: lors on February 13, 2006 12:29 AM

oh i do love lady luck....and the go go girls are SIMPLY BEAUTEOUS. (v high praise) much love xxxxxxx
Posted by: rachel on February 14, 2006 12:12 AM

I love it - The Atomic Rocket necklace
is totally R O C K I N!
thank you! thank you! thank you!
XXXXX
Posted by: Anf on February 15, 2006 1:03 PM

Cheers for the ramones earings, they rock!! New york keyring was awesome too! Lovin the Go Go Girl stuff btw!
i'm so glad i discovered u!
xxx
Posted by: Emma on February 15, 2006 6:14 PM

Wow... the raygun earrings are even more super-duper-amazing in person! And the rockets are beaufiful, too.
THANK YOU!
xx
Posted by: Pippa on February 15, 2006 9:27 PM

Hey Leona - Lucy here, ex-Kerrang! Loving the new collection, what a shame I don't work there anymore, they would have loved it. I wore my red vampire necklace yesterday & had so many compliments on it! Keep on with the good work!
xxx
Posted by: Lucy on February 16, 2006 9:07 AM

Thank you so much for my awesome shooting star earrings, the pink leopard print trainer necklace and my unicorn necklace. After falling in love with all of them in just 5 minutes, they were even better in person. I have also taken to calling my unicorn: Princess Sparkle, after my big obsession with the o.c. =)
Thank you !!
Posted by: Suz on February 16, 2006 12:32 PM

hey..... i absolutly love the new collection, itz ultimatly delicious!!! but please please please print some more t-shirts!!!!!! :D
Posted by: Elle on March 2, 2006 7:12 PM