February 14, 2006

Paris, Margin and the lucky winner!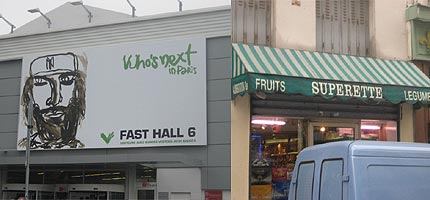 It's been super busy at Lady Luck towers since the launch of our new collection but we still made time to pop on the Eurostar 2 weekends ago to check out the trade shows Parisian style. Miss Oafette and I wandered through Who's Next, Pret-a-Porter and Pick'n'Mix. I fell head of heels in love with the French label April 77 - teddy boy inspired glittery jackets complete with tortoiseshell comb in the inside pocket. Sweet. We also showed our samples to the stores Fruit Punch and Lazy Dog and whilst on the way to Colette passed our sister store.
Yesterday and Sunday was our 4th time showing at Margin and we were all treated to a snazzy new location in Pimlico. Sam made me a booth using the logo wallpaper left over from Superette and I took my 1970s hanging chair which everyone enjoyed swinging in - especially Odysseas who runs Margin (see photo below). We're happy to be re-stocking Social in West Hampstead, Eightball in Italy, Flying A in Switzerland which is now called Famous Ape and Thunder Egg in West Didsbury. Our new stores are Rift in Barcelona, Vertige in Lille, France, Ripe in Shrewsbury, Ark in York and Goodfella's in Italy. Phew! We're gonna be busy! The best seller was my new design "Valley Girl Hair Bobbles" which I'll be adding to the site next week...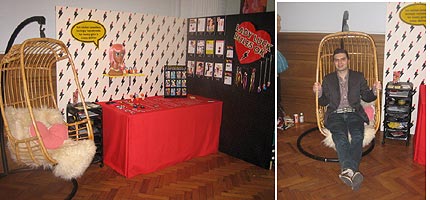 Oh, and I'm pleased to announce the winner of the last ever Flash! necklace is Fran - I don't have any other info. but we've sent you an e-mail so get in touch!
Posted by Lady Luck at February 14, 2006 2:08 PM
hair bobbles? awesome... i wish my hair wasn't a silly afro so i could wear hair bobbles!!
xxx
Posted by: Sapphire on February 14, 2006 5:05 PM

WOW is all I can say! How lovely to find that e-mail at the end of a very stressful valentines day! thank you Leona you deserve a massive piece of cake for cheering me up! x x x x x x x
Posted by: Fran on February 14, 2006 9:38 PM

wow i just got the go go girls jewellery i ordered its fantastic i love it all the badges are so cool and the necklaces are wonderful i can't make up my mind which to wear first leona you are amazing thank you
Posted by: claire on February 15, 2006 11:37 AM

My red Vampire necklace arrived today! Halleujah it's amazing! I've been bitten by the metallic vampire and there's no way I'm going back!
xx
Posted by: Imogen on February 15, 2006 3:22 PM

Lucky lucky Fran!! Congratulations missy...I'm oh-so envious!
And thank god you're bringing out some hair bobbles, I've just had mine cut and need some excuse to have lazy-hair days instead of keeping it salon style perfect!
x x Fiona
Posted by: psycho.drama.beauty.queen on February 15, 2006 3:53 PM

I have to say WELLDONE to Fran! She's got me hooked on ladyluck so if anyone deserves that necklace its her!!
xxxx
Posted by: Alison on February 16, 2006 11:50 AM

Hey! I got home from a hard day of french exams to find a lovely box waiting for me. I love my vampire necklace so much! The go-go girls badges will look great on my bag as well! I'm so happy! You made my day!
Posted by: Emily on February 16, 2006 7:33 PM

YAY! my things have arrived! i'm so excited! i love the ray gun necklace so much, i put it on straight away! and the badges are soo cool, they look so good on me! he he! thank you so much Leona, lady luck does indeed rule!!! xxx
Posted by: shirin on February 17, 2006 2:07 PM

Well, what can I say?! I absolutely ADORE my new Robot Lover and Night of the Vampire necklaces soooo much!!! The collector cards are a fab touch, by the way. In fact, I am so pleased with my new jewellery that I have just ordered the Atomic Rocket earrings, too. Can't wait to get them...
Posted by: Melissa on February 17, 2006 2:18 PM

Just received my guitar earrings, they're fabulous! can't believe they arrived so quickly! All I can say is thank god I discovered this site! Thanks Leona! xxxx
Posted by: Jo on February 18, 2006 11:49 AM

I got my shooting star earrings today and I love love love them! They're so sooper i'm never taking them off! yay 4 lady luck XXX
Posted by: Libby on February 18, 2006 6:21 PM

thanks so much the badges are gorgeous! i luv them! i can't believe that they arived soooo quickly! i'm keeping them on my jacket and will always wear them! lol luv ya lady luckxxxxxxxx
Posted by: Phoebe on February 21, 2006 7:59 PM

Oooooh, my Pucker Up necklace arrived today and I put it on as soon as I opened it! I love love love it, and thankyou ever so much for creating such wonderful jewellery! Keep it up Leona! xx
Posted by: Clare on February 22, 2006 4:48 PM