February 25, 2006

We Heart Sapphire

Sapphire has just interviewed me for her boyfriend's zine Drat! and she sent me this cute photo - she definitely has a LLROK habit.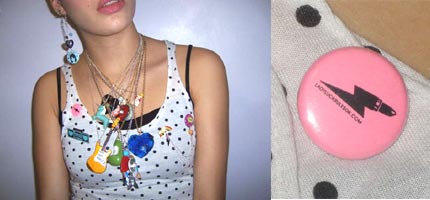 Odysseas from Margin e-mailed yesterday to tell me my new stockist in Barcelona RIFT has kindly written about us on their website - FeedMeCoolS**t. It goes down as one of the most peculiar shout outs. Thanks. I think. And we've made the Heidi Seeker blog too. Sweet.
Posted by Lady Luck at February 25, 2006 11:45 AM
sapphire is one kewl lady
Posted by: lors on February 25, 2006 7:08 PM

One word: WOW.
And nine last words!: I Should Have Got A Pop Rocker Necklace, DARN!
xx
Posted by: Imogen on February 25, 2006 8:15 PM

woah... wasn't expecting that on the news page! haha, how funny..!
x
Posted by: Sapphire on February 25, 2006 9:00 PM

ooh, and just to let people know - you can find out where to get Drat! on www.myspace.com/dratzine. Leona's interview will be in issue two, out around easter!
yay!
x
Posted by: Sapphire on February 25, 2006 9:06 PM

i'm so jealous of that girl! all that ladyluck jewelery!!
Posted by: vivian on February 26, 2006 4:23 AM

I have just seen the super duper charm braclet and all i can say is: wow.
I want it so bad it hurts! darn my bank balance! I may have to resort to subtle (cough) hinting near my birthday..
Posted by: Emily on February 26, 2006 4:10 PM

Man...I want all that LLRO jewlry...
And i am prayin that i get that SUPER DUPER charm bracelet from my birthay i have been talking bout it all day....

Posted by: CherryPie on February 26, 2006 8:35 PM

Love. Pure and utter Love! My that charm bracelet is Love! x
Posted by: x L is for Lorna x on February 28, 2006 9:09 AM

Woah, all that spangly new jewllery (if thats how you spell it) new in!! And Sapphire, where the hell do you get the money to buy all the shiny necklaces and such and such...
Posted by: Coby on February 28, 2006 7:20 PM

hey, got home today to find...my pucker up necklace all prettied up, waiting for me on my doorstep, in plenty of time for the weekend's events. thank you so so so much!! xoxo
Posted by: Dirty Pretty Thing on February 28, 2006 7:54 PM

Oh by the way..I suggest you best get a copy of Drat! magazine!
I have just ordered mine..with a wide grin on my face!
Posted by: Coby on March 1, 2006 5:00 PM

oh.
my.
gosh.
i just got my dancer dolly studs and i am in love.
ive been wearing them non stop for the past day, and my boy has nabbed the free badge you sent with it too. big hits all around!
Posted by: KK on March 1, 2006 10:54 PM

Ohhhh oh! I got my ursula necklace and robot badges through the post the other day and I'm in love. How beautiful? The website is clearly my spiritual home.
yum.
Posted by: steph on March 4, 2006 10:51 AM