February 20, 2006

Valley Girl Hair Bobbles

I've just added 2 new designs to the shop! Firstly we have the tres cute Valley Girl Hair Bobbles. Made especially for gals who love to rock the side ponytail look and for followers of the cult 1980s flick Valley Girl. You gotta love the young Nicholas Cage and why not try the Valley Girl translation game! Click here to have a good giggle.
Next up we have our signature designs the 1" button badges but this season they're nifty little mismatched studette earrings! I've also updated my stockist page so you're in the know which high street you can pop down to pick up the latest LLROK goodies. But remember if you buy online you'll receive your goodies beautifully wrapped with free pin badge and all usually within 3 days!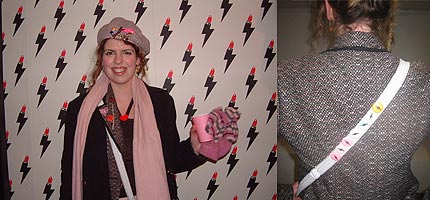 Claire from Bristol (who came to the Superette opening party) has popped all her LLROK badges to the strap of her bag. Go Claire!
Posted by Lady Luck at February 20, 2006 3:16 PM
Ooh that little lady looks fab! My badges are all pinned along the upper edge of my curtains 'cos there pure white and needed brightening up!
As for the new peices, I adore the earrings esp. The Ramones and have passed the link on to my beau as I was in New York for Valentines and he was in Barca and hes still stuck for a present! He should instantly know to come here! Grrr!
Love me x
Posted by: x L is for Lorna x on February 20, 2006 4:14 PM

Want studs, want hair bobble...don't get paid till friday :( eeeeeeek they are fab xx
ps been showing off flash necklace all day :)
Posted by: Fran on February 20, 2006 5:04 PM

Posted by: Sapphire on February 20, 2006 5:45 PM

Wow, Im in love! Who needs boys when Valley Girl Hair Bobbles exist!?
Will you be making any hairslides of a similar design? Cos that would be AMAZING!
xx
Posted by: Caroline on February 20, 2006 9:25 PM

Just wanted to let you know i've had lots of comments about my red vamp necklace and my go go girls badges! Everyone has been asking where i find stuff that is so different and original! I love the new valley hair bobbles too. I'll need to work more to afford all this nice new stuff!
Posted by: Emily on February 21, 2006 3:19 PM

oooh, all the new stuff looks fab...espesh the valley girl bobbles! Zappa rules!! i wish i had'nt had all my hair chopped now...damn :(
xoxoxox
Posted by: beckiohiggio on February 21, 2006 5:10 PM

Okay, I couldn't resist it - I already ordered me a turquoise valley girl hair bobble last night, but my greed got the better of me this evening and I ended up ordering a pair of shooting star earrings and some dolly dancer studs. Eek!! Stop making stuff I want!!! NO!!! Forget I said that!!!! LMAO!
Posted by: Melissa on February 21, 2006 6:09 PM

Well hello there is my fantastic friend Claire-bell here on the LLROK news page!! (i am on the gallery)
Does she just look fab? she got me the sparkly brooch that now is on my black jacket!!
Go Claire
Oh I do like the hair bands they are quite fab! shame I have no money!! maybe next week after pay day!
Lizzie
Posted by: Lizzie on February 23, 2006 5:30 PM

OMIGOD! Those r like the most brillo-pad things eva! I want i want i want!
Posted by: Ellie_Girl on February 23, 2006 6:22 PM

Well my wishlist at the moment is Valley Girl hair bobbles, Super Blondie/Dancer Dolly studs and Raygun earrings! And a trip to super Superette!
You watcha gotta do Mr Money Tree-grow grow grow!
xxx
Posted by: Imogen on February 24, 2006 5:37 PM

woahhhhhhh i am absolutely luvin da new studs and da bobble !! they r sooooooooooooooooooooooo soooooooooo cool!
i rele wnna get da ramones studs!!*sobs*
luv u LLROK
cornelia
x-x-x-xx-#

Posted by: cornelia on February 24, 2006 7:23 PM

I do that 2 with my LLROK badges... It's like a club doing that............
Posted by: CherryPie on March 3, 2006 5:38 PM

NOOOOOOOOOOOOOOOOOOO! wer has my dear bambi sparkle rocker gone! PPPPPPLLLLLEZ bring them bak xxxx O also lovin your new gear way way way cool. Im loving the super duper charm bracelet, sparkle rockers and of corse the anchor necklace and tennis earrings! Chears leona xxxx
Posted by: Retro baby on March 14, 2006 5:16 PM