February 28, 2006

Girls on Film

Yesterday we shot the debut Lady Luck Rules OK photo campaign and I want to say thank you-thank you-thank you to everyone involved! Firstly the team - super talented photographer Asami Uetsuji; make up supremo Anne-Katrin Luck (love that surname); hairstylist wonderkid Keiko "bunny slayer" Somekawa and stylist assistant and indie intern Sarah Stonehouse.
We had 2 ace models - I scouted burlesque dancer Miss Cherry Contrary from Spitalfields market (photo above) and Laura from local agency Union Models recommended cute as a button New Face Venice (photo below).
Lastly a quick thank you to Beyond Retro who lent us the clothing for the shoot. Oh, and the super cool footless tights are hand printed with dice and hearts and they will be available to buy right here in the LLROK online shop next week.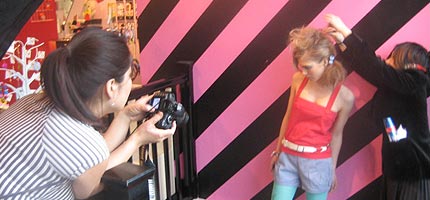 We closed Superette for the day - the basement became the hair and make up salon and the shop floor was our studio. The girls modelled a selection of new goodies including the Sparkle Rocker brooches, Teenybopper Rings, Super-Duper Charm Bracelet and Valley Girl Hair Bobbles. Asami is bringing the disc in today so we can edit the photos which will go on to be used in our up coming press campaign, on the website and a flyer and postcard campaign. It was such a fun day and I look forward to showing you all the final results and introducing you to the star of our shoot and new LLROK mascot!
Posted by Lady Luck at February 28, 2006 12:55 PM
looks ace. that pink hair is so good.
x
Posted by: Sapphire on February 28, 2006 3:34 PM

wow!
you did a serious piece of documentary!
we all had fun on monday.
thanks!
Posted by: Asami on February 28, 2006 4:44 PM

Wow!! Really reminds me how how fantastic Lady Luck is!
xx
Posted by: Imogen on February 28, 2006 5:26 PM

I am giddy with excitement! I can hardly type!
I have just ordered a Ramones sparkle rocker anddd tomorrow once Ive passsed more money onto Mumsy Im going to order some Ramones stud.
You have made me the happiest girl alive! I love youuu x
Posted by: x L is for Lorna x on February 28, 2006 8:06 PM

Wow, I got so excited before I forgot to mention how fab everything looks! Electric blue eyeshadow - Always good! xxx
Posted by: x L is for Lorna x on February 28, 2006 8:16 PM

Well, first of all, I am so looking forward to the tights being listed. Secondly, I love, love, love my new shooting star earrings, dancer dolly studs and fantastic teenybopper ring!!! Also, I have just ordered an ace anchor and I can't wait to see it in real-life. Yippee!!
Photo-shoot looks fantastic, by the way. I am so pleased for you, Leona. Pretty soon Lady Luck will rule the world ok!!!
Posted by: Melissa on March 1, 2006 1:20 PM

ohh im so jelous of those girls!
xx
Posted by: Hannah on March 1, 2006 9:55 PM

I am going to be so poor soon. WANT THOSE TIGHTS!!!!
Apparently I have a "ladyluck habit" Jordy says I buy too much and he is going to confiscate my money :(
Posted by: Fran on March 3, 2006 3:37 PM

Just thought i would say that the teenybopper rings are the best things ever! Every girl should have one. It makes everything so much more fun xx
Posted by: emily on March 3, 2006 4:31 PM

ace brooch. thankyou very much for it. ladyluck absolutely rules!xxxx
Posted by: Catherine on March 3, 2006 4:39 PM

Oh, good lord. Must you make it so hard for me to save money, Leona??!!?? I'll think I've got it all sorted out, and curbed my addiction to filling up a virtual shopping cart before emptying it as I have no money...AND THEN YOU GO AND DO THIS! If I wasn't so torn, I'd let you know how bloody gorgeous all the new stuff looks. I might also say, keep it coming. But as I'm torn...I can't!
x x Fiona
Posted by: psycho.drama.beauty.queen on March 4, 2006 3:53 PM

Love my new SUPER DUPER bracelet....I am in love with it...haven't stopped wearing it for 3 days...
Posted by: CherryPie on March 4, 2006 5:42 PM

WOW met up with my friend who I hadn't seen on my birthday and she had a little box of ladyluck for me!!!!!OH the joy, am thinking of names for the robot lovers....Reggie and Jim...
Posted by: Fran on March 4, 2006 5:52 PM

wow, those tights are incredibley groovy! i feel like i haven't bought any ladyluck jewllery for ever! but hopefully it is long enough after christmas now to get some more....im loving the sparkle rocker brooches!
xxx
Posted by: Zoe on March 5, 2006 12:22 PM

My brother thinks I'm broke, my mother knows I'm broke, my father thinks I'm making him broke....but its all in the name of LLROK! hehe, i envy those beautiful lucky models sooo much!
Posted by: :: lilly :: on March 5, 2006 1:07 PM

I love my Gumball Goodies necklace!!Oh I am so excited I could just wet myself.... but hopefully I won't.....anyway,love the photoshoot and i wish i was those girls.... darn my awful looks! I am going to buy a gazillion pieces of jewellery i love Lady Luck!!
x
Posted by: Naomi on April 5, 2006 3:56 PM

'ello
love everything about the site!
everything!
love,
Lily
Posted by: Lily on April 6, 2006 10:51 PM