August 14, 2005

Margin

Lady Luck Rules OK opened up it's jumbo rainbow stand at Margin for the third season running last weekend. Attendance was 30% down as some buyers chose not to visit London due to the events in July but nevertheless good orders were written and fun was had with my trade show gang! I'm pleased to welcome two exciting new European stockists Flying A in Switzerland and Eightball in Italy and lots of my current UK shops stocked up on a sparkling selection of new designs. On the last day Laura from Heidi Seeker and I did a swag swap - one of Laura's LOVE WILL TEAR US APART biker cardigans for one of my Electric Daisy necklaces, a charm ring and a pair of Smurf sunglasses (see piccie below). This girlie is one to watch, her collection is super duper - punk meets new wave in an ice cream parlour! Oh yes!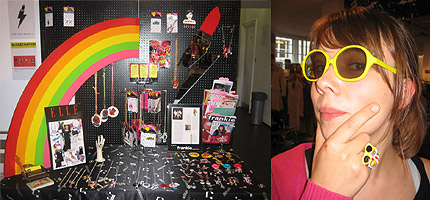 After the show I spent 3 sunshine filled days in Devon with my boyfriend's family. I feel relaxed and happy and ready to get down to work - I have lots of wholesale orders to complete now, more new items to add to the online shop and a secret project to get my teeth into. All will be revealed very soon...
Posted by Lady Luck at August 14, 2005 8:07 PM
Your stall looks amazing! All those goodies look very tempting :)
x
Posted by: Becky on August 15, 2005 12:14 PM

that ring... it's beautiful!! who? where? are they sold anywhere?

i'm in love with it!
<3

Posted by: ro on August 15, 2005 10:45 PM

The super fun charm ring is part of my new collection and will be added to the site at the end of the month. It has apples, candy canes, hearts, butterflies, sunglasses, strawberries, ice creams and ladybirds!!!
Posted by: leona on August 15, 2005 11:42 PM

Ooh Im loving tha stall Leona! All looks v.fun and fab!
I am still loving tha awesome yellow smurf sunnies! You do bring us tha best finds! I salute you!
Love Lorna xXx
p.s. Ive just checked out tha link for Heidi Seeker and her tees are great. However I am still loving my 'I Buy D.I.Y' tee. Its such an utterly cute tee!
Posted by: Meee. on August 16, 2005 9:28 AM

I know I just sent a message but being tha forgetful person I am, I forgot to include my little question - Where has tha little anchor earring gone? I cant remember tha name so Im not much help but it went along side tha fancy fawn one!
I really want one to wear back to school to brighten up my dull uniform but surprise, surprise I think Ive missed them *sob* Do you have any more or shall I settle for another peice because believe me I could find many other peices to delight but I had my heart set on tha sailor earring!
Please make my day Leona and say you still have one?!
Love Lorna xXx
Posted by: Meee. on August 16, 2005 9:35 AM

Oh Lorna, I'm sorry they just flew off the shelves, so to speak. I don't have a single one left. Sorry.
Posted by: leona on August 16, 2005 1:45 PM

Hey! havent been here in a while!
your stall look super deee duper cooL!!lovin the rainbow!
i have a dilemma i am going 2 see kings of leon *yay* do i wear by rock n roll plectrum earrings or my mothers lil helper!??
love love super love xx
Posted by: Rock_n_roll_superstar on August 16, 2005 1:51 PM

Oh dear, just my luck. Nevermind. Thankyou anyway! xXx
Posted by: Meee. on August 16, 2005 2:14 PM

Hey, i LOVE that ring, can't wait for the new stuff! got my flying V earrings and pretty blue Ursula...although my little sister broke her the day after she arrived *sob* but i managed to fix her with some wire out of those sandwich bag ties! lol. Just a question 'bout the rings, i have kinda small fingers! will they fit?
xxx Laura :)
Posted by: Laura on August 16, 2005 7:36 PM

4 words: That Stall Is Hot.
Wow your jewellery and tshirts are truly inspirational and I cannot put in words my love for LLRO!
Thanks to you, I've been inspired to make my own jewellery which is quite rubbish thanks to my awful drilling skills (hehe) but hey!
xImogenx
Posted by: Imogen on August 16, 2005 8:00 PM

ooo the secret project sounds intriguing, cant wait to see the new items.
i wear my ramones earrings everyday, they compliment everything perfectly.
Gabba Gabba Hey!
x x x
Posted by: Hannah on August 16, 2005 10:10 PM

Oh leona, please tell me all the pink ursulas haven't gone? x x x
Posted by: Caroline on August 17, 2005 8:07 PM

On Friday, August 19, 2005, at 09:52 am, naomi costantino wrote:
Hi leona,
I have just recieved my order , and just wanted to say thank you so much for getting it dispatched so promtly!
The packaging was so cute and the items look even better than they do on the webpage, it really cheered up my morning at work!
Will definatly be ordering more and showing my friends
Thanks again
Naomi
Posted by: naomi on August 19, 2005 11:48 AM

hey leona!
just wanted to let u kno that while i was up in edinburgh 4 the fringe/festival(which was sooo much fun btw!) i checked out ur outlet at the red door gallery and bought the necklace with ur logo on it(the lightning lipstick) i am kno wearing it 24/7 and I LOVE IT!!!!
kk well keep being cool and totally orignal
anya xXx

Posted by: anya on August 19, 2005 12:25 PM

I suggest Rock'n'Roll plectrums to a Kings of Leon gig and the rings are adjustable so will fit most sizes with ease! The pink unicorns haven't sold out just yet, but I have very few left : (
Posted by: leona on August 19, 2005 2:06 PM

Oh my god, you so need to get on the phone to your solicitor or something as you may need to get patented the newly discovered best hangover cure EVER!
There I was in the dishevelled cocoon of my bedroom, recovering from a hearty intake of Tia Maria with Bailey's from the night before, when my mum brings a package into my room. My bundle of "lovingly handmade" goodies immediately cause my self pity, headache and funny tummy feelings to disappear at once! Amazing eh?
Anyways, to sum up; I am currently fashioning my new favourite jewellery with my pjs and bird nest hair, typing this email and i would like to thank you VERY much for brightening up my morning and my wardrobe.
Thanks again,
love Carrie xxxxxxxxx
Posted by: Carrie on August 19, 2005 10:08 PM

hi leona,
I recieved my earings on friday. I just thought i would e-mail you telling you that I am very pleased and satisfied with the jewellry. Thanks again.
from emily
Posted by: Emily on August 20, 2005 12:19 PM

i wasn't sure exactly where to leave a comment but needed to tell you how much i love your site! i think i've known about it for about a year and all that time it's just kept getting better and better! it's a good job it's my birthday soon because now i can use the wish list without feeling guilty.... i was so disappointed when i found the golden lovers had sold out, until i looked around the rest of the site and found a million and one other things i adored! i'd started customising my clothes quite a bit before i heard about Lady Luck but after i looked at all the pretty jewellrey i thought i'd start making
my own. it's amazing how you can transform ugly, old pieces into something sparkly and i've now discovered loads of little boutiques specialising in beads and home jewellrey kits!
anyway, keep up the good work and thank you for inspiring me!
love alice

Posted by: alice on August 20, 2005 2:55 PM

Hi Leona,
Many thanks for the speedy delivery of my order(No 2280) which arrived safely - fantastic service! The packaging is great and my god-daughter is going to love her present.
Thanks again.

P.S. Great website.
Posted by: Carolyn on September 1, 2005 9:22 AM

hey. luvin tht cute charm ring. when is ur new stuff in? hopin tht is near christmas so tht i can get some nu stuff 4 christmas! i luv everything on this site! all my luv
Posted by: Moi! on September 6, 2005 9:04 PM

Hiya
Fnx u very much for my earrings which by the way were at my door sooner than i expected. The packaging is cute and the earrings are even betta! I will defintely be ordering some more stuff soon!
Posted by: M on September 10, 2005 10:14 AM

oh my god!! i am sooooooooooooooo jelous!!
i wish i cud work at lady luck rules ok!! that is the most awesum job in the wholeintire world!!!=)
im loving the new collection!!!
luv cornelia
x-x-x-x-x-x-x-x-x
Posted by: cornelia on February 26, 2006 11:49 AM

hiya i was just wondering if you will ever get the sex pistols guitar pick earrings back in again? they were so awesome and i missed out on getting mine :(
thanx luv neidin xXxXxXx
Posted by: neidin on March 5, 2006 8:27 AM

hiya i just want to say how much i love my Ursula necklace! Shes so kute nd kitch!!! and also, how quickly she got here, v. impressed!!
thanks, sarah xx
Posted by: sarah on April 8, 2006 9:31 AM

hey hey, ive used your site for quite a while now, but ive never used this so here goes. lol. thought i'd leave a message and tell you how absolutely brilliant those new rings are, they're totally perfect for my holiday in august! just hope ive got enough money to buy me all those wonderful goodies! i bought my friend those guitar earrings you had little while ago, i was so tempted to keep them for myself when they arrived in the post :) she loved them tho. she made me feel all goo-ey inside when she got all excited bout them, made me feel wee bit bad though 'cos its ur artistic fabulous-ness. haha. hope ur jewellery stays brilliant, and i hope my job gives me a wage rise :)
xxxxx
Posted by: kimberley on April 16, 2006 10:44 PM

hey! just like one of the other comments, i have been searching on your site and wanted to try this, to see if mine will get posted! The suff you do is soo cool and when I am old enough to get a job I want to be just like you! You rock! aged 12.
p.s. The rings are soo cute!
Posted by: Mary on April 18, 2006 5:06 PM

I LOVE this.
Im so goin to buy this vvvvv sooon!
its gorgeous
xx
Posted by: Lu on May 16, 2006 10:48 AM

i love this ring.
can you make the charm bracelets cheaper?
i love them, but cant afford them =[
xx
Posted by: Becca on May 17, 2006 10:01 PM

thanks so much for my lovely goodies!! only problem now is...i want a "music over" in evey colour!!
Bisous, Sarah xx
Posted by: sarah on May 29, 2006 8:31 PM

hi iv seen all your stuf in mags but nevr seen any of your stuf in shops??! i looked 4 ages lol. i love ur new rings!!

kk guna go b4 i bore u! simixox
p.s keep on being kwl!
Posted by: simi on May 31, 2006 6:14 PM

sup blud,
lovin the stuf, spesh the ring...totally rules.
Posted by: Aimee and Sophie Fisher on June 28, 2006 3:17 PM

Hi Leona,
I nlove all of your new stuff and i am planning to buy some of it it's just that i liked some of your olkd stuff aswell and i'm wondering if you would plan to put it back on your website?.
P.S. Love your shop, KLASS!
Posted by: Lucy Rehill on June 28, 2006 3:38 PM

heya!!
omg i love all ur items. they are so funky and unique, i cnt believe i'v only jus found you guys!! i also love the charm bracelt you have donated for the ebay auction and intend to bid on it as soon as! i think your rings, especially the hot lips one, are awsome! gota get 1!
lv yas xxx
Posted by: Ange on July 11, 2006 10:40 PM

wow i am a fan just about 2 purchase THEE ring! i also love ujr go-go girls from outer space! i av the rocket nd gun! peace out! <3 XXxxXX
Posted by: Rebookoo! on July 17, 2006 6:12 PM

Wow I love all of your items! I can't believe Iv only just found your website. I just wanna know where you get all the stuff to make ur jewelrry from?!
Posted by: Pips on August 16, 2006 9:01 PM

OmGsH! i love the look of everything in your store it is gawjus! i was just wondering do you have any stores in New Zealand lolz probably Not but yer :D thanks a bunch@!
Posted by: SeRa on September 9, 2006 5:16 AM

I've just recieved my ring and i'm totally in love <3
It's my new favourite piece of jewellery.
Thankies,
xx
Posted by: Smo on September 20, 2006 10:01 PM

WOW! absolutli LURRRRRRRRVE this ring!
saw u @ the clothes sho n was sooooooo
tempted ta buy sumfin bt didn't have any
money:'(
nehoo will probably buy something when i get
me pocket money x
hugs&kisses......danni x
Posted by: danni on December 26, 2006 8:23 PM