August 5, 2005

Fuzzles

To celebrate the new FUN STUFF section we went to the Good Mixer in Camden last night and asked a few nice boys and girls to model the Fuzzle and Smurf sunglasses to give you guys an idea how super cute they look. It was a real giggle and as you can see although these sunnies were made for kids in 1983 they fit us adults too. Yippee!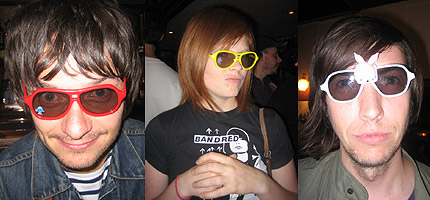 We also met up with Emma from Amsterdam and her sister who we met in Berlin last week. Emma is about to launch her own label called Rockabye-Baby for punk babies, awww. I checked my e-mails when I got home (as always) and the lovely Lisa from West Yorkshire told me one of my Rolling Stones chain brooches was being worn by a girl from Absolute Power on BB2. How exciting, thanks Lisa! Today I'm preparing for Margin, my usual UK trade show at the weekend, I'll let you know how it goes...
Posted by Lady Luck at August 5, 2005 6:11 AM
Hey. Tha collection rocks! I adore tha Smurf sunnies, they look like lots of fun...I will definitely have to purchase a bright and cheery yellow pair along with one of tha friendship pouches!
Leona well done for creating a new catergory so fab! You are a star!
Love Lorna xXx
Posted by: Meee. on August 6, 2005 10:23 AM

wahey hey...funky glassssssessss...me loves ur collections..if i was a rich girl (lalalalaal) i'd just buy the lot but for now i think i'll stick with the crayon earrings and the rockin guitar chains wahey..funky...
u is one funky chica..
Fuzzy x
Posted by: Fitzrene on August 6, 2005 12:20 PM

i'm LOVING the new stuff leona!
Posted by: sidonie on August 6, 2005 3:50 PM

I was just about to e-mail you to say that I saw your Rolling Stones charm brooch on the BBC2 show 'Absolute Power' too, but someone's beaten me to it. I did shout "Wow!! Lady Luck!!" out loud though and point at the screen like something demented. Bye!
Posted by: Liz, Manchester on August 6, 2005 4:28 PM

aww love the new fun section! You wouldnt be able 2 find some cute pencil cases for me could you?
xxx
Posted by: me <3 ladyluck on August 6, 2005 5:08 PM

The new stuff is really cool
Posted by: Isabel (Ecuador) on August 9, 2005 7:29 PM

yeah - pencil cases wud be way cool! i luv th smurf sunnies btw i got a yellow pair ther ace!
Posted by: spanna on August 11, 2005 6:19 PM

a turquoise ursula necklace on the woman on Absolute Power! brilliant!
<3
Posted by: ro on August 11, 2005 10:10 PM

heyy loveing your uberly cute sunnies i want some..<3 xx
Posted by: lola on August 12, 2005 1:32 PM

ahh new section is amazing..smurfs!!!!woooooooo more smurf stuff......hehe xxx
Posted by: siobhan on August 13, 2005 12:28 AM

Hey,
i just love all of your ickly bits and bobs on this website. They are so unique, i love them!!!
This is what id love to be doing when i am older, creating my own jewellery and having loadsa fun doing it.
I recenty bought some Blondie earrings and a record necklace, which both totally rock. I've had nothing but compliments about them ! :)

Keep up the great work! :D

Daynee, 13.
x-x-x-x-x-x
Posted by: Daynee on August 13, 2005 2:59 PM

I love your 'Love is...' stuff it's soooo adorable! I want it all lol!
I'll be loved up.
Posted by: Rosanna on August 16, 2005 1:56 PM

You are just brilliant for making those converse neclaces!!!! I love them and love ya 4 makin' them! They're all gorge but i dunno which one i want more. My eye is drawn to the pink shoe with blue dice but i also like the turquoise shoe with the pink dice. Help me make up my mind!!! For now i'll just have to enjoy my pop neclace (the green one since you asked) cause mee's broke! Good show, ladyluck, good show!
Posted by: Lis on August 17, 2005 2:42 PM

Those sunnies are awesome, but I don't know which colour to get, blue, red, yellow...blue, red, yellow...
:D
Posted by: Rach on August 17, 2005 7:34 PM

i LOVE LOVE LOVE Ladyluck! i was only one of the two people at my school to have your stuff(the other a mate) everyone loved my rockin earrings!!!!!!! i am totaly gonna buy the smurf glasses for my holz next year and the specs to make me look mature!
Posted by: sam on August 31, 2005 7:06 PM

i love ur smurf sunglasses im buying a pair for a mate (who we all call smurf) and a pair for me of course!
Posted by: rosie on September 29, 2005 11:22 AM

The smurf sunnies rule, i collect anything and everything to do wiht smurfs so i was like wowzie! when i saw them, i will definatly try and buy some also plz put anything else smurfy on the site plzplzpzlzpzlzplz nd punk clothes for babys tht is too cool! i can't wait to recieve all my stuff thnx
Posted by: xx Charlie xx on October 1, 2005 1:43 PM

Hi,
Love this site the stuf is gr8 I really love the smurf sunglasses and the cute badges and brooches! tks for ptting them up I have to buy some :)
Posted by: ami on October 5, 2005 5:28 PM

i'm totally in LOVE!
transistor sister pin is amazing
my school blazer is customized,
i feel like rebelling when i wear it! maybe not..
anyway, ladyluck really DOES rule,
Posted by: EMMAH on October 26, 2005 7:15 PM

oi oi .
luf the stuff, dead kool.
Posted by: sam on May 31, 2006 9:38 PM