March 1, 2009

Photoshoot at the Victoria

We had a fun trip outta the studio on Friday because it was time to shoot some new promotional photos. We shot on location at our local pub the Victoria. It's such an amazing venue with lots of original features and quirky objects including a wall of vintage cuckoo clocks which will form part of our advert for Nude magazine.
We had the pleasure of working with our fave hair and make up artist Tomoko Kinoshita again. With the aid of her assistant Yuki she created an amazing 1950s tropical headpiece for Caity to wear with our Go Go Glitter earrings.
We also booked dancer/performer Tor through the Whoppee Club - thanks Jane! I first met Tor dressed up as a cute little cupid at the Love-A-Fayre a few weeks ago. We decided to keep Tor in Cupid character to complement our Double Heart Tattoo Name Necklace.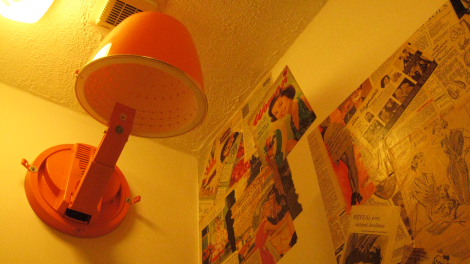 One of my favourite details in the Victoria are the toilets but we didn't manage to include the area in our photoshoot so Lindsey took a snap for the blog.
If you find yourself in East London then you should definitely check out the Victoria! They have a cinema on Sundays with free popcorn, jumble sales once a month, live music every weekend and a super fry up and cakes on the menu. A big thanks to Alfie for letting us run loose around the place for the day!

Posted by Lady Luck at March 1, 2009 11:50 AM