October 3, 2007

"Hej Hej" from Stockholm!


Lady Luck Rules OK has been flying the flag for ole London town in Stockholm for the past 7 days and what fun we've had! Visit Britain invited us to take part in a "Made In London" concession within the department store PUB. PUB is one of the oldest department stores in the city with a fantastic central location but a bit of a granny customer. So for the past 4 years they've been planning a revamp and last week saw the launch of the new 3rd Floor with vintage concessions, an exhibition space, up and coming Swedish designers and our Made In London area all overseen by creative director Nina Persson from the Cardigans.

We flew over early on the Monday morning with 5 other East London brands including JoJo and Malou, Junky Styling, 1000 BPM, Dragana Perisnic and Carolyn Massey. We were picked up from the airport in a fleet of Mini Coopers and taken straight into the store to view our very white, bare space which we had to fill in two days! We had couriered over our huge pair of red glossy wooden lips to hang on the wall and felt relieved when it arrived in one piece.

Next we had to divide the space up between us and we landed a spot between the lovely ladies from JoJo and Malou with their crazy crow head mannequins and new T-shirt label 10,000 BPM. With the help of Tony from the logistics department we tracked down the tools to hang our lips and perspex sign on the wall and with the help of Peter from the pricing department we set about pricing our hundreds of pieces with PUBs bar code stickers - all washed down with many bottles of Spendrups!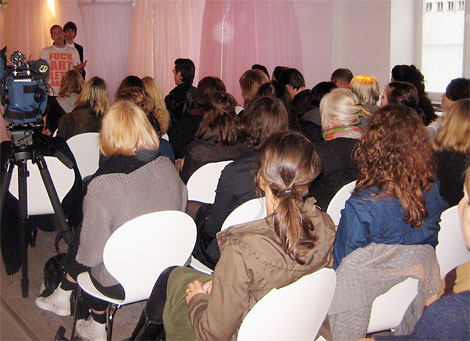 On the Wednesday morning PUB had a swish breakfast press conference to launch the new floor and the Swedish fashion press in their strict uniform of black, navy and grey swarmed around our brightly coloured area and cooed over Nina Persson's art installations. After the press call we put the final touches to our space and the massive bar and DJ booth arrived ready for the launch party…

The launch party was a fancy affair with hundreds of Swedish scenesters guzzling crates of free booze and a fleet of chefs cookin' up yummy nibbles. There was a DJ set by the snazzy lookin' lead singer from the Hives (he played Louie Louie - yay) in the midst of which a cabaret performer from Amsterdam took the floor and did a set of Velvet Underground covers which was hilariously amazing! On the other side of the store two members of Hot Chip played an electro pop set - when I took the photo above I was just being a little cheeky wanting a snap of funny man with a funny moustache and then 20 minutes later they got behind the decks - oops!

We also got our first chance to explore the whole floor. I instantly made friends with Andy Candy from 59 Vintage Store who introduced me to the owner of Tjallamalla who then placed a wholesale order with us (whoop); I drooled over the vintage gold roller boots in the Nina and Lina Vintage section and the Velvet Underground / Andy Warhol exhibition from New York was amazing with a great selection of original fanzines from the late 60s and 70s and a selection of the original album covers of the Velvet Underground with the peel away banana skin.

For the rest of our stay we popped in and out of PUB to check sales and fill up our stands. We then handed over to the sales team who will look after our concession which will run til Christmas. Andy Candy took us shopping for the afternoon in the trendy trendy area in Sodermalm called Sofo (South of Folkungagatan) where the atmosphere is young, hip and laidback with an abundance of indie shops, cafes and bars! Sofo is also home to our newest stockist Tjallamalla so we swung by to check them out. Read all about them in our stockist page - click here.

We also seemed to spend a lot of time in Sweden's candy stores. Yum yum. We found the colours and shapes such great inspiration so y'know we had to buy a lot of the stuff - in the name of research!

Stockholm is the birth place of one of my fave brands - Cheap Monday! We spent nearly a whole day in the massive Weekday concept store (the design collective that own Cheap Monday) trying on oodles of pairs of Cheap Monday and April 77 jeans. They have a glass fronted studio in the centre of the store where you can watch them screen printing and heat pressing tees which was really interesting. Stockholm is also the birth place of my fave vintage store - Beyond Retro! So we paid them a quick visit and managed to snag a lil cute vintage bag...

...but most my shopping was done in the many charity shops and the flea market outside our hotel. On the Sunday morning Sam drew back the curtains and the square outside our hotel was bustling full of flea market traders, I was dressed in 5 minutes flat and sifting through the piles of vintage threads soon after. Stockholm was such a slick city, we had not really planned to visit Sweden before this opportunity but I'm so glad we did - it rocked!
Posted by Lady Luck at October 3, 2007 6:12 PM
wow, loving the rundown of the week, everything looked amazing..what an amazing opportunity to have..can't wait to hear more on sat..see you then chick xx
Posted by: penni on October 4, 2007 7:11 PM