October 25, 2007

Happy Halloween!


To celebrate Halloween this year we've put together a dead tempting treat bag stuffed full of TEN pieces of skull jewellery. The spooky skulls are in an amazing array of candy colours and styles include rings, necklaces, earrings and keyrings. There is more than one of each design in every bag but they'll be in different colours and some are sparkly too...oooh! So we expect you'll all be doing the decent thing and sharing the goodie bag with your pals and not keeping them all to yourself, mwahahaha.


Are you hosting or going to a Halloween party? The spooky contents of our treat bags will make great prizes for apple bobbing contests or best / worst dressed prizes. My friend once dressed as Tipi Hedren from the Birds with torn stockings and fake birds attached to her legs. Laura from our studio and her friends are thinking of dressing as the victims of Jack the Ripper. What are you doing for Halloween, let us know, send us photos, we LOVE Halloween.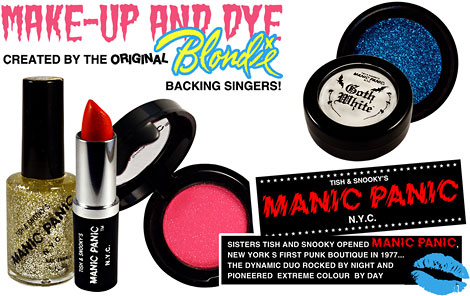 We're excited to introduce you to the super cool make-up brand called Manic Panic from New York! Back in 1977 two sisters called Tish and Snooky, who at the time were singers in the original Blondie line up, added some extra ambition to their rock 'n' roll lifestyle. They gathered up some of their clothing designs and with a $500 loan from their mom, opened America's very first punk-style boutique on NYC's infamous St. Mark's Place. Mom coined the name "MANIC PANIC", as her two daughters rocked by night and became business proprietors by day. New York had never seen anything as cool as MANIC PANIC. The make up brand is still going strong with stores all over Tokyo and we love it! Our fave pieces are Spider Liner, glitter Eye Paints; Claw Colours; and Glam Dusts...perfect to create a slick goth'n'rock look this Halloween and beyond!

Posted by Lady Luck at October 25, 2007 7:42 PM
Come on leona
i thought you couldn't make this website any better
obv. i wuz wrong/.................
:-( lol
Luv Jade
Posted by: Jade on October 26, 2007 11:12 AM

My goodies arrived in the post today (ordered a nail varnish and some earrings). I love them! Thank you so much- speedy delivery, beautifully packaged and with a fantastic freebie too. Can't wait until next pay day =] xoxox
Posted by: Amelia on October 30, 2007 11:01 PM