July 18, 2008

V&A Village Fete

Come to our stand at the Friday Late Village Fete 2008!
Now in its 8th year, the Village Fete one of the highlights of London's Summer calendar, held in the beautiful Madejski gardens in the V&A. It's a contemporary take on the traditional English fete, providing an extraordinary array of creative, fun, engaging and imaginative events and games by leading as well as up-and-coming designers.
We were really excited when we were invited to take part - we'll be making our own fete-inspired Rosette brooches and necklaces in our stall. We've been busy designing our stand - a beautiful red and white striped kiosk, and we've been practising our rosette-making techniques so that we can offer a unique 'while-u-wait' service. You'll be able to order your rosette at a very special price, take a spin on our wheel of fortune and win yourself a bag of Lady Luck goodies.
While you're waiting to collect your Rosette, you can place your bets at Carl Clerkin's roulette wheel; play Helium Karaoke with Rob n Dave; pimp your plimsoll with Ruth Bartlett; dance to Michael Marriott's groovy tunes; pop balloons; play musical statues; enjoy foam topiary and wobble jelly building; get your very own Banksy (or not?) and take part in many other stands and games that we don't even know about yet!
Here's some photographs from previous years.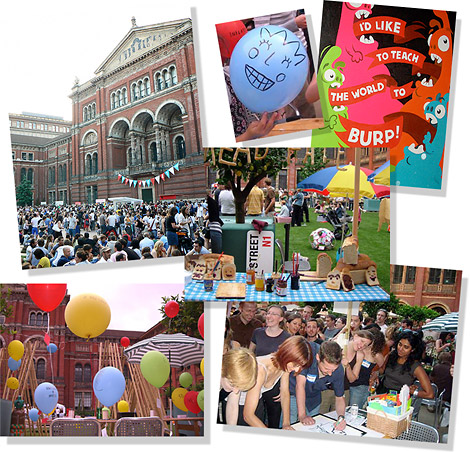 There'll be so much going on - we can't wait. It's always a popular event, and you can come on either Friday evening 6-10pm , when it attracts London's hipsters and artists, or Saturday afternoon 1-5pm.
It costs £3 to get in - advance tickets aren't available - it does get busy, so you're really best to arrive as early as you can, or you'll spend a lot of time queuing.
We hope you can come along, say 'hi' and join in the fun. Look forward to seeing you there!
V&A Village Fete
Friday 25th July 6-10pm • Saturday 26th July 1-5pm
John Madejski Garden, Victoria and Albert Museum
Admission: £3 adults, 50p children 12 years or under
Tickets on entrance via main door on Cromwell Road, London SW7 2RL
The nearest Tube station is South Kensington (on the Piccadilly Line)
For a full list of all the participants and events at the Fete, click here
Click here for a map • Click here for London Transport information and Journey Planner

Posted by Lady Luck at July 18, 2008 12:43 PM
This looks *amazing* - I am so there! But I missed the swag bags cause I was on holiday, boo :(
Posted by: Sarah on July 18, 2008 3:58 PM

ohh LLROK yesterday was truly amazing! me and my friend both got anchor necklaces with each others names on! and then we both won lucky dip bags too so we were rocking our glass of pop necklaces, cute badges and heart bangles. i really wanted to come again today but sadly i'm going away! yours was definitely my favourite stand, the cool aprons everyone was wearing just added double wow-factor! thanks a lot! Xxx
Posted by: Hayley on July 26, 2008 9:51 AM