January 4, 2008

Sale! Sale! Sale!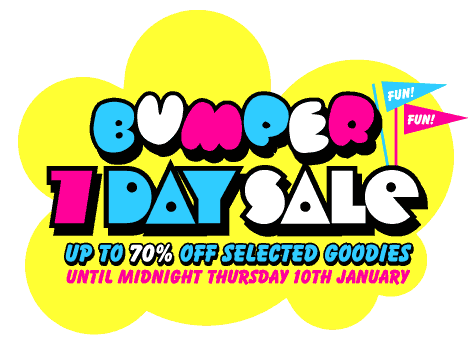 I love January! January means it's official sale time and we can go darn crazy and slash our prices! It's not a clearance, it's not the trash that hasn't sold, it's just a dizzy 7 days where we can give our loyal army of customers a treat to flush away the January blues. So get ready to add to your ever growing collection of Lady Luck Rules OK treasures with up to 70% off selected goodies! Wooo - hooo!
Psst...here's some quick links to our best bits:Reko dresses are now £30! Manic Panic Make Up is 50% off! Travel Gift Sets are 50% off! Bam Bam is 70% off! Docey Doe is 70% off! And much much more...
PLEASE KINDLY NOTE WE CANNOT REFUND OR EXCHANGE SALE ITEMS. THANKS!
Posted by Lady Luck at January 4, 2008 1:34 PM
I LOVE your sales! I have ordered a batch of goodies..... for less than half the original price! Whoooooooo! Hope all is well at LLROK.
x
x
x

Posted by: Anne Porter on January 4, 2008 5:04 PM

boy, did i ever need to "flush away the january blues", thank you! i literally leapt from the couch when the postie knocked on my door this morning and let out a proper SQUEAL when i saw the stickers on the box he was holding out to me! i think i might have frightened the poor chap a bit! hahar.
these sales are so very generous - frankly, i made out like a bandit! delighted, thnxthnxthnx!
Posted by: disco on January 8, 2008 3:13 PM

It's Like So Cool, Because I Don't have To Go Outside To Get Lush Stuff! YAY!
Posted by: Beckie on January 9, 2008 10:01 PM

:O where has the cute little calendar with the lil' teddies gone?!

i was hopinggg to buyyy it,but i cant find it?
xx
Posted by: Annaaa (: on January 11, 2008 4:58 PM

The Sale Is AMAZZING x
I Recommended The Site To All Of My Mates :)
I Brought A Load Of Goodies And Loadsa People Have Commented On How Great They Look x
;xo
Posted by: olivia;xo on January 29, 2008 7:59 PM