December 18, 2007

Clothes Show & Myspace Bus Fun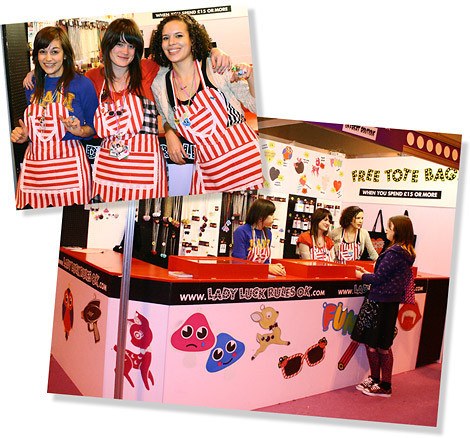 It was that time of year again when Lady Luck Rules OK heads north to the NEC to take part in the world's largest shopping event - The Clothes Show Live! This time we were so much more prepared we even wore made to measure stripy aprons handmade by our newest team member Sapphire and the organisers of the show had built an entire area around us and our friends from last year called the Offbeat Boutique. It was all looking super swish and Penni, Sapphire and I were ready for the hoards of crazy shoppers...
We'd also agreed to host a day on the Myspace Bus which was very exciting. The old fashioned route master bus was parked inside the purple zone of the NEC and we decided to bring Badge-A-Rama to the good people of Birmingham for one day only! Clothes Show shoppers could help themselves to our badge templates, hop aboard the Myspace bus, find a bunch of pens, a seat and get doodling. After creating a mini masterpiece they joined the (very) long queue outside the bus to have their fave drawing made into a badge for free and it was definitely worth the wait as each lucky badge designer also received a FREE LLROK tote bag!
It was a lot of fun and the craziest thing I've EVER experienced. Can you see me in the photo above left, can you see the little head in amongst the huge crowd of baying badge makers...and it was like that all day. Luckily, Superette was closed for the day and Laura and Becky were in Brum to help out. They both did an amazing job coping with the crazy crowds and making hundreds of badges.
It was great to meet so many LLROK customers old and new. The frenzied week flew by in a flash and when we arrived back in London at 1am on Thursday morning we had 2 days left to prepare for the Design Grotto at Somerset House!!!
Posted by Lady Luck at December 18, 2007 5:04 PM
Hi guys...
the clothes show looked like a lot of fun! I love the look of your stall (just a shame that I wasn't there to see it!) and I hope you have recovered. Hope all the Somerset House prep. goes well, and have a great Christmas!
Posted by: Anne Porter on December 18, 2007 7:04 PM

yaaaay! ah, I had so much fun. I slept for the whole day after we got back - I've never done so much driving in my life!
awesome.
see you tomorrow! xx
Posted by: sapphire on December 18, 2007 9:49 PM

Ahhh! The girl with the blue hair- Alice is my best friend (: awww hahaha!
The clothes show was amazing & i bought quite a few things from your stall! YAY for Lady Luck X
Posted by: Poppy on January 14, 2008 4:47 PM