March 17, 2007

Super Super shoot

Last Sunday we turned Superette into a photo studio so we could snap all our new goodies on lovely models and then shoot a page for ravetastic magazine of the moment Super Super! For the past month Phillipa our indie intern has been a busy bee organising every minute detail of shoot from calling in crazy coloured clothing and making a dress from shell suit fabric to selecting Myspace models from our list of 17,000 friends and customising props. Don't mention neon spray paint, fruit and helium balloons. I opened my little black book and selected the creative team of stylists and snappers to fulfil our day glo dreams and designed an extra special T-shirt just for the shoot. We also had fun buying smiley face bubbles from Ebay, convincing Akio our hairdresser you could combine a bee hive and a side pony and catching the neon fake nails which kept pinging off during the shoot.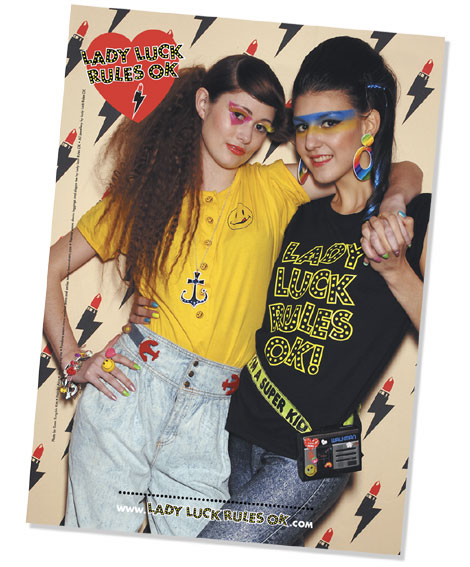 Thanks to everyone on the day - Akio the crimping king; Ina our Make up artist with those amazing neon fake eyelashes; the models Pandora and Nevine who can be found trawling Camden most nights of the week; Lindsey our website photographer (and her amazing assistant aka Lindsey's Mum); and Ssam our magazine photographer (I love you, you crazy kid). So look out for April's issue of Super Super which will have a rather super LLROK page in it. Last but not least a big ole mushy thankies and a fond farewell to Mizz Phillipa "where's my shellsuit" Tatt who has now completed her work experience with us and will be greatly missed - who am I gonna eat biscuits on the sly with now?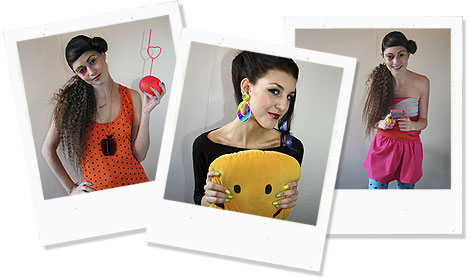 From left to right above - Pandora wears Apple Pickin' necklace and dotty dress from beyondretro.com. Nevine wears Happy Hoops with Smiley Cushion from Oxfam. Pandora wears Smiley Ring, Sweetheart Ring and custom dress made by Phillipa. Next Sunday we're off to the Penny Arcade in Brighton to shoot an ad for Amelia's magazine...
Posted by Lady Luck at March 17, 2007 2:29 PM
I absolutely LOVE that shellsuit dress!
And the Adam Ant style make-up is brilliant. I can't get enough of Adam and the Ants right now!
lots of fun!
xxx
Posted by: sapphire on March 19, 2007 4:28 PM

Dude I want a LLROK tee that one of your models is wearing its the dogs!!!
Love it all, and I wanta it but just bought Jimmy Eat World and Leeds tickets so have no money til payday!
xxxx
Posted by: Lizzie on March 22, 2007 6:40 AM