July 28, 2006

Badge-a-rama!

The Superette gang were livin' it up Summer Fete style at the Viva Cake happening last Saturday and oh what fun we had... We hosted a whopping 7 hour "Badge-a-rama" session and had all the gals and guys strutting around the place wearing their very own pieces of badge art jewellery. Badge-a-rama - You draw it! We'll make it!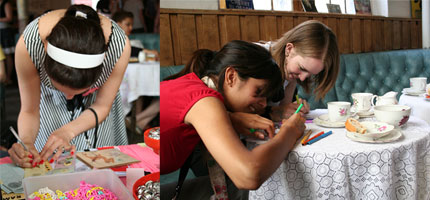 Eager floral frocked ladies and quiff toting boys were cajouled into gathering a heap of pens and templates, then drawing, dribbling and scribbling ensued. Finally the little sheets of magic were brought back to the stripy table and transformed into badges, necklaces and earrings! Hurrah! Picture above: snazzy customers designing away. Picture below: the Superette sisters *left to right* Lady Luck (no idea why I'm pointing at Gem?), Penni P, Super Sarah and Gem.
Happy punters also had their nails painted at the beauty bar, shopped at the Bric-a-Brac stalls, played poker and dominos, drank plenty of tea and scoffed all kinds of cake served up by the fabulous roller skating waitresses!
My boy Mr O showed up in the afternoon with our entry into the "bake off". Oh yes the Lady Luck lipstick lightning bolt logo shaped cake caused the girls to gasp! Our wonder cake had a pink top sponge and lemon bottom sponge with a jammy and buttercream centre. Mmmmmm. We fought off tough competition to claim 2nd prize and Sam wore his handmade rosette prize with lil anchors all evening.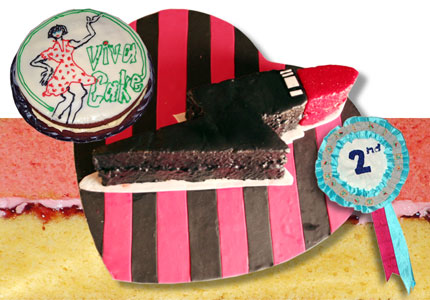 We packed up the stand at 9pm and spent the rest of our night gossiping in the courtyard and having a knees up on the crazy light up dance floor. Phew! Can't wait to do it all again very soon. Hope you can join us!
Photos by resident LLROK snappers: Sarah Stonehouse and Sam Oakley. Thanks guys!

Posted by Lady Luck at July 28, 2006 1:52 PM
eeeeee... looksa lika i have the first comment YES! The viva cake festie looked m-amazing.. i wish i went!Loved your lightning bolt cake.. xxxxx :)
Posted by: jagger on July 28, 2006 3:03 PM

ohhh, i wish i could have gone!
looks like u had an ace day.
x
Posted by: Sapphire on July 28, 2006 5:05 PM

i am increeeedibly jelous. i want to make badges and eat cake too..no fair :(
xoxoxoxoxoxoxox
Posted by: beckiohiggio on July 28, 2006 6:45 PM

Looks like it was a very fun day, and that cake..wow. I'm a bit gutted actually 'cause I was holidaying in london just a few days before the fair! If I had booked my holiday a little bit later I could have made it.. and I bloody love cake too, drat! ooh I'd like to say how super lovely all you girls working in superette were when me and family came by (we went especially to to the brick lane area just for superette, oh yeaah!), and thank you for fixing my mums earing! I got some lovely goodies (I love the new anchor and ribbon necklaces!). You ladies rock.. xx
Posted by: Pippa on July 29, 2006 3:06 PM

wowwow cakes and badge making! looks like my kind of afternoon! my friend just got back from london and got me the over the rainbow necklace as a holiday present...i love it!! and the supercute little blue bag it came in :)
Posted by: Zoe on July 29, 2006 4:01 PM

I have to say, i think you guys are stupidly awesome.
I ordered my stuff at 8.30 last night.
It was here at 8.30 this morning.
I wouldnt be surprised if you were all superwomen and flew it to me yourselves : ]]
Wish i could have come to this doody cakey badgey thing... but ill settle for a day on the hobnobs with my badgeit : ]
love nona x x x x
Posted by: Nona on July 29, 2006 5:37 PM

i think Suprette is a cool shop, Lady Luck Rules is ace, and you are all bright sparks in a world full of dull thuds.
jX
Posted by: Professor Julian Roberts on July 30, 2006 12:08 PM

MMM CAKE!
Got my happy shopper the other day and I can't believe how much stuff I can fit into it!its my new best friend! thank youuuuuuuuuuuuuuuuuuuu so much Leona!
Alix
xxxxxxxxxxxxxxxxxxxxxx
Posted by: Alexia on July 31, 2006 2:19 PM

hey leona. viva cake was fabbity fab, and was so cool seeing you guys there!! im totally in love with my i heart vince noir badge necklace, and my friend is very annoyed because i didn't make him one! thanks for a great time. are you going to the viva cake on sat 5th august? oh, and so pleased your cake got second prize, it so should have won first though! love zoe xxx
Posted by: Zoe on July 31, 2006 3:06 PM

i surely can't be the only person who can't help but look at that drink on the bottom left of your post and see a slightly disturbing face?
*worried*
Posted by: kat on July 31, 2006 8:52 PM

though i'd fill you lurverly luckers in on lyndhurst by the coast. There is a shop called basking cod wich stocks giant heart shaped sunnies, vintage sex pistols stuff and graphic totes.. awesome and a shop called lu lu's wich stocked vintage lady luck! Sadly it was twice the price of the website. anyway ch check it out!x
Posted by: Jagger on August 1, 2006 10:26 AM

looks like u had a great time i would have loved to go but it was too far away for me. any ideas on having one like that in Dorset?? photos are great and the LLROK logo cake looks ace!! xox
Posted by: Jo on August 7, 2006 12:16 PM

Ahh thanks Jo. The cake to hours to make and was eaten in minutes! I'll have a word with the Viva Cake girlies about a Summer fete tour of the UK, how much fun would that be! x
Posted by: Lady Luck on August 7, 2006 3:47 PM

argh ur so lucky! it looks weeelll good mun. and haha ur a very pretty lady. huba huba ;)
and GOD that is one magnificent cake u had there!
i desperadoly wish i was there! getting all dressed up, eating cakes, making badges and dancing brings all my fav things together :D
Posted by: shaz on August 7, 2006 4:29 PM