April 14, 2006

Girl Gang

We are inviting local scenesters to come and dress our window displays here at Superette and our debut guest is hot new London label Girl Gang. They have scattered our windows with crisp white vinyl bows and hung a huge faux chandelier from the ceiling - it's very fancy. We are also selling pieces from their capsule collection including neon bow print cocktail dresses, pencil skirts and cigarette slacks. New pieces are arriving next week including grey marl slouch tops and you can put your name down for the red stiletto print sundress available from August. Prices start from £80.
It's Good Friday today and we are open as usual until 7pm - why don't you drop by for a hot cross bun! We will also open tomorrow (Saturday 12pm til 7pm) but our doors will stay closed on Bank Holiday Sunday and Monday. If it carries on raining my boyfriend and I are going to do our own Twin-Peaks-athon inspired by Today Is Boring where you watch every episode of Twin Peaks in one sitting without sleep if possible whilst consuming homemade cherry pie and very strong coffee. We don't have a backwards speaking dwarf though. If we haven't gone completely bonkers after that we will also be adding four new styles of tights, glitter disco socks (all 1980s originals) and the all new Gumball Goodies - Crazy Crayon Special! necklace and LOVE ring...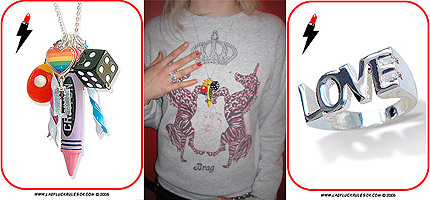 Have a great Easter! x
Posted by Lady Luck at April 14, 2006 11:28 AM
WOW looks awesome.....Hope everyone has a good easter.....HAPPY EASTER..... :)
Posted by: CherryPie on April 14, 2006 12:40 PM

Hopefully first comment, hehe!
Will probably be dropping by to have a lookie either today or tommorow =D
Excitied about the new stuff
xox
Posted by: Coby on April 14, 2006 12:49 PM

Dam, I wished I lived in London :(
tehehe I'm excited about the new stuff

Happy Easter everyoneee :D:D
lovelovelove_____ooooox
Posted by: rock_n_roll_superstar on April 14, 2006 2:43 PM

Sounds ace!
Have a fab easter,
lovelove xx
Posted by: Verena on April 14, 2006 3:00 PM

wowza! socks :D thank you!
happy easter!
xxxlovexxxlovexxx
Posted by: spanna on April 14, 2006 4:58 PM

Came to the shop today!
My mother was the lady who was asking you about the charm bracelet!
Anyways bought loadsa stuff & hope everyone has a lovely Easter
xox
Posted by: Coby on April 14, 2006 6:03 PM

I'm moving to London soon (ish!) and am really looking forward to popping into Superette!
Posted by: Becky on April 14, 2006 7:07 PM

That top and dress are gorg. Really need to get my lazy arse down to Superette!
Anyone else think ladyluck has the friendliest customers in the world? Everyone is so lovely wishing everyone else a happy easter! awww.
HAPPY EASTER! xx
Posted by: carOline on April 14, 2006 7:15 PM

oooh grooovay baby...i like the sound of glitter socks a LOT
have a nice easter dear
c
xxx
Posted by: Claire on April 14, 2006 9:09 PM

Ah sounds ace! The bows in the window look tres cute!
Ooh by the way the Mothers Little Helper earrings I ordered for my cousin arrived today and there ace! Shes gonna be made up! Thanks miss xxx
Posted by: L is for Lorna x on April 15, 2006 9:47 AM

Wow, that sounds so much fun! I hope you have a great time, man i wish i lived in London!
My alice band and young lovers earrings came this morning, they're fantastic! Thankyou!
I hope you have a great easster filled with yummy choccy and great suprises!
Posted by: Ally on April 15, 2006 10:15 AM

The display rocks!
Happy Easter
x
Posted by: Sophie on April 15, 2006 2:50 PM

I wish i lived in london so i could visit your shop!
have a nice easter with loads of chocolate, i know i will :P
xx
Happy Easter evry1!
Posted by: Ooohlala on April 15, 2006 4:03 PM

Wow! That crayon necklace looks so cool! Happy Easter everyone! xoxox
Posted by: Amelia on April 15, 2006 11:52 PM

Happy Easter everyone!! Thanks for my goodies Leona..I wore my twirl-o-licious earring out last night and everyone was asking where I got it from!!
Superette looks so bloody good, i wish i lived in Londonion! it ain't fair i tell you!
xoxoxoxoxox
Posted by: beckiohiggio on April 16, 2006 11:49 AM

Just like the others; "I WISH I LIVED IN LONDON!!" :(
Must make sure to plan a trip to London and mosey on down to Superette and spend all my savings!
Sounds like a plan :D
HAPPY EASTER TO ALL
xxxx x xxx xxx x x
Posted by: Carrie on April 16, 2006 3:40 PM

Yay! Just got my £10 gift voucher Easter pressie! Wahey I am super happy :D
xox
Posted by: Imogen on April 16, 2006 6:56 PM

Noooooo I lost my red music lover.....i am really upset....
Posted by: CherryPie on April 16, 2006 7:54 PM

If only I lived in London....Thank u so much for the awesome tights! And the valley girl hair bobble really is wicked xx
Posted by: Katie on April 18, 2006 3:51 PM

My bro's band, We Were Heroes, have got a gig on May 18th and you are all invited. PLEASE come if you can make it. If enough people show up, the band get a percentage of the door takings. It is the first time they have had a gig with the possibility of getting paid. They are also pretty good, if I do say so myself.
The gig is at 7:00pm, May 18th at Massacre at Clockwork (Angel tube station). Please let me know if you can come...
Posted by: Melissa on April 18, 2006 4:33 PM

yay! my cute lil ursula necklace came today - cute packaging - LOVE IT!!! Thank You!!!
:) xoxoxox
Posted by: Banana on April 19, 2006 11:42 AM

Crazy Crayon Special. oh, those remind me so much of my very good friend. she loves rainbows and all sort of things.
they look so adorable :D
Posted by: c!ndy on April 20, 2006 4:06 AM

aww i dont live anywhere near london and i absolutely adore your stuff its amazing but you need to put some more of the old stuff back on. there needs to be ashop closer to be i woudl spend HUNDREDS on your stuff.
love the stuff keep going
x*x*x*x*x*x*x*x*x*x*x*x*x*x
Posted by: XoxSophie-WhitexoX on April 25, 2006 11:43 PM

I am BEGGING Lady Luck to Plleeasssseeee someday sell things in Canadian stores!! <3<3<3
Posted by: Emma on April 28, 2006 1:21 AM

Oh just like the other i wish i lived in london! I even went there in february but i didnt have the time to go to suprette ahh!
LOVE the stuff!
hehe
cant wait until i come into some money ahh i wish
x
nomehead
Posted by: nomi on May 4, 2006 7:20 PM

Hey! I love your stuff! U guys r fab!!!!! I love ur stuf its great! please make a chain of stores everywer!!!!!!! I'd never be outa the place!!
U guys r doin fab!!!
bye'd'bye amz
Posted by: Amzie! on May 5, 2006 10:30 PM

Have just ordered the LOVE ring it looks so fab!!!Cant wait for it to arrive!!Please open up a store in Aberdeen! i'd never be out of it if u did and im sure all my friends would never be out either!!keep up the amazing work!!
xxxxxxxxxxxxxmwahmwah!!!!
Posted by: Alexia on May 7, 2006 9:32 PM