July 8, 2005

Working 9 to 5

It's 2am and we're still working away. We lost most the day watching the awful London attacks unfold on the BBC. I've received many lovely texts and e-mails to see if I'm alright - I was actually asleep when my Auntie called to see if I was OK. What can I say, these crazy fanatics are killing innocent people! Ken Livingstone's speech was really amazing. If you're feeling sad or frightened about what happened today you should try and listen to his words.
So, here we are (my boyfriend Sam, Mickey, Bambi and I) - and look what a mess we've made.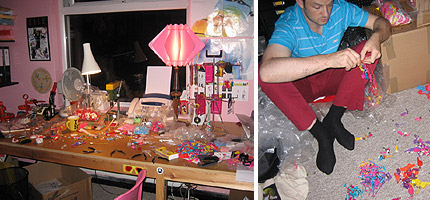 Posted by Lady Luck at July 8, 2005 1:36 AM
I'm glad that you are alright. It's such a terrible thing that's happened.
Posted by: laura on July 8, 2005 4:08 AM

Wow your place looks amazing! Relieved that you are fine after yesterday-so so so horrible
:-( Thankfully none of my family and friends were there at the time-my deepest sympathy goes to anyone who knows anybody involved.
Posted by: rawk_chick on July 8, 2005 4:14 PM

i still cant' get over what happened, so awful.
your place looks like an alladin's cave in itself!
Posted by: Hannah on July 11, 2005 9:04 PM

Thursday's accident was absolutely terrible i'm so lucky me and my family are here we get the train that was blown up at liverpool st everyday at around the same time the awful incident happened it was only the fact that we had a late night the day before that we did not go. I really thank god! hope everyone on here was not affected! and if any was my heart goes out to u i was really crying on thursday and still nervous to go into london now i've not been on da underground since!
Anyways on to a happier note i'm loving your flat leona it's so fantastic and totally cluttered with beautiful items justlike mine!

Posted by: Wiggy on July 13, 2005 10:58 AM

The London thing was just such a shock, it was awful. I'm glad to hear all's fine though. As a Londoner, also recieved lots of texts! Makes you realise who matters.
By the way, you have the exact same colour scheme as I have! Pale pink walls and black everything else. Great minds... well yours for one haha. <3
Posted by: Lia on July 13, 2005 8:27 PM

What a fab place you have?! Looks like lots of fun.
Im glad everyones ok and well...It's such a shame! Thinking of those who were less fortunate.
Love Lorna xXx
Posted by: Meee. on July 14, 2005 7:39 AM

Really glad to hear that you're safe and weren't anywhere near the london bombs. What a senseless tragic thing. Increase the Peace!!!
Posted by: Liz, Manchester on July 14, 2005 4:21 PM

HEY!! i am in clearwater beach florida!! hehe
I really hope all you guy are super over there and okay!
its awful bein away from home when all thi is happenin
love love love xoxoxoxo
Posted by: rocknrollsuperstar! on July 15, 2005 2:53 AM

Your house looks like every girls dream!!!!
I LOVE your funky jewellery and this website is too cool!!
Glad to hear you are ok. All my Hugz,
xx
purple
Posted by: purplegrrl on July 15, 2005 6:40 AM